Actor Sung Kang has generated an enormous amount of goodwill through his work in the Fast and Furious franchise, to the extent that his fan favorite character, Han, was technically brought back from the dead. With his feature directorial debut, the amusingly titled Shaky Shivers, Kang builds off that goodwill by presenting the kind of loopy horror-comedy that's destined to be a cult classic (once it actually finds the audience it deserves). The font used to denote that the movie is set in 1993 looks like the one used on The Flintstones, while a "shaky shiver" turns out to be some sort of–delicious looking, it has to be said–milkshake, signifying that fun with a capital F is firmly on the agenda.
Our heroines are Lucy (Brooke Markham) and Karen (VyVy Nguyen), two longtime BFFs who work in a local ice cream parlor presided over by the sweet-natured Bob (Herschel Sparber). They both have bigger aspirations in life, with Karen looking to start her own business someday. And Lucy has an endless supply of wild ideas about future products that are clearly modeled after modern stalwarts like Uber and cronuts (Karen is also dressed like a Minion, which may or may not be purposeful). When Shaky Shivers begins, the lovable duo is already deep in it, rocking up to a camp with a "closed indefinitely" sign while swapping scary stories about what really happened behind the scenes.
This is far from a Friday the 13th rip-off, however, since the threat is actually coming from Lucy herself, who's hours away from turning into a bloodthirsty werewolf after being cursed by a rude customer when she refused to give her  free ice cream outside regular hours. Shaky Shivers establishes its tone immediately, with Lucy and Karen arguing over the best way to get rid of the curse, which includes the use of a comically large gun that's somehow even more hilarious every time it's produced. Likewise, Lucy sets about painting the bullets with glittery silver nail polish upon learning the regular kind won't work on her.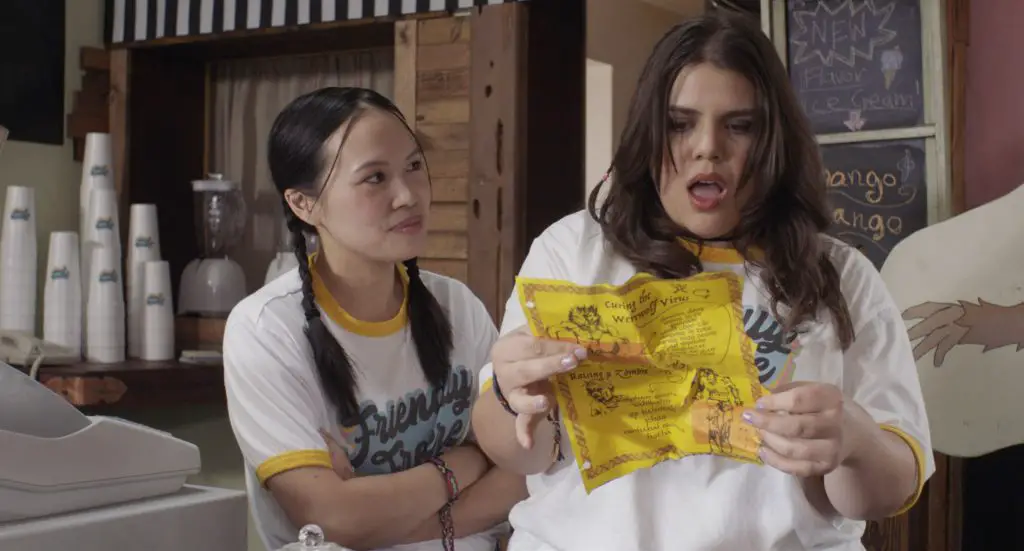 The two leads have terrific chemistry and play really well off each other, which is lucky considering they're onscreen for much of the movie's run-time. It's a small cast overall, and there isn't a weak link amongst them, making Shaky Shivers a delightfully easy watch despite the lack of any real stakes (the fact it clocks in at less than 90 minutes also helps).
The practical FX and makeup, by Gabe Bartalos, are super impressive especially considering how much of the action takes place in daylight. Blood is properly gloopy and stains the skin believably, while dislocated joints during a brief but memorable zombie attack are deliciously disgusting. Werewolf movies are famous, or perhaps infamous, for their transformation sequences and, happily, Lucy's is great and pretty convincing to boot.
Kang demonstrates a keen eye for staging the action right in the center of the frame so we're constantly looking around for something hidden on the edges of our periphery. There are also tons of clever visual gags, including a sequence in which Bob doesn't fit in the shot because of his height. The script is incredibly tight, with insults like "creepy woodland bitch" standing out in particular alongside Karen's favorite swear, "crappers."
Shaky Shivers is goofy, silly, zany, and impossible to resist. In fact, what's most charming about the film is just how confident Kang is in the material–enough to pop up in a hilariously unflattering cameo that truly has to be seen to be believed. The F&F star might be a beloved actor but, on this evidence, Kang has a bright future helming wacky horror-comedies too.
WICKED RATING: 8/10
Director(s): Sung Kang
Writer(s): Andrew McAllister, Aaron Strongoni
Stars: Brooke Markham, VyVy Nguyen, Jimmy Bellinger, Herschel Sparber
Release date: September 21, 2023
Language: English
Run Time: 82 minutes
Follow us on social media: Twitter and  Facebook