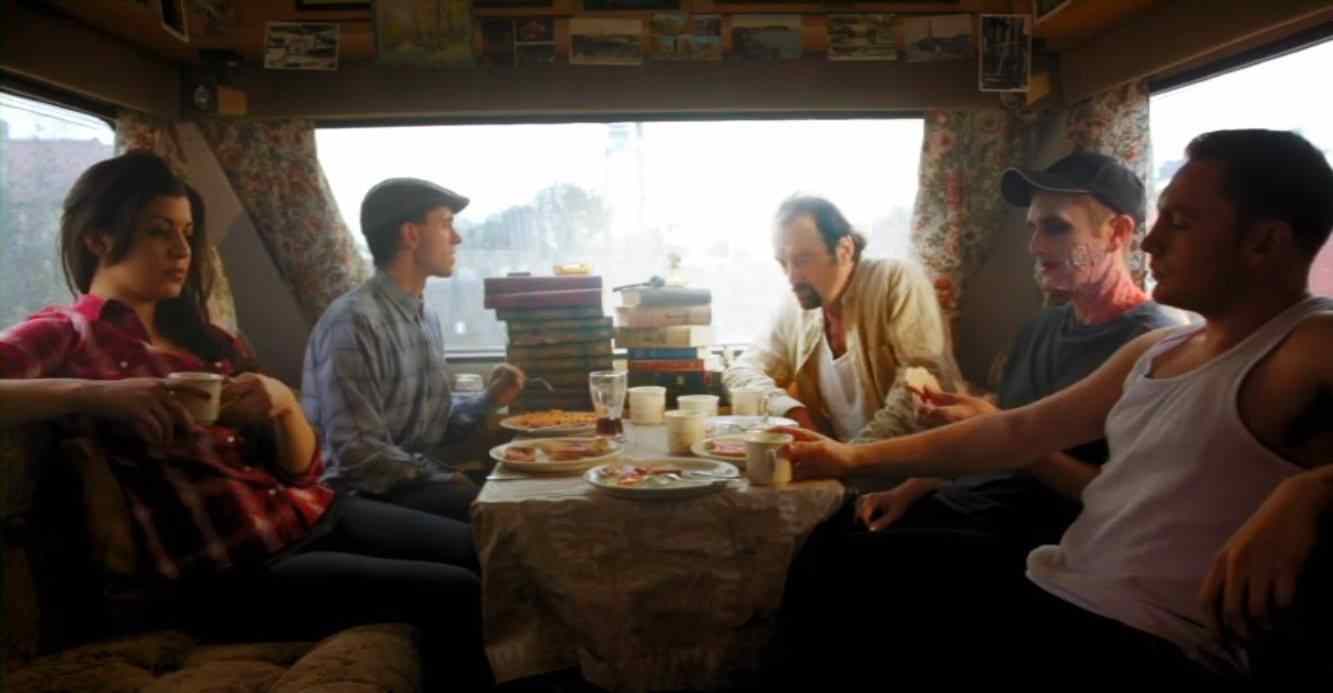 With a sprinkle of The Theatre Bizarre mixed with The Devils Rejects, Andrew Jones brings us the Theatre of Fear.
Originally titled "The Midnight Horror Show", Theatre of Fear bases itself around the Moreau family; a group of misfits who travel around the UK putting on an underground variety show. The Midnight Horror Show itself really doesn't seem all that horrific at first glance, or even that interesting, but the show is much more sinister than most of the audience is witness to.
Father Doctor Deimos Moreau (Jared Morgan- Valley of the Witch) likes to kill just because he likes it. The rest of his brood that include his disfigured son, Trinculo (Nathan Head- Apparition of Evil), who wears clown face paint 24/7, and ventriloquist, Janus (Lee Bane- Night of the Living Dead: Resurrection), who is in two minds with his dummy. Daughter Venus (Shireen Ashton- Plastic) and other son, Apollo (Sam Harding), have a long standing sibling rivalry, but together they all have their own menacing traits and help their father with his killings.
During one of the family's midnight shows, pretty young woman Angela (Sarah Louise Madison- The Amityville Asylum) is chosen as a participant in the first trick of the evening, the classic woman in a box having sharp objects thrust into it. Midway through the act draws gasps from the audience – but alas it's all part of the show, and Angela has actually disappeared from inside the chamber. As her boyfriend Kevin (Scott Suter) waits for his girlfriend after the performances, her absence becomes worrying. When he inspects the carnival he stumbles upon a horrific discovery, which then sets in motion a vengeful pursue on the Moreau family in the form of hit man Duke Enright (Kevin Horsham).
On the acting side, I enjoyed Lee Bane as Janus and the strangely adorable Trinculo, though I felt the rest of the cast and story itself, fell flat. I found myself just wanting to see more of the two brothers characters. Once Duke comes in, it's over as things were just picking up.
If deranged families are your thing, you might enjoy the Theatre of Fear, but released direct to DVD on the 8th September 2014 in the UK, this one is probably just left for a boring, rainy day.
WICKED RATING: 3/10  [usr 3]
Title: Theatre of Fear
Director: Andrew Jones
Writer(s): Andrew Jones
Stars:  Jared Morgan, Lee Bane, Nathan Head
Year: 2014
Studio/ Production Co: North Bank Entertainment
Budget: (unknown)
Language: English
Length: 90mins
Sub-Genre: Killer families