In the distant future of 2018, a game called Rollerball has replaced war and is used to keep the public apathetic and docile. Big corporations reign supreme and independent thought is strongly discouraged. When a Rollerball player defies the system and dares to think for himself upon being asked to take early retirement, things get dicey.
Rollerball is a smart and poignant film brimming with social commentary on the danger of intermingling corporate America and politics. Its message is perhaps more relevant today than it has ever been with the fight to keep big corporations from buying the loyalty of politicians. The film features smart direction by Norman Jewison (The Thomas Crown Affair) and a thought-provoking screenplay by Jewison, William Harrison, and Martin Julien. James Caan is terrific as Jonathan E, a Rollerball player who, one day, decides to start thinking for himself.
The dystopian future depicted in the picture is gritty and dark; very reminiscent of the grindhouse flicks of the mid-seventies. However, it is worth mentioning that while Rollerball has the visual aesthetic of the exploitation output of its era, it is a much more expensive and elaborate production than the features to which it bears certain similarities.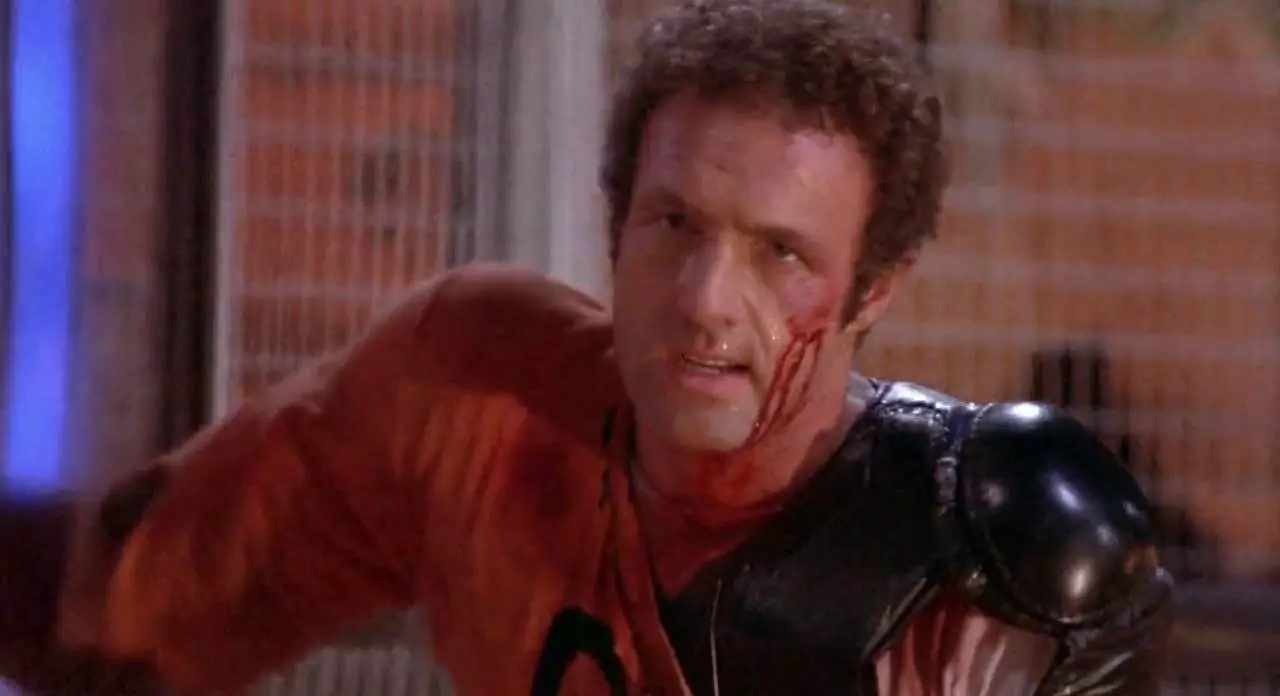 Speaking of similarities, director Norman Jewison reportedly cited Stanley Kubrick's sci-fi masterpiece
A Clockwork Orange 
as inspiration. And when bearing that in mind, the influences are definitely noticeable. The visual aesthetic and production design bear a certain likeness to Kubrick's 1971 magnum opus. Also, the overarching themes of thought control clearly seem to be paying homage to
Clockwork Orange
.
I won't spend too much time critiquing the film because it's over forty-years old and chances are good that if you have found your way here you've probably seen it. But I would like to talk a little bit about the Blu-Ray release. As usual, Twilight Time has put together a fantastic transfer of the film with brilliant picture and audio quality. What's more, the special features are off the hook. This limited release (of only 3,000 copies) is jam-packed with kick-ass bonus content. Included are an isolated score track, audio commentary with director Norman Jewison, audio commentary with co-writer William Harrison, two different featurettes, TV spots, and a variety of theatrical trailers. Moreover, it also includes an illustrated insert with an essay on the film by Julie Kirgo. And, as with all Twilight Time releases, it comes in a clear plastic case that displays the reverse side of the cover artwork.
I was thrilled with the love and care that went into putting this release together. I am a huge fan of Twilight Time and this is no exception. They deliver the same kind of attention to detail that makes Scream Factory releases so special and only produce a limited number of discs, so their output can be seen as something of an investment. I would absolutely suggest picking up a copy of Rollerball on Blu if you are a fan of the flick. You can grab your copy (while supplies last) via the Twilight Time Website.
WICKED RATING: 7/10
Director(s): Norman Jewison
Writer(s): Norman Jewison, William Harrison, and Martin Julien
Stars: James Caan,  John Houseman, Maud Adams, John Beck, Moses Gunn, Ralph Richardson
Release: June 14, 2016 (Limited Edition Blu-ray)
Studio/ Production Co: Twilight Time, 20th Century Fox
Language: English
Length: 125-minutes
Sub-Genre: Sci-fi