Gothic Harvest sounds like the kind of seasonal party I'd love to attend but, in practice, the debut feature from actor turned director Ashley Hamilton has little do with the spookiest time of the year. Instead, the film takes in a centuries-old curse on a Louisiana-based family, a group of partying college girls, and a grizzled Bill Moseley as a local cop who may or may not know more than he's letting on.
Kicking off in the present day with some soft-core lesbian porn action, sound-tracked by the kind of music you'd sooner expect to find in Twilight or in the off-cuts for Queen of the Damned (i.e. the greatest soundtrack of all time, don't @ me), the film quickly establishes its dark heart with the ruthless slaying of a young woman. Only, instead of being killed slowly, she seems to be being kept alive to feed…something.
Related: Deadcon [Frightfest 2019 Review]
We then turn our attention to the aforementioned gaggle of horny young ladies, who are down in New Orleans looking for a good time when one of them, the dumbest, drunkest one, is lured away by a clearly dodgy (and, it has to be said, much older) man. The responsible one has set a bunch of ground rules for keeping them all safe, but clearly to no avail. They then recruit Detective Hollis (Moseley), who's dressed like he's going to a Menzingers show, to help locate her.
Our villains are the wealthy, aristocratic Boudine family who moved to the U.S. in the 1800s and, after falling foul of one Madame Laveau due to an illegitimate child, were cursed to spend eternity stuck in the same time loop. Relegated to their elegant, albeit slightly decrepit, mansion with nary a TV to occupy their time (I imagine they frequently fight over a good spot at the starin' window) the family must find women whose blood to feed off in order to survive. There's even a baby that, presumably, will remain a baby forever.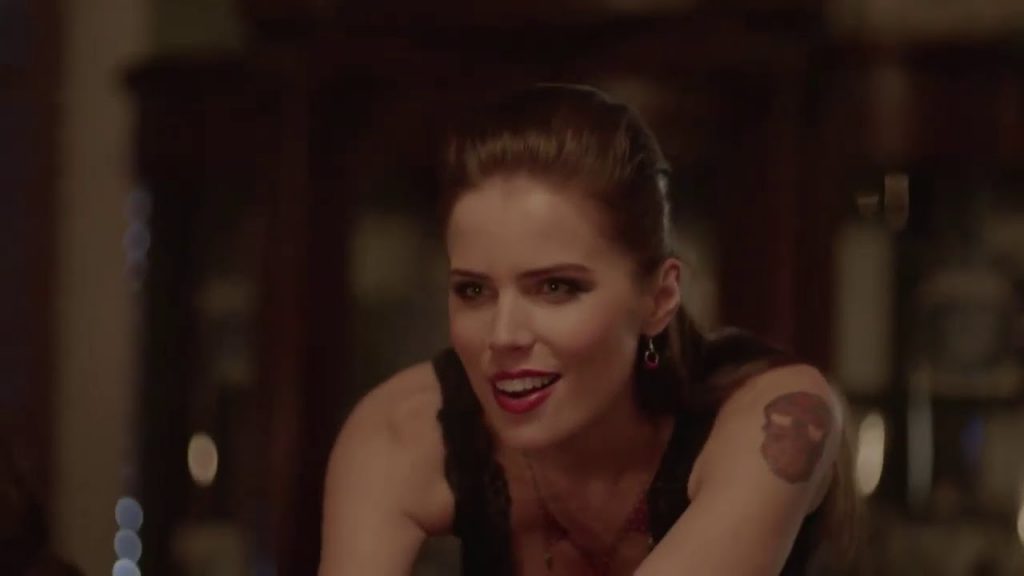 ​I go to the trouble of laying all this out because the Boudines' ​plan is never made clear, even with a cursory read of the film's synopsis. Hamilton keeps self-consciously flashing back to events that have already happened as a way to flesh out the story, but those moments are obvious. What isn't obvious is how the family actually steals the essence from these women and why. Do they have to share it? Is it just for one person? Why do they need to eat dinner too, if they're harvesting blood for sustenance?
Gothic Harvest boasts two massive Horror Icons at its helm, Moseley and the brilliant Lin Shaye, both of whom also take producer credits here. An early scene with a voodoo type suggests perhaps Tony Todd was also in the running to star but maybe was too expensive. Or he couldn't lower himself to appear in this dross. Even Riverdale had more integrity than this, and that featured a sexy cult leader who also farmed organs and pretended dead relatives were still alive.
To be fair, Moseley and Shaye emerge mostly unscathed. He's looking better than he did even as Otis, and makes moments like shouting "Pantera!" and doing devil horns seem endearing rather than cringe-worthy. A side plot where he's flirting with one of the college girls and trying to get her to sleep with him is super queasy, but the camera shies away when it comes time for them to supposedly kiss, so that's something. Moseley is immensely watchable, even if he's given very little to do besides wear a plaid shirt.
Shaye, meanwhile, is incredibly regal in truly wonderful costumes. She brings gravitas to a thinly-written role, especially considering Gothic Harvest remands her to a wheelchair. Still, there's a sense both Moseley and Shaye are above this kind of material, even if their presence makes the film significantly more palatable. None of the other performers makes an impression, save for the lady playing Laveau who gives it socks in her brief scene (take that, Ryan Murphy).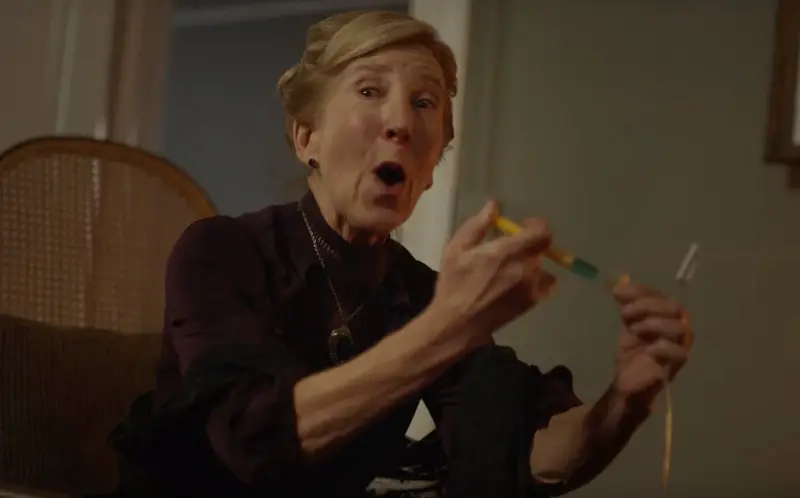 There are so many bizarre, disparate elements — a flashback to olden times starring a man who's a cross between Fabio and Tommy Wiseau, a bondage sequence, some business with a doll that's really a corpse and, er, incest — but nothing really fits together, or makes any kind of impact. The thing is edited very strangely, almost too abruptly, while a sequence involving driving when clearly a car is not being driven highlights how obvious, and irritating, certain inaccuracies are when the story doesn't grip in the first place.
Likewise, at another juncture, two characters are having a conversation but one is talking while the other is looking away. None of it reads as darkly as it was clearly intended, because it's much too goofy. The score is sometimes nu metal for some reason. The gore, when it does come, isn't particularly convincing either. Gothic Harvest is like a rejected concept for an Avenged Sevenfold video, except stretched to breaking point at 82 minutes. It's clunky, hammy, overwrought, nonsensical and neither scary nor suspenseful.
See Also: Dementer Gives the Devil his Due [Review]
There would be an element of so bad it's good fun to be had here, if only everything wasn't so deathly serious. But that it takes itself so seriously just makes Gothic Harvest even more farcical. It made me long for Hatchet's brief, Louisiana-set sequence complete with boobs, beads and, yes, the real Tony Todd. Avoid at all costs.
WICKED RATING: 2/10
Director(s): Ashley Hamilton
Writer(s): Chris Kobin
Stars: Bill Moseley, Lin Shaye, Sofia Matsson, Tanyell Waivers
Release date: October 15, 2019 (On Demand and Digital HD), November 5, 2019 (DVD)
Studio/Production Company: Align Entertainment
Language: English
Run Time: 82 minutes
Follow us on social media: Twitter, Facebook, Instagram, and Youtube