Horror fans today may not realize there's a horror aesthetic that's almost lost, except to the DVD bends or obscure digital rentals. That's the TV-movie horror, a distinct and creepy form that's hinted at a bit in Hulu's Into the Dark monthly film series. 
While adhering to broadcast TV standards, textbook dramatic structure and often providing significant third-act twists as payoff, these 70-90 minute flicks sent chills down the spines of '70s kids while they were viewing. Those children stayed huddled under the covers at bedtime for days after, wondering what zombies or other creatures lurked in the shadows. Or which loved one might secretly be a betrayer. 
A few original standouts have managed to stay above the tide, of course. The Night Stalker touched off a one-season series, a brief series reboot and enjoys an ongoing cult following. It also inspired The X-Files, so there's that. And Don't Be Afraid of the Dark with its haunting whispers spawned a Guillermo del Toro-produced remake. Others haven't enjoyed that longevity, but there are still chills to be found if you seek them out via streaming services, rentals or eBay. Here are five made-for-TV tales to watch in the dark with imagination engaged.
Crowhaven Farm (1970)
Debuting as an ABC-TV movie of the week a couple of years ahead of The Night Stalker, this featured Hope Lang and Paul Burke as Maggie and Ben Porter. John Carradine and other great character actors made up the supporting cast. Ben and Maggie are a troubled couple. Trust issues! But they're hoping to start a family when they head to a Maine farm. Hints of New England witchcraft and deals with the devil plus nagging hints that Maggie might be the reincarnation of the farm's previous occupant unsettle the couple and viewers as well. Warnings of a bite from the devil's own teeth plus horrifying flashbacks to a crushing witch torture make this a true gem. And it's written by John McGreevey, whose credits include Family Affair!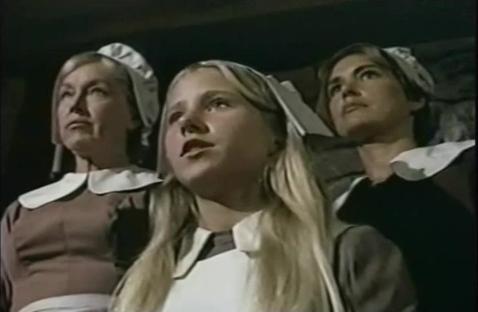 The Norliss Tapes (1973)
This pilot–written by William F. Nolan and directed by Dan Curtis, of The Night Stalker and Dark Shadows–slipped into NBC's Mystery Movie wheel one Wednesday night. Those expecting the slightly comical McCloud or Columbo met the much darker David Norliss instead. He's an investigative journalist fresh off researching a book intended to debunk fake mediums and other charlatans. Uh, oh. In the opening minutes, Norliss reveals to his publisher everything's not as fake as expected. He miiiiiiiiight have accidentally upset dark forces. That said, Norliss disappears. His publisher (Don Porter, Gidget's dad), concerned he's out a writer and especially an advance, listens to cassette tapes Norliss left behind. Each tape's a story. The pilot's focus is a tape concerning the wife (Angie Dickinson) of a dead sculptor. She's having unsettling experiences. During persistent, gloomy rainstorms, Norliss investigates. He soon suspects the deceased is coming back and is at work in his abandoned studio on a commission straight out of hell. Genuine jump scares combine with Night of the Living Dead-inspired makeup and an all-hell-breaks-loose finale for a memorable and chilling excursion. Sadly, a planned series was upended by a writer's strike. Only Nolan's treatment for a followup provided further details on Norliss when it appeared in a horror magazine in the 1980s.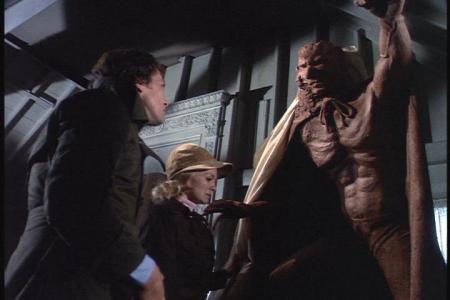 A Taste of Evil (1971)
Not quite as chilling as Crowhaven Farm, this psychological thriller with Roddy McDowell, Barbara Parkins and Barbara Stanwick is still worth a look. It's scripted by Jimmy Sangster, screenwriter on some of Hammer's top Frankenstein and Dracula series entries. In addition to that, it's directed by John Llewellyn Moxey whose credits include the fab black-and-white The City of the Dead aka Horror Hotel with Christopher Lee. There's a distinctly cinematic feel to this flick. Parkins is Susan Wilcox, a young woman returning home following years in a Swiss institution following a rape at age 13. Mom (Stanwick) has remarried a boozy William Windom, and Susan's soon experiencing what might be a new wave of hallucinations and strange experiences including a disappearing body. Is she going mad? McDowell as a psychiatrist is called in to help, but matters only escalate while answers are elusive until the the very end.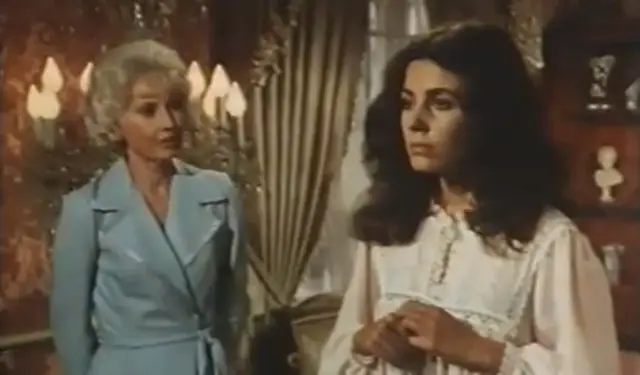 Dr. Cook's Garden (1971)
To sum this one up without giving too much away, Bing Crosby stars in a role far different from his musicals or folksy Christmas specials. Based on a Broadway flop by Ira Levin (Rosemary's Baby) Garden is directed by Ted Post (Beneath the Planet of the Apes). Blythe Danner also stars, and Frank Converse is Dr. Jimmy Tennyson, Cook's protégé. It's mystery/horror with the underlying secrets of the surprisingly placid New England revealed slowly. A sense of dread develops as Tennyson reunites with Dr. Cook, who once shielded him from an abusive alcoholic father in his youth. The stage-roots fuel the human interactions, so it's a great chance to view a distinctive turn by Crosby and to watch a tale with chilling implications unfold.
Scream of the Wolf (1974)
Firstly, it's topped by '60s TV series stars Peter Graves (Mission: Impossible) and Clint Walker (Cheyenne). And you get Jo Ann Pflug fresh off the second Kolchak telefilm, The Night Strangler. Late-era Dark Shadows villain Jim Storm appears too. Not to mention perennial screen heavy Don Megowan. He wore the land suit in Creature Walks Among Us. Secondly, it's adapted by The Night Stalker's veteran writer Richard Matheson from a seminal horror short story by David Case. The script moves action from England to the U.S. It's directed by The Night Stalker's Dan Curtis. It's not The Night Stalker. It's not The Norliss Tapes. However, this thriller's an intriguing excursion with a tantalizing central question. Is a lone wolf behind multiple small town deaths or is Walker's big game hunter a werewolf? He did suffer a severe wolf bite once. It's up to writer Peter Graves to find out, and the tension between Graves and Walker's great as the story unfolds.