Kill all Monsters Omnibus Volume 1 is an upcoming book, from Dark Horse comics, about a parallel universe where humans' technology is our downfall. In an apocalyptic world where humans are scarce, but monsters are plentiful, the story revolves around a team of gigantic metal robots whose sole purpose is to kill the monsters. The team has bonded over killing the insanely large beasts, as well as the fact they appear to be the sole humans in possession of this technology. However, trouble stirs as the next step in their robot suits has been activated, an entire suit equipped with Artificial Intelligence that does not need a driver. This idea makes the team wary, and they are forced to confront their feelings while also dealing with monsters and solving their origins.
While the concept of Kill all Monsters Omnibus Volume 1 is Pacific Rim-esque, the story of struggle, the tenacity of the remaining humans, and the horrifying discoveries throughout make it an enjoyable read that stands out among its comparables. I was genuinely interested in not only the well-drawn fights between the monsters and robots, but also the heart that Kill all Monsters Omnibus Volume 1 brings to readers.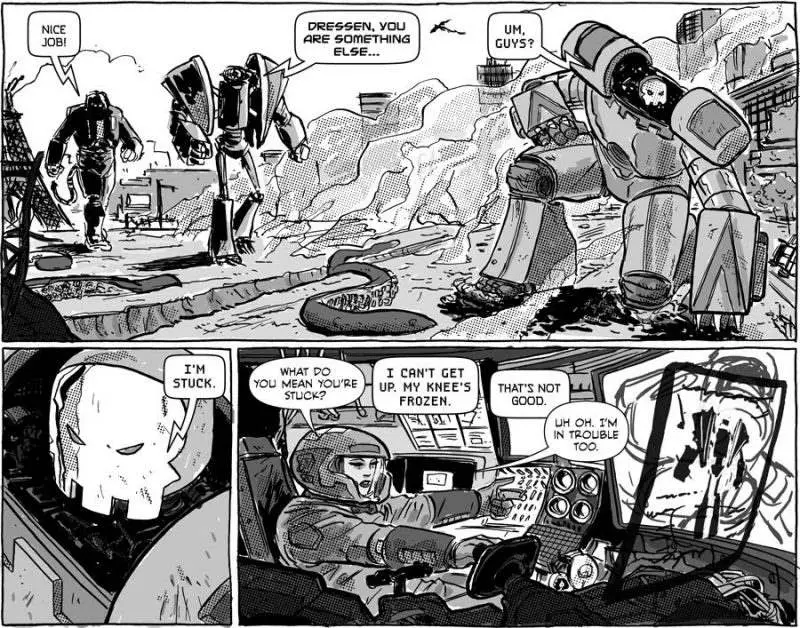 I felt the pain and struggle of a world that never made it past 1954 and is stuck in a Fallout-type universe where everything has frozen in time. The brilliance of Kill all Monsters Omnibus Volume 1 lies in how it draws on the fact that, while it is a sci-fi and post-apocalyptic story, it is also one that shows the tenacity of the human spirit and the pain and grief that come from a never-ending war.
I highly recommend this book to any monster film fans, as well as those who adore Kaiju movies and, of course, sci-fi enthusiasts. While this is a fantastic comic book in a beautiful hardcover to read, the only real complaint is that there are not more pages in color. The black and white panels do not take away from the depth of the story or the gravity of the situations the main characters are in, but maybe some of these pages could have been in color for emphasis. Regardless, this is well worth picking up.
Pick up Kill All Monsters Omnibus Volume 1 when it releases from Dark Horse Books on July 19th, 2017!