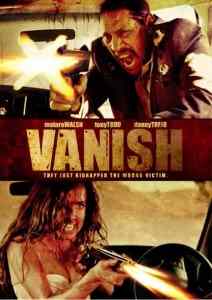 The neo-grindhouse action thriller 
VANish 
is officially headed for DVD and Blu-ray. We have the release date details and more for you after the break! So, head in and take a look. Keep an eye out for our review closer to the film's release date!
Dark Sky Films reached out today to let us know that the picture will be available on DVD, Blu-ray, and Digital Download February 24.
The film stars Maiara Walsh (The Starving Games) Tony Todd (Candyman) and Danny Trejo (Machete). 
"Hoping to score a hefty ransom, three thugs viciously kidnap a drug cartel boss' only daughter from her home in broad daylight. The captors imprison the young woman in their van, dictate terms to her notorious father, and then travel to the outskirts of the desert for the exchange. What the amateurs don't realize is that their victim is a force to be reckoned with on this violent road trip full of murder and mayhem. It's hell on wheels as time ticks away and the pressure mounts. The kidnappers find themselves in increasing danger from the police, hit men and crime bosses, and must find a way to keep their plan in order before all hell breaks loose"