Last year, I talked about how Halloween is explored in R.L. Stine's Goosebumps, and how the Christmas season is celebrated in Stine's Fear Street novels. This year, let's take a look at how the scariest day of the year is celebrated on the scariest street in America. 
Unfortunately, the Fear Street franchise doesn't have as many Halloween-themed titles under its belt as the Goosebumps franchise does. In fact, one of the books being discussed below is only in this article because it takes place during the month of October. But we'll take what we can get. 
Without further ado, let's take a look back on exactly how Halloween is observed on Fear Street!
Fear Street: Halloween Party
Mysterious transfer student Justine Cameron has invited nine students from Shadyside High to an exclusive Halloween party. Hosted in the Cameron Mansion, located on the other side of the Fear Street Cemetery, Justine promises this will be a night no one will forget. In the days leading up to the party, Niki Meyer is caught in a prank war between both halves of Justine's guests, including her boyfriend Terry and her ex-boyfriend Alex. Niki is more concerned about Justine's motives for inviting these nine specific people. Come the night of the party, there are angry gatecrashers and strange accidents keep happening. When Terry discovers a dead body in the attic, he finds out someone at Justine's party isn't fooling around…
Halloween Party has a well earned reputation in the Fear Street fandom as one of the best books in the series. It's got everything. A gorgeous cover courtesy of Bill Schmidt, great location in the Cameron Mansion, the engaging mystery of Justine Cameron, a supremely twisted villain, and an extremely likable and competent protagonist. Niki Meyer stands out as one of Stine's few leads to have an established disability as a deaf woman who can lip read. Although the book repeatedly emphasizes she is "special," Niki herself has a strong personality and shows a lot of bravery and common sense. She doesn't let others control her and she does her best to take control of the story.
This book also includes a big acknowledgment towards an earlier book, The Overnight, by having school prankster Ricky Schorr as one of Justine's guests. During a party game, Ricky alludes to the events of the ill-fated overnight but refrains from spoiling that book's events.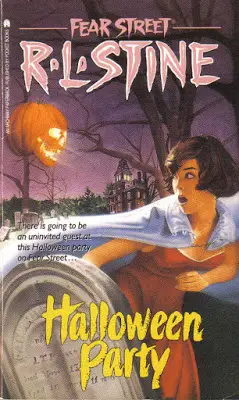 Fear Street Sagas: House of Whispers 
When Simon and Angelica Fear settled in the fledgling town of Shadyside, they brought with them a legacy of evil that's tainted the community long after their deaths. These are the stories of the cursed Fear Family and the lives they've ruined throughout the ages.
During the middle of the Civil War, young Amy Pierce is sent to New Orleans to live with her cousin, Angelica Fear. While Amy tries to bond with her younger cousin Julia, Angelica decides to induct Amy into their family's legacy of dark magic. The more Amy learns about the power inherent in both the Pierce Family and the Fear Family, the more she fears for her life and the lives of those around her. It comes to a head on October 31st when Amy's forced to confront Angelica if she wants to escape with her life. 
This is the second book in the Fear Street Sagas, the historical fiction series focusing on the earlier members of the Fear Family. House of Whispers takes place before Simon and Angelica Fear moved their family to Shadyside, and before the events of The Fear Street Saga #3: The Burning. The book sheds some light on Simon and Angelica's daughters Julia and Hannah, more so Julia who is treated as something of an "ugly duckling" by her sister and mother. Angelica Fear is the antagonist, showcasing how dangerous she's always been even without her husband in the picture. Some of the visuals Stine and (ghost writer) Wendy Haley include in this book involve a wall of living shadows capable of devouring a human being down to the bone, a young woman being set on fire, and another drowning with detailed description of fish eating at her flesh.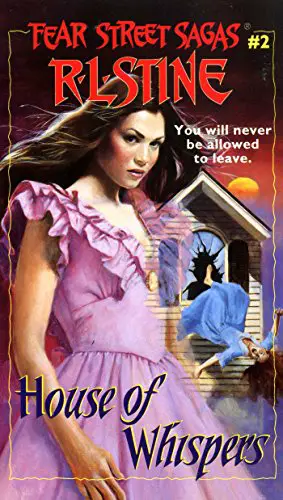 Fear Street Sagas: Door of Death 
Jake Fear was swindled out of his home and fortune by his greedy young wife, Cassandra Ryan. On All Hallows Eve, a year after Cassandra poisoned Jake to death and got away with it, people are saying Jake has risen from the grave to enact bloody vengeance on "cheaters." Amy Burke doesn't believe that Jake's come back, until she starts having visions of grisly murders and Jake proclaiming she'll be his new bride.
This is the penultimate Sagas, and one of the goriest in the franchise. There's some problem with how it fits into the overall Fear Street continuity. Jake Fear is said to have lived his whole life in Shadyside and dies in 1863, roughly in his 60s, with him being shunned by the community because of the Fear Family's cursed nature. This is despite previous books firmly established Simon and Angelica Fear were the first Fears to live in Shadyside. As well as Jake's last name being spelled "Fear," when it was previously spelled "Fier" before Simon changed it in the 1820s.
Beyond that, Door of Death hasn't aged quite as well. There's the fact of Jake Fear marrying a woman young enough to be his granddaughter, and his ghost later on lusting after the equally young Amy Burke. While nothing explicit happens in the book, Jake's loathsome hunger for Amy–up to forcefully kissing her and shoving his tongue down her throat–just reads wrong on even more levels than it did in the 1990s.
Still, unlike House of Whispers, Door of Death is explicitly a Halloween book and includes even bloodier deaths with a sequences that sees a man's head being crushed in a vise.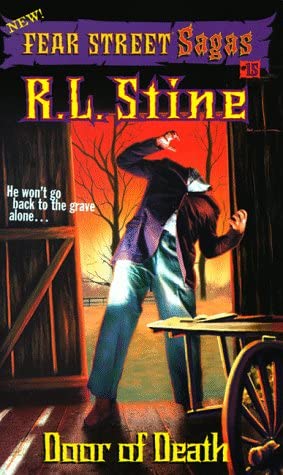 Ghosts of Fear Street: Who's Been Sleeping In My Grave 
The horrors plaguing Shadyside aren't reserved exclusively for its teenage residents. The kids of Shadyside have their own problems to deal with. While they don't have jealous stalkers and violent murderers haunting their every waking moment, the kids are up against body-snatching ghosts, living shadows, alien slime, and evil playing cards.
Zack Pepper is a timid boy trying to be more brave, but that's proving difficult when he meets his substitute teacher. She's old, she's pale, she dresses entirely in white, and she wears a big hat with a veil hiding her face. She's Miss Evangeline Gaunt, and she's decided Zack is her favorite student. She loves teaching Zack so much, Miss Gaunt wants him to be her student forever. In life, and especially in death.  
Who's Been Sleeping In My Grave takes place during the lead-up to Halloween, with the climactic fight between Zack and Miss Gaunt taking place Halloween night when she tries to drag him into her grave. This is the second book in the Ghosts spinoff series and features one of its most prolific villains. Miss Guant's eerie design and interesting personality as an undead teacher looking to educate a child for all eternity makes her stand out from some of the other villains. It helps that she inexplicably has a magnetic charisma, to the point our protagonist Zack by the end admits with fondness that she really was a good teacher.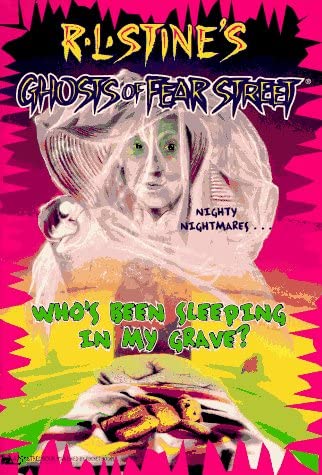 Ghosts of Fear Street: Halloween Bugs Me by Barbara Joyce
Derek Boyd tries to make everything a competition between him and Greg Dreamer. And no matter what Greg does, Derek always beats him. This Halloween, Greg's determined to get more candy than Derek. No one expected Greg would win thanks to an enchanted trick-or-treat bag. The bag makes copies of anything that's put inside of it. Candy. Money. Bugs. But for every problem the bag solves, it makes a lot more than Greg can handle.
Halloween Bugs Me is probably the closest Ghosts of Fear Street has come to directly mimicking a Goosebumps book. The conflict between Greg and Derek is reminiscent of the rivalry between Jack and Wilson from the beloved Goosebumps book How I Learned To Fly. Greg's selfishness and single-minded determination to beat Derek, as well as Derek's obsession with besting Greg at everything, are hallmarks of some of the most insufferable kids in the Goosebumps franchise.
That said, this is one of the grossest books in the Ghosts line. The cover art gives you a hint of what's to come with those three cockroaches crawling around, but that's nothing compared to what happens after Greg recovers the magic treat bag from the local dump.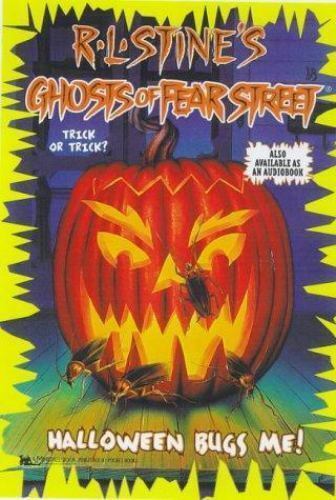 Fear Street Seniors #4: No Answer 
Josie Maxwell only wanted some payback on her math teacher, but her attempt to cast a "Doom Spell" went horribly wrong. Now the entire senior class is cursed. Trisha Conrad predicts no one will live to see graduation.
Clarissa Turner, now in 12th Grade, has returned to Shadyside High after the death of her older sister, Justine. While Clarissa tries to adjust to life in the senior class, she finds Justine's old notebook. Soon Clarissa is learning things about her sister, awful things Justine kept secret. There's also a number for a psychic hotline run by a woman named Renata. When Clarissa calls, Renata channels Justine's spirit. Justine warns Clarissa she was murdered and the killer may be after her now.
Will Clarissa be the next senior to die?
The Fear Street Seniors twelve book series was the last Fear Street spinoff released in the 1990s, and was only followed up by Fear Street Nights several years later in the early 2000s. No Answer takes place during October but there's absolutely no mention or reference to Halloween. 
This book is still significant for a couple of reasons. It's one of the rare times where Stine uses a protagonist who is explicitly described as Black out of a myriad of white leading characters. There's also the fact that this is the first book in the Seniors series to have a major character death in the cast. Well, one that stuck. While Danielle Cortez was the first Senior to die in the previous book, The Thirst, she was only mentioned a few pages before her death. No Answer includes the first death of a Senior that is relevant to the plot and actually received some character development.
Unfortunately, eagle eyed readers might notice the identity of the killer in No Answer is spoiled in the book's yearbook section, and had been spoiled in the previous three books as well.