If you aren't a PC gamer or a video gamer in general, then you probably haven't heard of the prolific rise of the Five Nights at Freddy's franchise, otherwise known as FNAF. FNAF was just released last year as a point and click horror game and skyrocketed to fame in the gaming world. It has been the inspiration for numerous cosplays, video games that clone the same concept, some extremely creepy fan fiction, and of course, a movie that is scheduled for 2017. For all my non-gamer friends out there, let me give you the low down on FNAF.
There are four FNAF games, the first released a year ago, and the fourth was sprang upon players about a month ago; way before the advertised date. All the FNAF games are point and click horror games that center on playing a character (usually a security guard) that is being terrorized by multiple animatronics that may or may not want to murder his or her face. Special programming has given the the ability to the creepers to walk around on their own and between the hours of 12 A.M and 6 A.M., you hope to survive six hours knowing that a homicidal fox (Foxy), rabbit (Bonnie), chicken (Chica), and bear (Freddy) are coming for you. These four animatronic characters are attached to a pizza place with a similar concept to Chuck E. Cheese's, but with a much darker past. Throughout the games, players are rewarded for their attention to detail with a story that indulges in reckless homicide, child murder, and revenge. Within the series you uncover that there have been multiple locations of Freddy Fazbear's Pizza and that this children's entertainment chain is consistently haunted by past performers who have died in dangerous costumes and souls of murdered children who have perished at the hands of an employee. These children and workers then have possessed the animatronics and are out for revenge and that is where you, as the player, come in.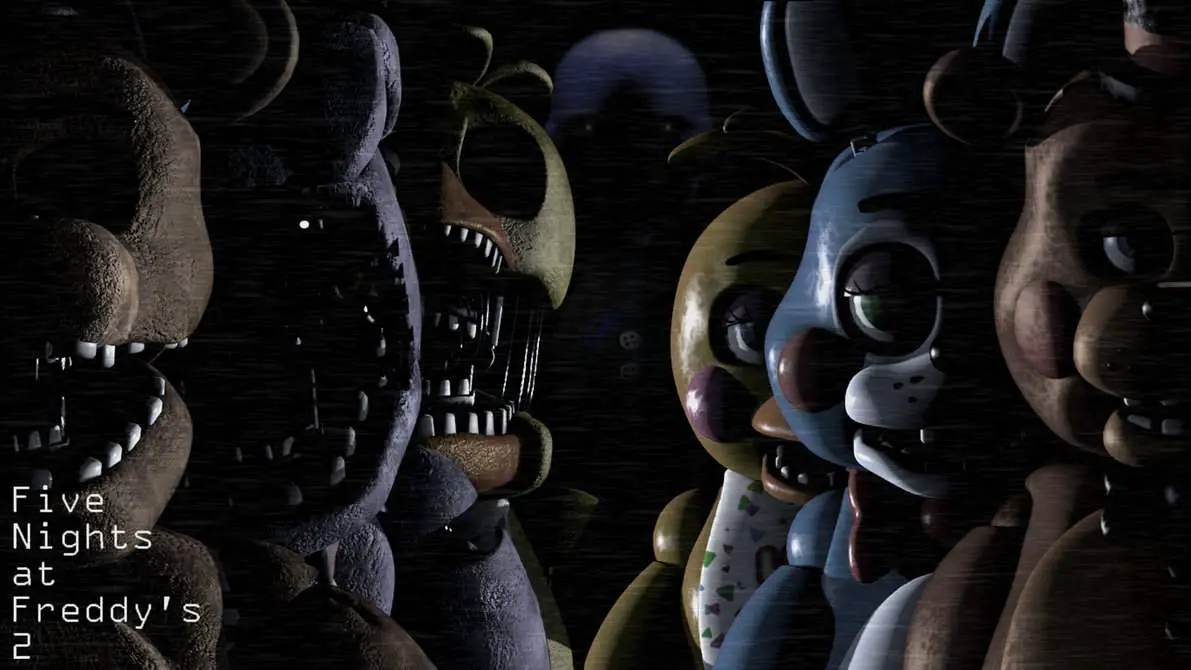 This is as far as I will go plot wise, since you can discuss this for hours, but if you are interested in immersing yourself in these games, I recommended either looking up popular gaming channels on YouTube for game play OR looking up The Game Theorists on the lore of FNAF.
There are many debatable aspects of these games from character development to the identity of the killer to how many children have been killed, etc. However, what is more fascinating is the fact that this series is more captivated by younger teens and tweens. This is odd because these games are NOT fun to play.  It's not that they are terribly made or you can't have a good time, but Scott Cawthon (the developer) mastered the way to incorporate the tension of an epic horror movie into a game. I am too much of a pansy to complete all the games (I did do the first one! That should count for something!), but while I was playing I was having the same elevated heart rate and shortness of breath that usually accompanies haunted houses or the Paranormal Activity movies. I was generally freaked out that these little buggers were going to jump scare me because I wasn't fast enough to guard against their shenanigans. In fact, the first time I failed and the animatronics jumped at me, I completely flipped my laptop and screamed…like I was being chased by Michael Myers. I got interesting looks, but I was more surprised I wasn't going into shock.
Ok, maybe the games won't be that scary for those less sensitive than myself, but why are tweens into this? As I started to research online and talked to young people I realized that most of them aren't playing this game. They are watching game play from popular gaming personalities like PewDiePie, Markiplier, and Jacksepticeye. Yes, it is still scary to watch the videos, but these kids were more into the mystery of the haunted animatronics and the serial killer that was on the loose. At first, these seemed like intense topics for ten to fourteen year olds, but then, it dawned on me. FNAF is this generation's Scary Stories to Tell in the Dark! This game is a safe way that children can experience fear and learn about the real life horrors of stranger danger and prolific murderers. I love when things come full circle! So if you haven't checked out these games, I strongly suggest them if you are into survival horror or if you are more like me and prefer to sit on the sidelines and cheer someone else on.  And if you have tweens or teens, make them play these games, and enjoy the looks on their faces.