Green River Killer: A True Detective Story is a graphic novel written by Jeff Jensen and illustrated by Jonathan Case. It had the dangerous potential to either be another ridiculous piece of media (such as serial killer themed movies like Bundy and 8213 Gacy House) or a fantastic noir depiction of one of America's most prolific serial killers and the detective who spent the better part of twenty years tracking him down.
Unfortunately, while the detective's story (Tom Jensen, the author's father) has heart and is one of the most accurate depictions of how police work effects the men and women who carry badges, the bite expected from the Green River Killer's (AKA Gary Ridgway) story is lackluster and almost comedic in its tone and execution.
In real life, Gary Ridgway has the most confirmed amount of victims in American history, with 49 murders, all of which were women (either prostitutes or transients). His killing spree took place between the 1980s and 1990s, but he was most active during the years of 1982-1984, when the crimes had the most media attention. He was dubbed the Green River Killer after he repeatedly dumped his victims near the Green River in Washington State, close to Seattle.
His M.O. was usually to pick up prostitutes or transient women, have consensual sex with them, and then strangle them before dumping them near the Green River. Ridgway avoided prosecution for so long because he often changed the ways he left the bodies, to confuse the police, by posing them uniquely, changing the locations, or even scattering random trash around the crime scene that had nothing to do with the murder.
Tom Jensen, on the other hand, spent his career working as a police officer with the King County Sheriff's Office, in Washington, and was assigned to the Green River Task Force in 1983. At the time Officer Jensen was not a major-crimes or homicide detective, but he had earlier proven himself and was an inspired addition.
He worked diligently on the case, never giving up on the victims even after the task force was disbanded in 1989, seven years after the first body was discovered in 1982. Jensen was one of the only people to interrogate Gary Ridgway after his capture in 2001 and, although he immediately retired after the arrest, he continued to work on a cold case task force for King County as a crime analyst.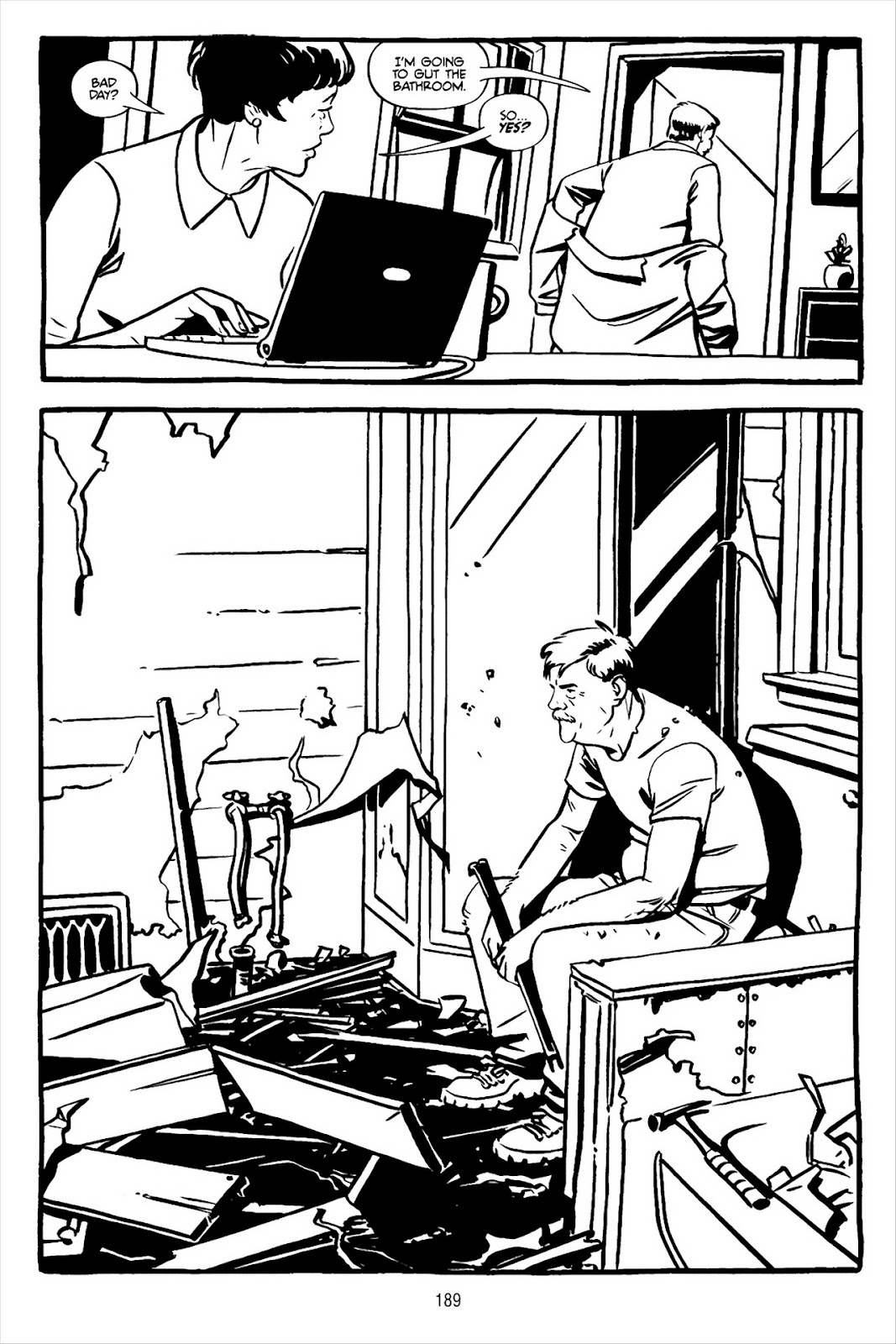 There's a great story contained within
Green River Killer: A True Detective Story
about the struggle of being a police officer and dealing with a particularly horrific set of crimes over such a huge span of time. Officer Jensen is not only depicted as being subject to the nightmarish crime scenes of the victims, but his internal emotional struggle is very well-represented also.
For example, after finding himself particularly rattled by one of the bodies he finds, Jensen returns home and begins to build in his garage, hammering incessantly while flashbacks of the body appear in-between hits. There are also numerous quiet moments of Jensen processing Ridgway's arrest that epitomize the struggle of the long-time cop. Likewise, he doesn't disturb his wife with details of the murders or bring any of that baggage home, but instead chooses to deal with it the best way he knows how.
Unfortunately, this praise cannot be extended to the representation of Gary Ridgway, which, refreshingly, doesn't worship the fact that he is a serial killer, but rather depicts him as a bumbling buffoon who just happens to kill women. His arrest is illustrated as a surprise encounter between him and the police, but in reality he fully cooperated and calmly let them take him to the police station.
There is also another, notable instance where Ridgway seems to lead the detectives on by pretending not to know where the bodies are buried, but in real life he helped them uncover three additional bodies after twenty years of them being hidden. These are just two of the many encounters that fall flat of the actual story, doing it a considerable disservice–a real shame considering that the detective side was portrayed so well.
Additionally, while Officer Jensen is gifted fascinating flashbacks between the present (Ridgway's arrest) and the past (when he first started on the case), Ridgway's memories are jumbled and hardly make him out to be as evil as the novel claims. For example, there is a scene at the beginning where sixteen-year old Ridgway stabs a young boy to see what it is like to kill someone, but there is no context given.
Speaking of Ridgway's childhood, there are virtually no scenes that  depict the volatility of the situation in which he grew up, nothing about his domineering mother who would smash plates over his father's head or the fact he wet the bed until he was fourteen. The author doesn't even bother to give us a glimpse of the fact that Ridgway's mother would punish him by making him march around the house stark naked, then bathe him herself, which caused inappropriate sexual and violent feelings to erupt–ideal fodder for a graphic novel of this nature, surely. A dead cat features, and the reader assumes that it died by Ridgway's hands (one of the tell-tale signs of a serial killer), but it is really just a picture of a dead cat.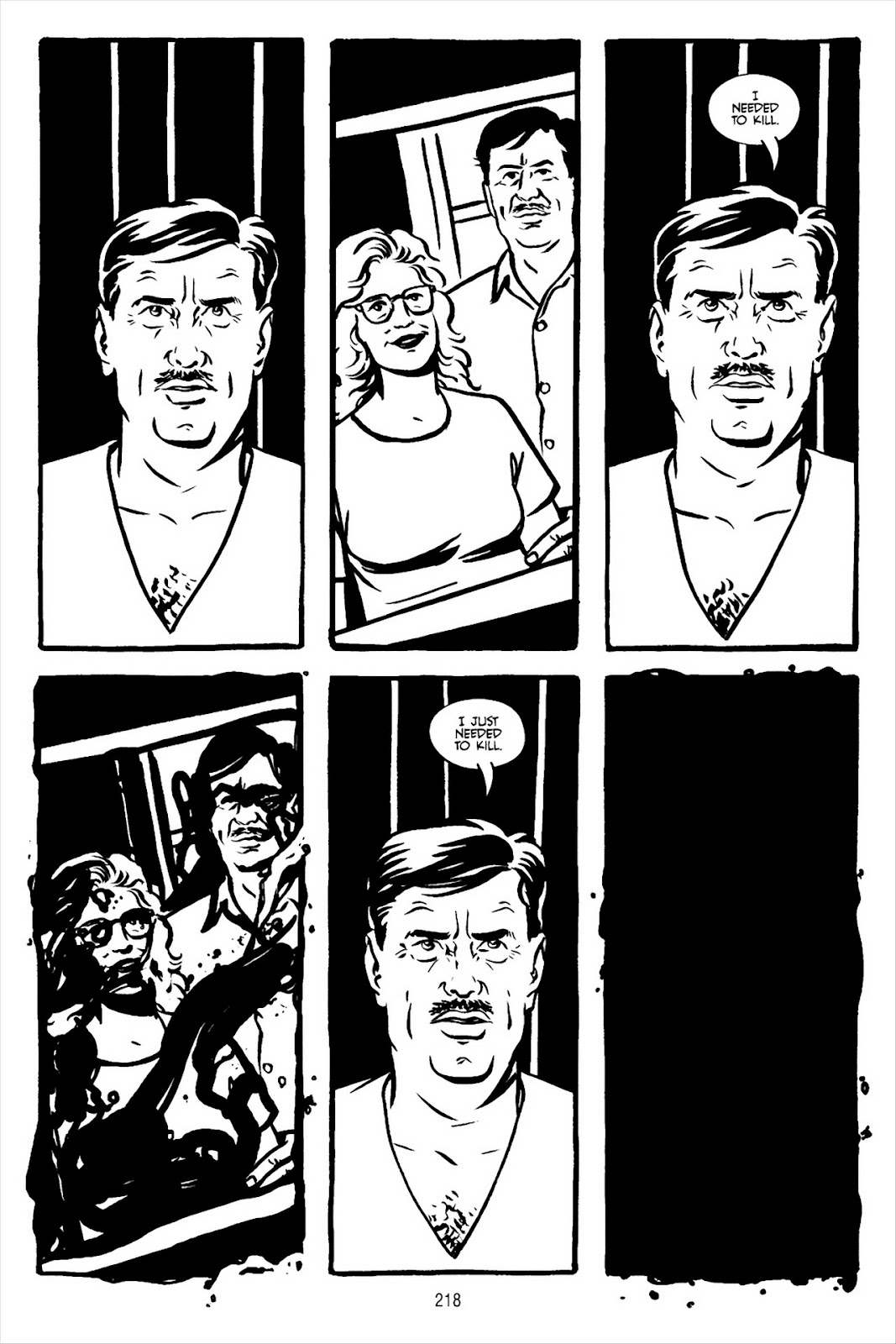 Overall, Green River Killer: A True Detective Story, is just a detective story and an honorary tale that has been made for the author's father, by the author. This graphic novel has a straightforward black and white art style that contributes to the reading, but the poor writing and plot development makes it quite drab. It has won an award for Best Reality Based Work, but is more for the law enforcement, criminal justice buff, than the serial killer, true crime enthusiast.