On February 15, 2002, police were called to the Tri-State Crematory, an establishment built to properly cremate the dead located in Noble, Georgia. Investigators were called numerous times over the preceding two years, with complaints of corpses being strewn about the property, but while initial calls in 2000 and 2001 were dismissed, local police could no longer ignore the allegations after the Environmental Protection Agency in nearby Atlanta were contacted about Tri-State Crematory. When Walker County Sheriff Department officers finally arrived at the property on February 15th they made the terrible, horror-movie-esque discovery of over 300 bodies not cremated, but strewn about in a bizarre display. So, what the hell happened at Tri-State?
Originally founded by Tommy Marsh in the 1970s, Tri-State Crematory was aptly named as it provided corpse services for Georgia and surrounding states Alabama and Tennessee. Marsh was a respected member of the community, highly praised for establishing Tri-State Crematory because it gave death service access to people who had not had it previously. After a couple decades of running the crematory, he handed the business to his son Ray Brent Marsh, who took over the operation.
During his tenure at Tri-State Crematory, Ray had been sent 2,000 bodies and everything on the outside seemed to be running all right. The first red flag for law enforcement came in October of 2000, when a gas man arrived to provide service for the property and saw that bodies were irresponsibly scattered around the building. However, the Walker County Sheriff's Department did not find this an issue that they needed to deal with at the time, so it was ignored.
Then, a year later, in November of 2001 the Environmental Protection Agency in Atlanta received a tip from an unknown source informing the agency that there were body parts in the woods around Tri-State Crematory. The Walker County Sheriff's Office was then informed yet again of the ongoing issues with the facility, but they supposedly conducted a routine check where they found nothing.
Barely three months later the EPA was informed from a community member that while walking their dog they uncovered a human bone on the property surrounding the vicinity of Tri-State Crematory. EPA agents then arrived on the scene and found a skull and more human bones scattered in the woods, which prompted the arrival of police on February 15th, 2002. It was also discovered that a truck driver who delivered propane to Tri-State Crematory had called the police twiceto report bodies being scattered around, but again they reportedly conducted a routine check-up and found nothing.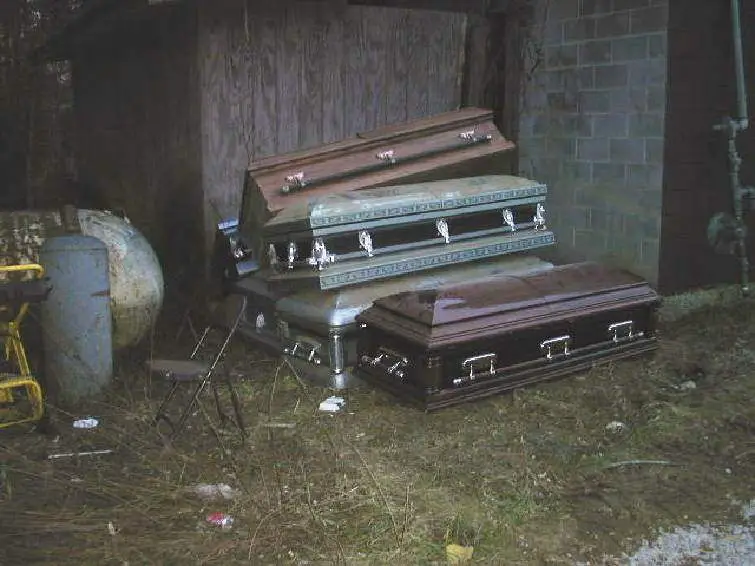 The investigation of February 15th found 339 uncremated bodies, with many of the corpses in advanced stages of decomposition. Coffins were haphazardly stacked in rooms, corpses lying in boxes that were disorganized with their fluids leaking onto the floor, and some were in their Sunday best while others were still in hospital gowns. There was one body lying halfway inside the crematory oven, another lying inside a coffin, and yet another draped across a wooden crate with the skeleton of a baby at its feet.
Police were lost for words as they made this terrible discovery, which quickly became a full-on nightmare after it was revealed that the families of the corpses were sent cement dust, not ashes. Additionally, after the removal of the bodies, only 226 were identified using DNA testing, but this meant that almost 100 of the victims have never been identified.
Of course, Ray Marsh was immediately arrested for his crimes and was charged with 787 criminal accounts including theft by deception, abusing a corpse, fraud relating to the burial services he had promised, and fraud pertaining to his false statements. He pled guilty to his crimes and was sentenced to twelve years in prison (he just got out in June of 2016). The Marsh Family has also faced numerous civil litigation suits that have resulted in them paying out millions of Dollars to families of their victims. However, even at his sentencing hearing, Ray had reportedly said that while he knew the families wanted answers, he could not give any as to why.
While Marsh initially told law enforcement that the oven wasn't working properly, that was found not to be true since a majority of the 2,000 corpses sent to Tri-State Crematory were properly disposed with and the ashes sent to their families. There was another initial theory that Ray was lazy, so rather than burn the corpses properly, he would just wheel them off to another room and dump them. Yet, that seems highly implausible since a corpse would literally be dead weight and placing it from a wheeled cart to the oven would be much simpler than to just dump or drag them about the property.
Nevertheless, five years after the initial arrest, Marsh's lawyers had him undergo some physiological tests which discovered that Ray was a victim of mercury poisoning. This was entirely plausible since, when cremating bodies with fillings, the process releases mercury into the air, but usually this isn't a problem if you have good ventilation. But, the ventilation system at Tri-State Crematory was found to be dysfunctional, which would expose both Ray and his father to toxic mercury vapors and effectively give them so-called Mad Hatters Disease.
Mad Hatters Diseases, really called Erethism, is a neurological disorder that has a devastating effect on the central nervous system and cognitive function issues. The name was originally coined from old England hat makers who were exposed to mercury daily because they used it to stabilize the wool. So, this means that while Ray was working at Tri-State Crematory he was exposed to unsafe levels of mercury and seemed to run the establishment like his own grotesque wonderland by leaving the bodies around the property in various states.
The scandal of Tri-State Crematory rocked the death industry as many other professionals claimed that this was the unfortunate result of the lack of regulation and inspection of Tri-State Crematory, thanks in large part to a loophole in Georgia state law. Since Tri-State Crematory only dealt with funeral homes they could operate without a license and hence avoid a yearly state inspection. However, in the aftermath of the scandal Georgia changed its laws and most states around the country amended their own to avoid another horrific disaster like Tri-State Crematory.
Note: A movie inspired by this incident was made in 2012 called Sahkanaga which you can check out here.
*Updated April 26, 2022