Among the wave of young adult horror franchises created in the 1990s, one of the more well known was Bone Chillers. The series was created by prolific authoress Betsy Haynes, with publisher Daniel Weiss. It was published by Harper Collins and Daniel Weiss Associates. Bone Chillers was a typical YA horror line. Sporting covers by famed Goosebumps artist Tim Jacobus, the series featured bizarre and grotesque creatures such as a lunch lady serving meals made from live bugs, a Thanksgiving turkey brought to life ala Frankenstein's Monster, an imaginary friend back for revenge, and a wad of phlegm growing out of control.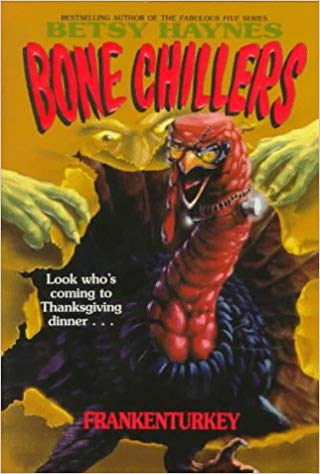 What set Bone Chillers apart from most of the other YA horror titles at the time is the TV adaptation it received during publication. Airing in 1996, the Bone Chillers TV show was set at Edgar Allen Poe Junior High and focused on the terrifying misadventures of four friends: Fitzgerald "Fitz" Crump, Lexi Orwell, Sarah Moss, and Brian Hoseapple.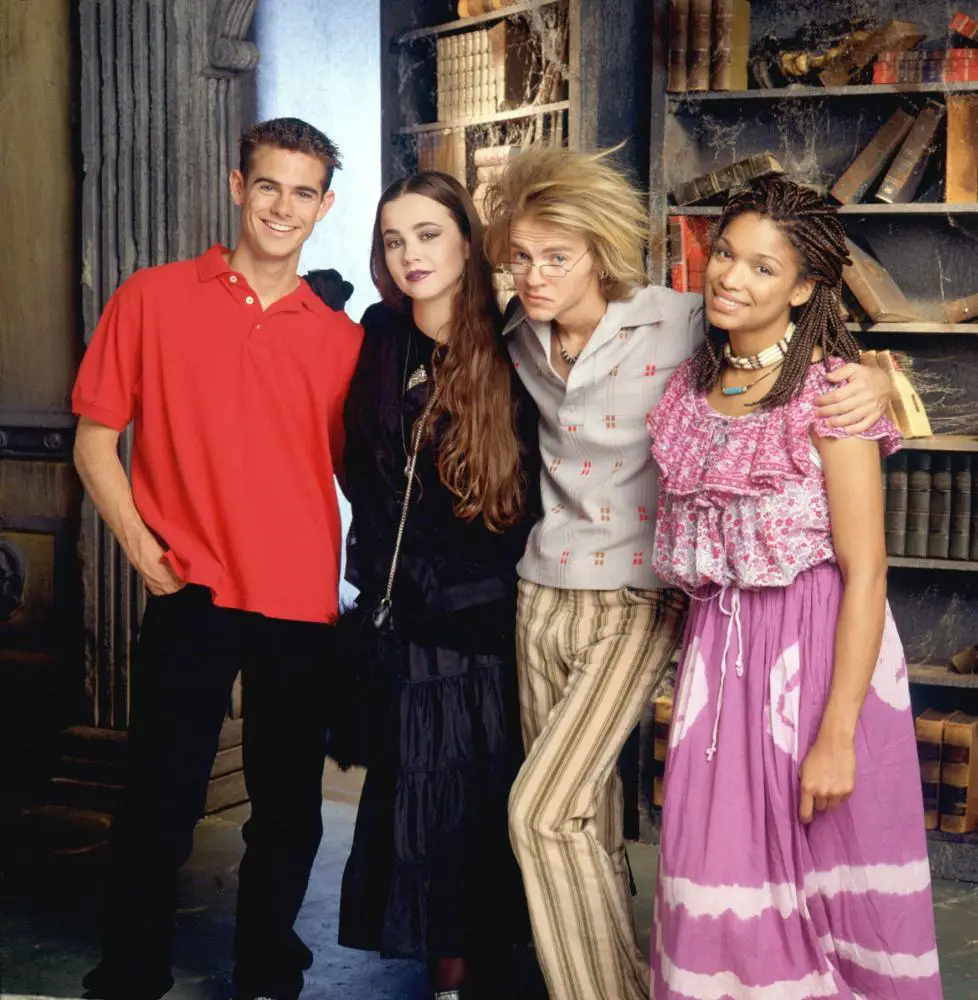 Sarah Moss was portrayed by actress Linda Cardellini, who would go on to play Velma in the two live-action Scooby Doo films and provide the voice of Wendy Corduroy on Gravity Falls.
The show ran for 13-episodes, each featuring an ending segment with series creator Betsy Haynes delivering a short message. Only three episodes ("Creature Teacher," "Back to School," and "Frankenturkey") were directly based on Bone Chillers books, while one episode ("Romeo and Ghouliette") was adapted into a book two years after the show ended. Edgar Allen Poe Junior High was sometimes used a setting in the books, and the names of the show's main characters were taken directly from the original installment, "Back to School." Tim Jacobus also did the artwork for the VHS tapes.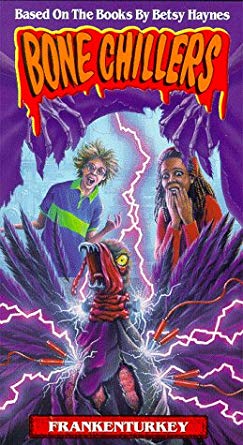 Betsy Haynes wrote roughly half the books in the series, while the others were ghostwritten. The non-Haynes entries all bore "Created By Betsy Haynes" on their covers as an indication of her being the series creator and not the writer of these specific stories. However, near the end of Bone Chillers' publication things went in a bizarre direction. While #23, "Romeo and Ghouliette," was thought to be the last of the line, there currently exist two more books.
Over in France, the 24th Bone Chillers book, "Here Comes Sandy Claws," was released as "Le Homard en Cavale" ("Lobster on the Run") under Froid Dans le Dos. For some reason, "Here Comes Sandy Claws" was never officially released in the United States and is mistakenly attributed to Gene Hult. Hult has confirmed he never wrote "Here Comes Sandy Claws" and doesn't know why he was listed as the ghostwriter. Similarly, David Bergantino was mistakenly referenced as the ghostwriter for "Why I Quit The Baby-Sitters Club."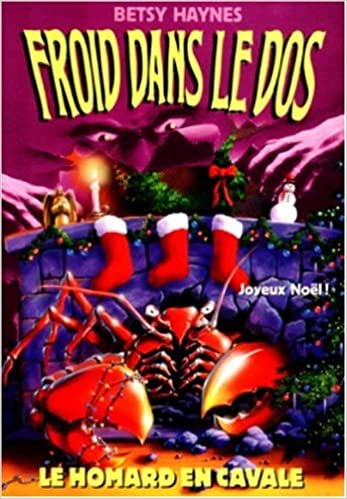 A 25th Bone Chillers book, "Open Wide," was announced in the August 10 1997 edition of the Casper Star-Tribune stating the cover art and book itself were completed. Tim Jacobus confirmed he still owns the cover art for "Open Wide" and was also the artist for "Here Comes Sandy Claws." The newspaper article made no mention of "Here Comes Sandy Claws" as the 24th book.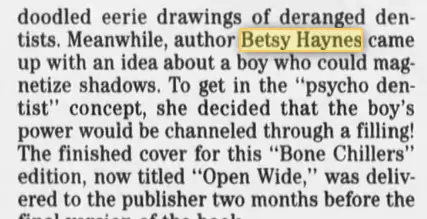 This is where things take a turn for the strange. During my investigation into the YA horror phenomenon, I discovered the existence of a series called Fright Club. Purporting to be written by Chris Archer and published in 2001, Fright Club consisted of seven advertised books which don't seem to exist at all.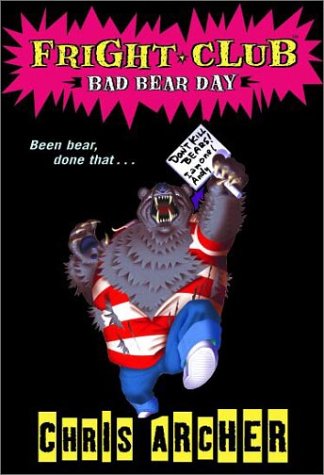 Each of the seven books have listings on websites like GoodReads and Amazon, three with cover art, yet there's no evidence they were actually published or distributed. Chris Archer is the accredited author of two other YA titles, Mindwarp and Pyrates, both of which can be bought.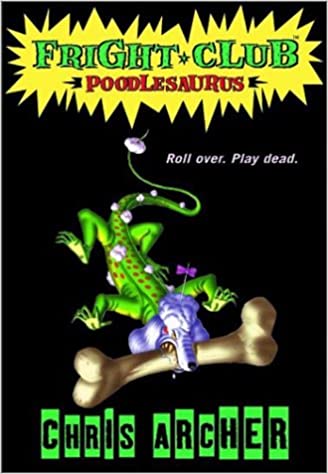 The Fright Club titles include:
Bad Bear Day
Open Wide
Poodlesaurus
I Know What You Flushed Last Summer
Live Bait
Dread Locks
Revenge of the Claw
One of those titles sound familiar? Well it should. Fright Club's "Open Wide" was supposed to be about an evil dentist giving a boy a filling which could magnetize and control shadows…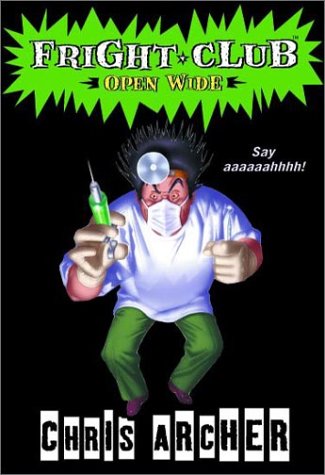 And this was the exact same plot as the unpublished "Open Wide" from Bone Chillers!
This book is called Open Wide, but people who are scared of maniacal dentists, or drills, or bullies with names like Bruiser, might want to keep these pages tightly shut. That way, they won't wonder what happens to Russ, Dr. Nightshade's latest victim, or the giant shadows that have been making Russ do things ever since the doctor gave him that strange filling. Now, Russ has got to figure out how to put a stop to Dr. Nightshade's handiwork, before he becomes his own worst nightmare
Further digging revealed the plot for "Revenge of the Claw" was the exact same plot as "Here Comes Sandy Claws!" "Revenge of the Claw's" summary talked of two kids named Duncan and Trisha being hunted down by a lobster named Barnacle Bob.
Duncan and Trisha always thought lobsters were yummy. But they never realized that a lobster might find them yummy, too until Barnacle Bob decided to make them his next meal. Now they're on the run from the biggest shellfish the world has ever seen, and only a stroke of genius will save them from getting clawed. 
Having paid for a translation of "Sandy Claws" the previous year, I can confirm the French Bone Chillers entry was about two kids named Duncan and Tricia being hunted down by a lobster named Barnabe.
What A Good Catch!

Ah! What a pleasure: the Florida sea, the palm trees, the beach. Well, rather a true nightmare! When a boat filled with toxic products destroys the seawall and throws all of its cargo into the water, one can only fear for the worst: For example, that a lobster turns into a cruel and berserk monster! And that he attacks two children, hunting them down without mercy… Really, Tricia and her brother Duncan are not ready to forget these holidays!
However, Fright Club didn't settle for repackaging unreleased Bone Chillers stories. A comparison of the summary for "I Know What You Flushed Last Summer," detailing a girl named Ellie hunting after a science experiment she flushed down her toilet, is the same premise as "Toilet Terror" of Bone Chillers with the same protagonist.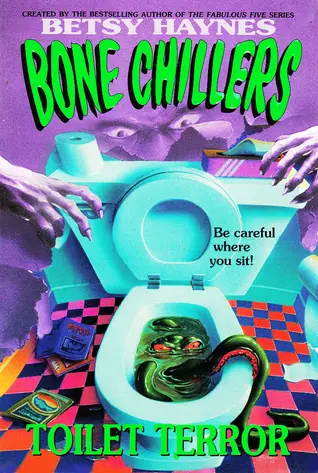 "I Know What You Flushed Last Summer:"
There are lots of unpleasant things about the bathroom. But none of them could compare to the terrifying creature that just crawled out of 12-year-old Ellie's toilet. It smells bad and it looks even worse Now Ellie's running all over New York City trying to escape this science experiment gone wrong and, unless she can come up with a plan to stop the sewer monster, it's her life that might get flushed.
"Toilet Terror"
There's a monster growing in Ellie and Hans' toilet. It all started when Ellie flushed her messed-up chemistry experiment. Then Hans gave his dead goldfish a burial at sea – in the same toilet.

Now there's a creature living in the darkest depths of the bathroom. It slithers down the pipes behind the walls. It slides through the drains into the sink. And it's only a matter of time until the creature finds the space under the bathroom door – the space that will lead it to Hans and Ellie…
The summary for "Dread Locks" also gives a semi-implication of a connection to the Bone Chillers franchise. Its main character, Tiffany deals with her hair gaining a life of its own after she uses a special tonic made from blood. This is a bit of a stretch, but the Bone Chillers TV series and the adaption of "Romeo and Ghouliette" both had a character named Tiffany Lenter. This Tiffany was described as "walking around in a ten pound cloud of make-up and hairspray." That the make-up based "Dread Locks" would have a protagonist named Tiffany could allude to this being the same Tiffany that appears in Bone Chillers. 
It seems that Fright Club was going to be used as a vehicle to recycle and repackage stories which were originally going to be published under Bone Chillers before the title ended in 1998. For whatever reason, Fright Club either saw a very small window of publication or was simply never released at all.
Two more points to support this theory are the dubious existence of "Chris Archer" and the publishers for both titles. Aside from a bio included in copies of Mindwarp and Pyrates, there doesn't seem to be any verifiable information that Chris Archer is an actual person. It's possible, if not likely, "Chris Archer" was an umbrella name being used by ghostwriters. That "Toilet Terror" was confirmed to be ghostwritten by Elizabeth Winfrey adds credence to "Chris Archer" being a shared name.
The second point is that AlloyBooks, the publisher listed for Fright Club, was formerly called Daniel Weiss Associates. Daniel Weiss was the group that published Bone Chillers alongside Harper Collins.
Three of the Fright Club books were confirmed to have existed in some format as Bone Chillers books, and one implies a Bone Chillers connection. Where does that leave the other three? "Bad Bear Day" focused on a kid who was turned into a bear and was going to be hunted by his best friend. "Poodlesaurus" involved a boy discovering the dog he's looking after was really a lizard-like monster. And "Live Bait" featured a girl learning the tropical resort she's staying at had a horrible secret. Were these three also planned Bone Chillers titles that didn't make the cut before the series ended, brand new stories, or rejects from some other horror series?
If Fright Club was going to be an attempt to recycle Bone Chillers under a new name, why did publication cease before any books were released? Why was "Here Comes Sandy Claws" only released in France? And why wasn't "Open Wide" released at all?