It's finally August, which means the countdown to Frightfest 2017 has begun. In the weeks leading up to the festival, Joey Keogh will be taking a look at some of the most anticipated movies on this year's jam-packed schedule. First up, it's Cult Of Chucky.

Each year, there are a couple big-with-a-capital-B movies at Frightfest that eclipse pretty much everything else on the bill. Previously, heavy-hitters such as You're Next, Turbo Kid and 31 have all stormed the festival, obliterating everything in their path. But, let's face it, when Chucky himself is set to appear, everybody else better step back.
Previous installment Curse Of Chucky screened back in 2013, to a rapturous response, surprising hardcore fans and naysayers alike. In spite of your own personal leanings, it's fair to say most of us had decided the crazed doll most likely wouldn't be scary again, even if we all collectively still held a soft spot for him. Happily, we were completely wrong.
Curse Of Chucky is an absolute riot. Fresh, fun, funny and, perhaps most crucially, super-scary with a killer lead performance from Fiona (son of Brad) Dourif as Chucky's wheelchair-bound victim. A sequel was all but inevitable, but the same reservations still existed. Could they do it again? Where else could this story possibly go?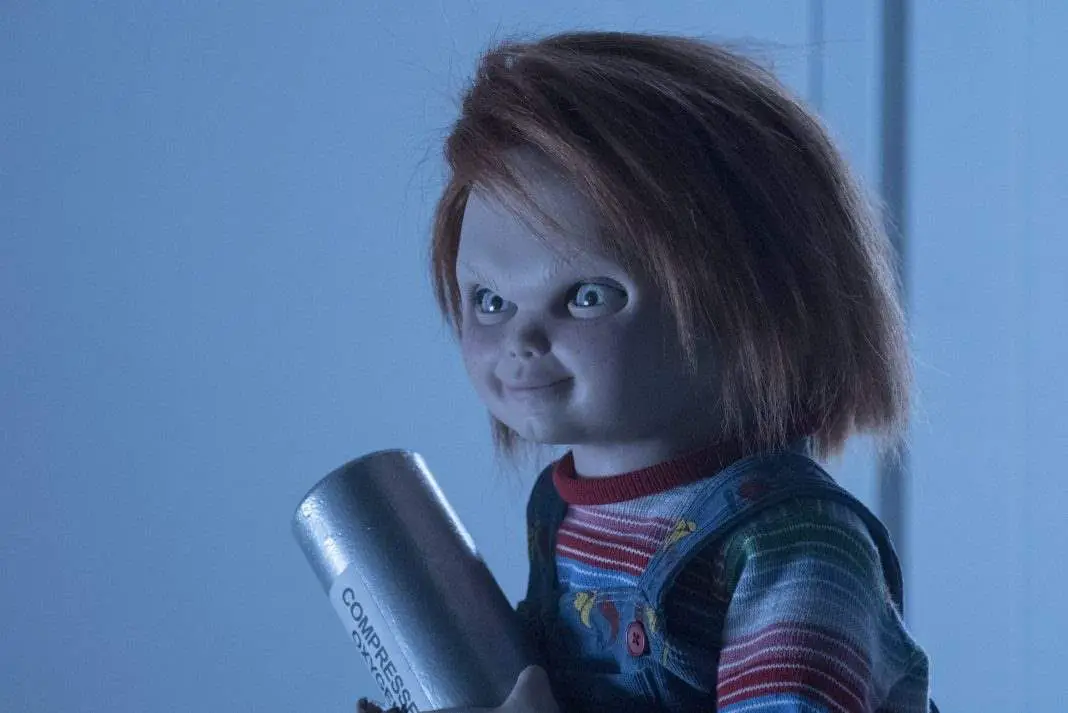 We needn't have worried, of course, as the red-band trailer for the flick (which you can check out for yourself below) showcased an all-new take on this familiar story, with heroine Nica (Dourif) tormented in a mental hospital by the evil doll. The use of the word "cult" also suggests something entirely new (and devilish) is afoot.
The official synopsis for Cult Of Chucky is as follows:
Nica Pierce (Fiona Dourif) is erroneously convinced that she, not Chucky, murdered her entire family. But when her psychiatrist introduces a new therapeutic "tool" to facilitate his patients' group sessions — an all-too-familiar "Good Guy" doll with an innocently smiling face — a string of grisly deaths begins to plague the asylum, and Nica starts to wonder if maybe she isn't crazy after all. Andy Barclay (Alex Vincent), Chucky's now-grown-up nemesis from the original Child's Play, races to Nica's aid. But to save her he'll have to get past Tiffany (Oscar®-nominee Jennifer Tilly), Chucky's long-ago bride, who will do anything, no matter how deadly or depraved, to help her beloved devil doll
The movie hits home video only on October 3rd, so lucky Frightfest attendees will be seeing it more than a month earlier than everyone else–and on the big screen, no less. There are no reviews as of yet, for obvious reasons, so we don't know what the general consensus is, but suffice to say, this is the biggest and most anticipated movie on the bill for a reason.
Check out the super-cool red band trailer for Cult Of Chucky for yourself below, and sound off in the comments about whether you think there's life in the old doll yet or he should be put to rest for good. Stay tuned to the site for more in the weeks leading up to Frightfest 2017.
https://www.youtube.com/watch?v=qmHpd_9TEzA
Cult Of Chucky kicks off Frightfest 2017 at 6PM on Thursday, 24th August 2017 in the Main Screen. Don Mancini, Jennifer Tilly, Fiona Dourif and Chucky himself will all be in attendance. The full festival line-up of films is available on their official site, where all ticketing information can also be found. Wicked Horror will once again be there, to bring you all the must-read reviews and exclusive interviews from this year's festival. So stay tuned.