It's finally August, which means the countdown to Frightfest 2018 is ON. In the weeks leading up to the festival, our intrepid reporter Joey Keogh will be taking a look at some of the most anticipated movies on this year's jam-packed schedule. This week, it's eighties throwback Summer Of '84.

I remember seeing Turbo Kid at Frightfest a few years back and being completely blown away. The most refreshingly new and unique horror movie I'd seen in ages, it was packed with laughs, heart, gore, and Michael Ironside. I, like everyone else sitting in the theatre that night, knew that Montreal film-making trio RKSS would be ones to watch. Lo and behold, their second feature isn't Turbo Kid 2, but rather a Goonies-style throwback to the kids' horror/adventure movies of yore.
Following four young boys (older than the kids in both of its most obvious comparables, last year's IT and Netflix super hit Stranger Things, it has to be said) on the trail of a serial killer, both its take-notice poster (see below) and trailer (see further below) seem to hint at spooky, Goosebumps-level high-jinks. The result is actually much darker, and more adult, than anticipated, which is no bad thing. RKSS cleverly lure us in with cute nods to eighties properties like Star Wars, and put the kids in a tree-house happily sharing stolen drinks and discussing adult cinema before things get really serious.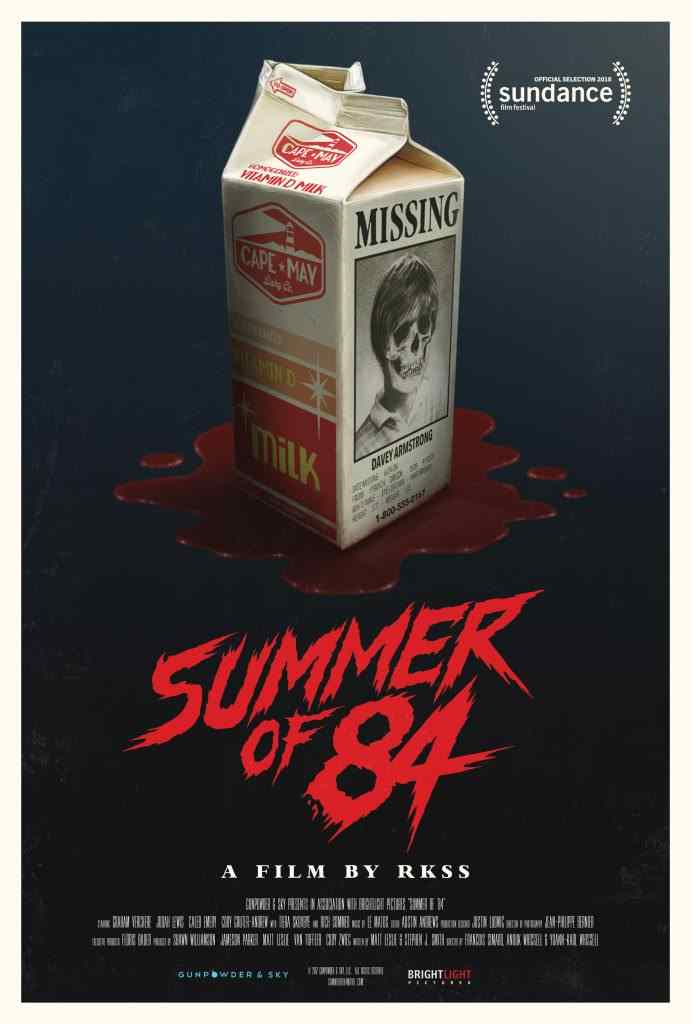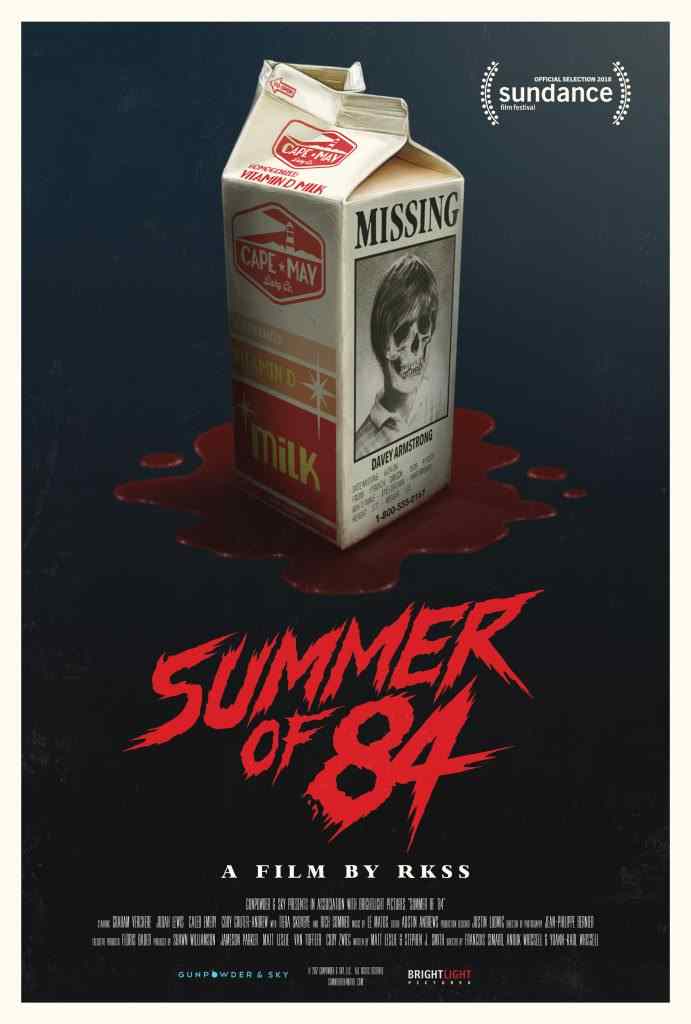 Summer Of '84
's secret weapon is Rich Sommer as the elusive Mr. Mackey, neighbour to lead kid Davey and also a local police officer, which complicates matters considerably once he's identified by the children as the elusive Cape May Slayer. Previously most well known for playing Anne Hathaway's effeminate buddy in
The Devil Wears Prada
, Sommer delivers a nuanced, revelatory performance here, utilizing his classically pudgy, childlike looks, to make us question his intentions along with the kids on his tail. There are some serious scares as the mystery unfolds, too.
The full synopsis for the flick, via Frightfest, is as follows:
The Turbo Kid trio return with more Stranger Things collected from their retro-nostalgia horror conscious. Davey thinks his police officer neighbour Mr. Mackey is the serial killer the local press have dubbed the Cape May Slayer. With his three friends Eats, Woody and Curtis, Davey starts to investigate under the guise of one of their normal suburban games. For his own part Mackey seems to have a good humour about Davey's suspicions, spying and evidence gathering, but is he just giving them all a false sense of security? Then they start getting closer to the truth and the danger escalates.
Reviews have been pretty great thus far, with Daily Dead's Heather Wixson praising the movie's ability to stake a new claim for RKSS while also honouring their previous effort, "[Summer of '84 is] very different than Turbo Kid, and yet also feels like the perfect companion piece to their debut feature all the same," while the Village Voice's Alan Scherstuhl said "once Summer of '84 kicks in, it kicks hard," and THR's John DeFore explained it has "plenty of jolts that suggest the boys are on the right track balanced by other signs they're making something out of nothing." As for me, this one really hit the sweet spot; "thanks to its defiantly dark subject matter, a well-defined period setting, that terrific performance from Sommer, and significantly more scares than expected, Summer of '84 is up there with the best eighties throwbacks."
Check out the trailer for Summer of '84 below, and sound off in the comments about whether you think this is a throwback worth paying attention to, or just more of the same. Stay tuned to the site for all the must-know Frightfest 2018 reviews and interviews from the festival.
Summer Of '84 plays second at Frightfest 2018 at 8.45/9.15 PM on Thursday, 23rd August 2018 on the Main Screens. The full festival line-up of films is available on their official site, where all ticketing information can also be found. Wicked Horror will once again be there, to bring you all the must-read reviews and exclusive interviews from this year's festival. So stay tuned.