The countdown to Frightfest 2019 is ON, with just two weeks to go until the UK's biggest and best horror festival takes over Leicester Square. In the weeks leading up to the festival, our intrepid reporter Joey Keogh will be taking a look at some of the most anticipated movies on this year's jam-packed schedule. This week, it's Haunt, which has seemingly everything going for it.

As someone who frequents so-called horror haunts annually (and will be attending the biggest of 'em all, Halloween Horror Nights in Orlando, in just a couple months), Haunt appeals to me at a very base level. Haunts seem incredibly ripe for horror movie exploitation and yet, to date, only the mighty Hell Fest has really made a case for them (the less said about American Fright Fest, the better).
With any luck, Haunt will follow in its footsteps, particularly considering the creative team behind it boasts the writing duo behind A Quiet Place (and the upcoming sequel) as well as, er, Eli Roth whose output I'd usually avoid at all costs but in this case might just do well with his producer hat on and nothing else whatsoever. Set at an extreme haunt, the movie seems to suggest supernatural elements while the poster, which you can see below, evokes classic slasher villains.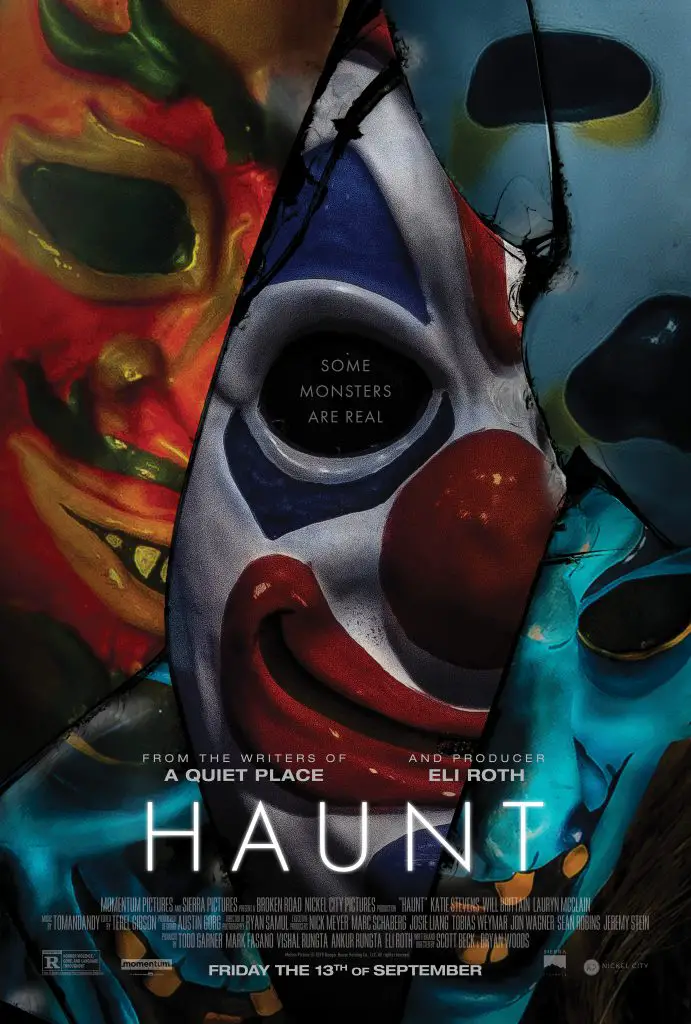 I'm a sucker for these types of movies, and remain hopeful the sub-genre of horror-at-the-haunt will take off once we get another load of Hell Fests under our belts. Haunt does feel like it could be an all-timer and the buzz surrounding it is huge at the moment. If nothing else, it should evoke the fun of going to a haunt as even American Fright Fest managed to do, to a certain extent. But with any luck it'll be scary as all hell too, just like the very best haunts.
The synopsis, from Frightfest, sells the hell out of it:
Produced by horror royalty Eli Roth and directed by Scott Beck and Bryan Woods, writers of the breakout genre hit A Quiet Place and its upcoming sequel, Haunt is a full-length feature based on the fake grindhouse trailer. On Halloween night, a group of college friends travel to a remote country location to enter an extreme haunted house attraction. Extreme because it promises to feed on all their darkest fears. But the night turns deadly as they come to the horrifying realization that some nightmares are real and the mischief-makers behind the enterprise are something else altogether
There are no reviews available just yet, because Haunt doesn't hit US theaters until September 13, which means those of us attending Frightfest are getting to see it super early. The flick world premiered at Popcorn Frights on August 8th but nothing appears to have come back from that just yet either. Still, we remain hopeful and excited about this one. No news is good news.
Check out the trailer for Haunt below, and sound off in the comments about whether you think this is going to be another Hell Fest-esque trip to the haunt or if it should just continue running around in circles, screaming for its life. Stay tuned to the site for all the must-know Frightfest 2019 reviews and interviews from the festival.
Haunt plays at Frightfest 2019 at 10.30AM on Friday, 23 August 2019 on the Prince Charles Cinema Discovery Screen Two. The full festival line-up of films is available on their official site, where all ticketing information can also be found. Wicked Horror will once again be there to bring you all the must-read reviews and exclusive interviews from this year's festival. So stay tuned.
Follow us on social media: Twitter | Facebook | Instagram | Youtube