In 1997, author Steve Alten took readers to the deepest part of the world's oceans and introduced them to an almost unfathomable beast–the massive prehistoric shark Carcharodon Megalodon, or Meg. Alten's debut novel MEG: A Novel of Deep Terror follows scientist Jonas Taylor, the one who first discovers that the shark is in fact not extinct as originally thought, and his efforts to stop the Meg after it rises from the Mariana Trench. MEG became a huge bestseller and was followed by several sequels, including The Trench, MEG: Primal Waters, MEG: Hell's Aquarium, and the forthcoming MEG: Nightstalkers, which will be out in June 2016. The success and popularity of the series have garnered Alten a large and loyal fanbase over the years–a group that have dubbed themselves "Megheads."
Twice before, it seemed like the inevitable film adaptation for MEG was going to happen but it never did, and the movie has been in development hell for almost 20 years. But that changed this year when it was announced that the Megheads would finally get to see Alten's creation come to life on the big screen thanks to a new deal with Warner Bros. In June, Hostel and Cabin Fever director Eli Roth was announced as the man who would helm the big-budget shark thriller. Wicked Horror contributor Michele Eggen recently had the chance to talk to Alten about the movie news; the recent release of a new expanded version of the original MEG; and the unique relationship that Alten has with his fans.
Related: The Meg is more Stath than Shark [Review]
Wicked Horror: If I could just start with a little personal story of when I first read MEG: I remember going into the bookstore, it must have been 20 years ago almost now, and I was looking for a book to read while going on vacation with my family, and I saw MEG. I saw the paperback cover with just the word MEG really big on the front. I read the back and thought that it would be the perfect poolside book to read, and I read the whole thing on vacation, and I remember thinking back then, "This has got to be a movie! They have to make this into a movie!" Now, it's finally happening. How excited are you that it's finally going to happen?
Steve Alten: I'm very excited that Warner Bros. is involved and that Eli Roth is going to direct and that we have the producers that we have attached to it. So, it's a really good team, but I've been left at the altar twice before, so I always sort of reserve things until the big announcement is made–it should be forthcoming–and of course, when I'm standing in line to get my movie ticket.
WH: How did the pieces finally come together for the movie?
Steve Alten: The key piece of the puzzle was [producer] Belle Avery. Back in 2006, when the movie was still at New Line Cinema and went into reversion, she was the only person I trusted to steer the ship. A lot of time passed, and she worked very hard at independently financing the movie through investors, and so when she went to Warner Brothers to do distribution, they definitely wanted to become involved in it because she had all the pieces laid out.
WH: How involved have you been and will you continue to be in the movie?
Steve Alten: The first script that the investors invested in was a combination of mine and Belle Avery's. From that point, I made sure the script was solid as far as the book was concerned, and it's evolved since then. I'm involved if they want me to be, but it's not very usual for an author to be involved once the movie goes into production. I'm happy to be involved, and I just trust the people that are involved right now.
WH: You said you wrote a first draft of the screenplay?
Steve Alten: Years ago. Almost two years ago.
WH: How has it changed?
Steve Alten: The location has changed a little bit. In the book, the shark, when it rose from the Mariana Trench, headed east to Hawaii and then up the shore of San Francisco. In this version, the shark heads west, heading toward the Asian coastline. The rest of it is still pretty true to the book.
WH: Do you know what the progress is so far on the movie?
Steve Alten: From what I can say, they've been looking to cast it, and they're going through the final processes before they make the announcement of who's going to be in it.
WH: What was your reaction to Eli Roth being chosen as the director?
Steve Alten: This is the perfect director for MEG. He's enthusiastic about sharks, he's got a great appreciation for them, and he understands what the Meg is. Plus, his films have been able to create horror without special effects. He brings a dark side to MEG that I think is much needed, and I think he'll be amazing.
WH: He seems to have the right enthusiasm for it.
Steve Alten: He really does, and he really appreciates sharks and what their purpose is in the oceans. And that way he keeps a balanced view of sharks, that they're not evil creatures. The Meg is a scary creature but it's not evil. It's not like they're out to eat humans because we're not on their diet–of course, plenty of them do get eaten.
WH: Has Roth expressed any interest in keeping you included? Have you been in contact with him?
Steve Alten: We've been in contact through Belle Avery, and I'm sure we'll be in contact soon. They've been pretty busy casting the movie so I don't want to disturb them. He seems like a really good guy and I'm looking forward to meeting him.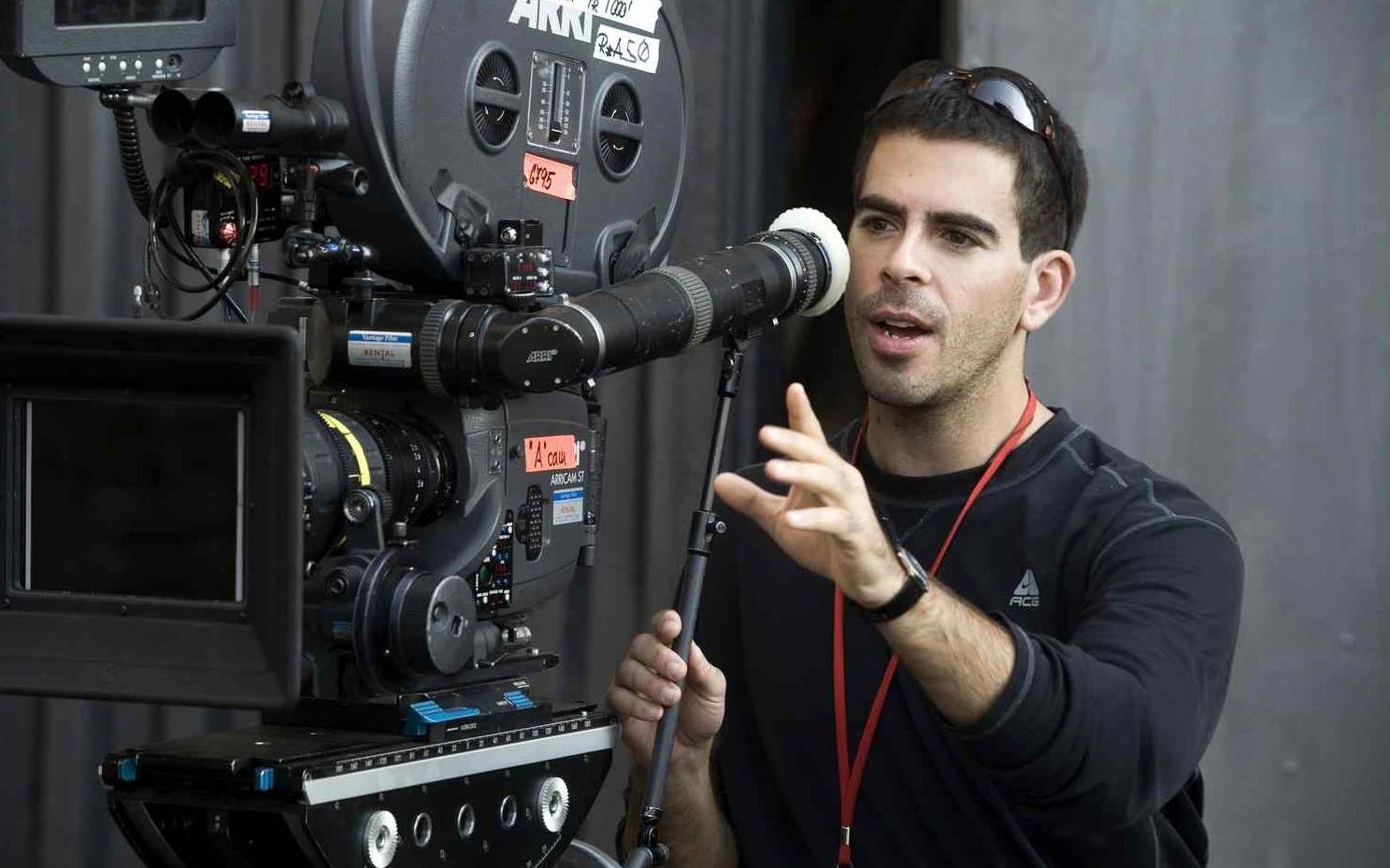 WH:
Do you have any preferences for how you would like to see the film, like how you saw the story in your head? Is there anything that you hope they would include?
Steve Alten: There are key scenes from the book that I think are going to be in there, so that's important to me. Other than that, I'm just anxious to see it. One of my favorite scenes, perhaps my favorite, is the scene that's on the new paperback book, which comes out in December. It's the surfer scene. So you have this giant wave–it's a surfing competition–and the Meg is coming through the wave at the surfer, and the surfer doesn't see it.
WH: You just released MEG: Origins last month. Can you tell me about that, and if you think they're going to include anything from Origins in the movie?
Steve Alten: MEG: Origins is a prequel that I wrote as an e-book about four or five years ago and it's never been published in print. So when I was coming out with a special anniversary edition of MEG, I wanted Origins to open the story, which it does. But then as I was going through the manuscript for the old MEG, I realized that the two books didn't align correctly, and that the writing was so different from 20 years ago, that I realized I had to rewrite the original story. I took about four months and rewrote MEG and meshed it with Origins, and that's the new book that's out.
WH: Is it a different style?
Steve Alten: The writing is tighter, the characters are more developed, I switched some scenes around, I expanded other scenes, I changed the dialogue–it's just a better book.
WH: Where did your fascination with the Meg start?
Steve Alten: It started as a teenager after I read Jaws, and then I became fascinated with great white sharks, and I took out every book from the library that had to deal with real shark attack stories with great whites. There was always a blurb in most of the books about Carcharadon megalodon, the prehistoric cousin of the great white, and there was a famous black-and-white photo taken in the Smithsonian Institute of a giant megalodon jaw with six nerdy-looking scientists sitting inside of it. There was nothing commercially ever written about the shark, so flash-forward 20 years, I'm 35 years old and struggling to make a living, and I read a Time magazine article that covered the Mariana Trench. And the more I read about that and hydrothermal vents, seeds started planting and I thought, "Wouldn't it be cool if the megalodon was still alive down there?" I mean, it's scientifically feasible. So I went to the library and did some research, and set a goal that I was going to write this book, and that's what I did.
WH: Where did the character of Jonas Taylor come from?
Steve Alten: Every story needs a hero, and Jonas is the hero in MEG. He's the guy who crossed paths with the Meg years earlier, but nobody believed him. So he was trying to prove to the world that they existed, and he gave up his career as a submersible pilot and turned into a paleontologist. When the opportunity comes across for him to return to the Mariana Trench, he takes it, intent only on bringing back the white tooth to prove that these creatures exist today, and of course, all hell breaks loose when he gets down there.
WH: Is there anybody that you see in your head as playing Jonas?
Steve Alten: Yeah, there's one particular actor in mind that I would hope they select. He's gone on file, but I'm not going to say who that is. But here's hoping!
WH: How do you feel about the fanbase that's been around the series?
Steve Alten: One of the things that's driven the fanbase is that the books are being used in high schools and middle schools across the country, as a way to get reluctant readers to read. It's a program that I've been behind called Adopt An Author. It's a nationwide nonprofit that assists teachers, provides them with free curriculum materials–tests, quizzes, projects, free posters, and contact with the authors, including myself, through Skype and in-class conference calls on speakerphone. It's a program that started back in 1999 when I realized that teens were reading my book at school and I just wanted to get behind it and provide teachers with everything they need.
WH: What do you think is the appeal of the MEG series?
Steve Alten: I think people love sharks, and if it's a giant shark that really existed and could still be out there, then the more the merrier, you know? Bigger is better when it comes to sharks!
WH: And you got bigger with the stories in the sequels to the MEG books–are there any plans to do adapt any of the sequels if the first film does well?
Steve Alten: I'm sure if MEG is successful, and I'm confident that it will be, that they'll attack the sequels as well. They've optioned the whole series.
WH: Oh, great! Because Hell's Aquarium [the fourth book in the series] would make an awesome movie!
Steve Alten: Hell's Aquarium is probably the pinnacle of the series thus far, but the new one coming out in June, MEG: Nightstalkers, has got some pretty amazing creatures in it, too.
WH: Yeah, can you give any little teases about what that story is about?
Steve Alten: Nightstalkers picks up right where Hell's Aquarium left off. David Taylor, Jonas's son, is broken up about the loss of his girlfriend and there's a Liopluerodon out there that's escaped from the lost sea that they discovered in Hell's Aquarium, and they're out to capture this thing. Meanwhile, Lizzy and Belle, the two female sharks that were Angel's evil brood, they're out there, too. The book is really two stories woven into one, so we follow both of these paths until they meet. The two Megalodon pups that are about 42 feet long, they've escaped from the last book, so they're living in the waters of British Columbia, feeding on anything they so desire.

WH: You're very interactive with your fans–they can contact you directly through email and Facebook. What has that been like for you, to be able to make that connection?
Steve Alten: It's probably been the best thing I ever did as an author. First of all, I answer every email that I receive personally. Nobody else answers them, just me. I've had the same email address since 1998. I get a kick out of answering fans' email and it gives me the opportunity to offer them contests in my newsletters, and become characters in my books, and stay involved in my work. I've met some amazing people that way. The guy who designs all my covers, Erik Hollander, he was a fan, and the guy who does my book trailers, James Gelet, he was a fan. I met Belle Avery that way. All the important people in my life as an author, I met through answering email. It's a great way to stay in touch with fans, give them input into my work, and I meet experts in different fields that way so I can use their expertise in the books. It's been a great help for me as an author.
WH: Have you done that yet, included fans as character names?
Steve Alten: Absolutely. When I first wrote MEG, it was the first book I wrote, and you know, I used characters from high school and college and people that I've come across. When I wrote The Trench, anyone who gave MEG a bad review, I killed them off in The Trench. But since that time, just about all the characters, including some of the major characters, have been readers who enter my contest and become immortalized as a character in one of my stories. Bizarrely, it's become a status to be eaten in a MEG book. I've incorporated people's true stories into the characters that are attacked. One character [was based on a fan who] was born with no legs, so in the story, he had me have the shark bite off both of his legs! It became sort of a status in his circle that he lost his legs to a Megalodon attack. One of my fans, it turns out–and this comes from answering my emails–was Lana Wood, I don't know if you're familiar with Lana Wood, she's the younger sister of Natalie Wood. She was an actress in her own right, she was in Diamonds Are Forever and she was a Playboy centerfold, and she emailed me and requested that I make her a character and have her eaten, which is a bizarre request. But I gave her her wishes in MEG: Hell's Aquarium.
WH: So the movie has a June 2017 release, right?
Steve Alten: There's no official release date yet, they won't know that until the movie goes into production. It'll be a summer movie, one way or the other.
WH: Oh, it's got to be a summer movie! It's the perfect summer movie–I've been saying that for almost 20 years now so I'm so excited that it's finally happening!
Steve Alten: You and me both!
Until the movie is released, new and old fans alike can catch up again with the MEG story in the new revised and expanded edition, which includes a published version of the MEG: Origins e-book and 17 never-before-seen images that were created by fans. Alten says that the best way to get this edition is to either order it at the Barnes and Noble website here (available December 8) or to call your local bookstore to have them special order it. Visit www.stevealten.com to sign up for Alten's newsletter and have the chance to become a character in future works; to see trailers for each of his books; and to read free excerpts from the books. Wicked Horror would like to thank Alten for this interview, and we look forward to the new book and the movie!