Mummies—both natural and man-made—have been found on every continent on the world, however it is the Egyptian mummy that holds the most mystique to the general public. This is at least partially owed to the exotic allure of the pyramids, the ornate sarcophagi, and other assorted iconography that the Egyptian mummy is so closely associated with. Another reason they have so captured our imagination is because of the so-called 'curse of the pharaohs', though real curses inscribed within tombs are nowhere near as prevalent as pop culture would have you believe. The myth of the pharaoh's curse was popularized after the discovery of King Tut's tomb in 1922, following which a few members of the expedition and other visitors to the tomb died mysterious deaths.
It's not precisely known where the notion of the living mummy stems from, though it appears to be solely a fictional construct and not based on any sort of actual folklore. As early as 1827, there were stories published on the subject—one of the earliest being The Mummy! Or a Tale of the Twenty-Second Century by Jane C. Loudon—and once cinema was born, it wasn't long before filmmakers began following suit.
For today's entry in the Horror History canon, we'll be taking a look at Mummies in Movies. As always, this is a brief overview and by no means a comprehensive study, so if your favorite living mummy has not been given the attention you feel it deserves, call me out in the comments section below.
Cleopatra's Tomb, sometimes referred to as Robbing Cleopatra's Tomb is believed to have been the first mummy film. Directed by celebrated early filmmaker Georges Melies (the true Godfather of the Horror Film by my estimation) in 1899, it reportedly showcased the mummy of Cleopatra that was first chopped apart, then reconstructed and revived via the director's usual blend of trickery and inventive camera work. Unfortunately, Cleopatra's Tomb is now thought to be a lost film, so we can't be sure how accurate the description really is.
Another mummy film that is presumed to be lost is 1911's The Mummy produced by the Thanhouser Company. This film is an interesting case in that the mummy—an Egyptian princess—is revived by electricity, giving it echoes of Frankenstein; and also because the professor who discovers her winds up marrying her in the end.
In 1932, Universal Studios released their film The Mummy, which starred Boris Karloff in the title role of Imhotep. It received a remake of sorts with 1999's The Mummy, a big-budget special effects extravaganza that starred Brendan Fraser as an American explorer and Arnold Vosloo as Imhotep. The remake launched a franchise of its own, with The Mummy Returns coming out in 2001, an animated series airing from 2001-2003, and a third film, The Mummy: Tomb of the Dragon Emperor, released in 2008. Further, The Mummy Returns introduced the character of the Scorpion King, who received his own prequel film in 2002, kicking off a separate franchise. The Scorpion King was followed by its own prequel—a prequel to a prequel—called The Scorpion King 2: Rise of a Warrior in 2008; and sequels The Scorpion King 3: Battle for Redemption in 2012, and The Scorpion King 4: Quest for Power in January 2015.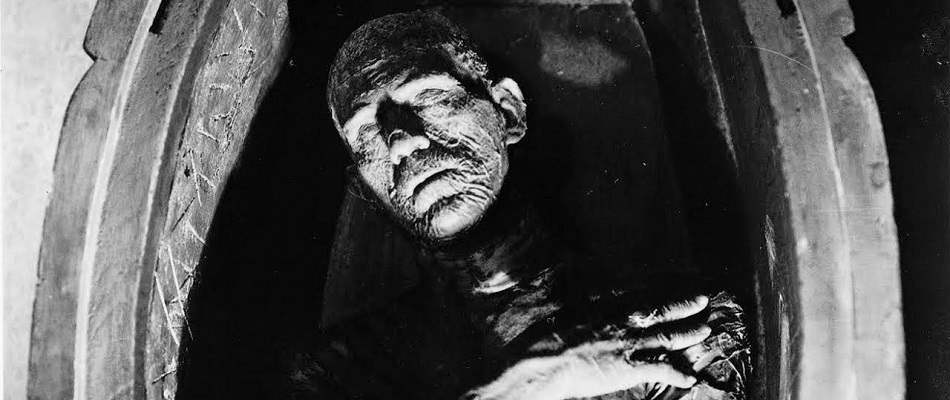 Universal's original
The Mummy
is often retroactively referred to as the first in a series of films, but 1940's
The Mummy's Hand
was actually the beginning of that series. This time, the mummy is named Kharis, and is played by Tom Tyler. This film was followed up by three sequels:
The Mummy's Tomb
(1942)
, The Mummy's Ghost
(1944)
,
and
The Mummy's Curse
(also 1944), all three of which featured Lon Chaney Jr. in the title role. That was the end of Universal's Mummy Cycle until
Abbott and Costello Meet the Mummy
in 1955, when Eddie Parker donned the bandages—an experience he was familiar with, as he was Chaney's stunt double on the previous three films.
In 1957, director Lee Sholem (previously of various Superman and Tarzan projects) gave us Pharoah's Curse, in which the mummy not only shambled around killing people, but also drank their blood in order to sustain his second chance at life—vampire-like qualities that would be seen again, though infrequently.
Also in 1957, Mexican director Rafael Lopez Portillo unleashed The Aztec Mummy, which would be re-edited and brought to the American audience by Jerry Warren as Attack of the Mayan Mummy in 1964. Three sequels followed: The Curse of the Aztec Mummy (also 1957), The Robot Vs. The Aztec Mummy (1959), and finally Wrestling Women Vs. the Aztec Mummy (1964).
Curse of the Faceless Man from 1958 may have mimicked certain aspects of the plot from Universal's The Mummy, but it remains unusual for the depiction of the monster. This is not the traditional wrapped-in-gauze mummy, but rather the naturally-produced variety found in Pompeii, buried beneath the volcanic ash of Mount Vesuvius. If the storyline doesn't win any points for originality, at least the mummy sports an unusual and unsettling appearance.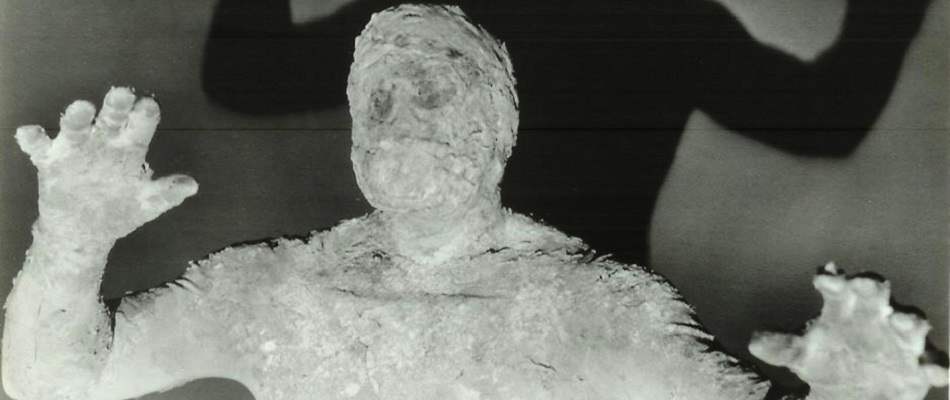 Also in 1958, Britain's answer to Universal, Hammer Films, released their version of The Mummy, starring Peter Cushing and Christopher Lee. Hammer produced three additional films with 'mummy' in the title, and though they were unrelated, they still compose something of a cycle. The Curse of the Mummy's Tomb was released in 1964, The Mummy's Shroud in 1967, and Blood from the Mummy's Tomb in 1971—though the latter was an adaptation of Bram Stoker's novel The Jewel of Seven Stars and revolves around the reincarnation of an Egyptian princess, and there is no living mummy to be found.
1960 saw the release of the Mexican film House of Terror, which featured a mad scientist resurrecting a mummy…only the mummy turned out to also be a werewolf. The monster was portrayed by Lon Chaney Jr., and footage from this film was later incorporated into another movie entitled Face of the Screaming Werewolf in 1964.
 In 1965, Orgy of the Dead was released, with a script by Ed Wood that was adapted from his novel of the same name. While it's mostly an unintelligible excuse to show burlesque dancers, a wolfman and a mummy do pop up to enjoy the nudie-cutie proceedings.
Rankin-Bass released the stop-motion film Mad Monster Party in 1967, in which an entire mash of monsters (a mummy included) gather together for Dr. Frankenstein's retirement. This was followed up in 1972 with the traditionally-animated Mad, Mad, Mad Monsters, which aired on ABC and acted as something of a prequel, as the creatures came back together for the wedding of Frankenstein's monster.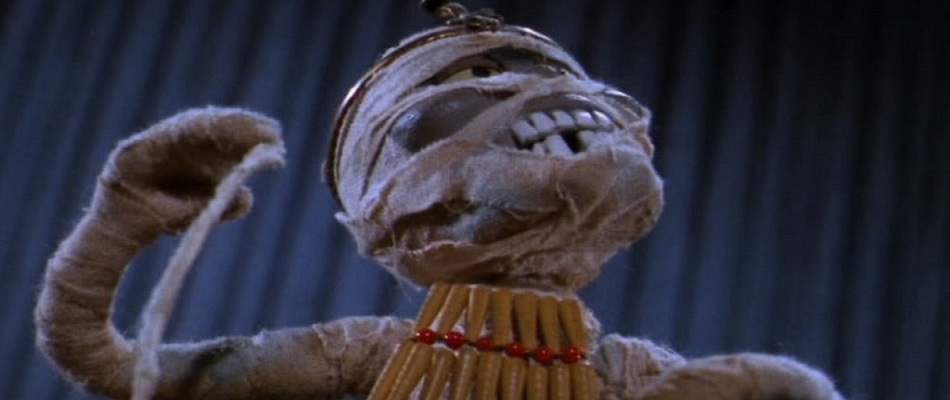 Spanish director Paul Naschy began a cycle of werewolf films in 1968, and the third entry in the series—Assignment Terror (1970)—featured a mummy character, as well…plus a vampire and space aliens. Naschy's 1973 film, The Mummy's Revenge, in which he himself played the mummy, was unrelated.
1981's low-budget Dawn of the Mummy from writer-director Frank Agrama featured a hoard of mummies that had much in common with zombies, as they fed on human flesh in distinctly gory ways. The same year, Jose Ramon Larraz released The National Mummy. Although it doesn't appear to have been released outside of his native Spain, it is reportedly a sex comedy in which beneath the bandages the mummy is a voluptuous (and likely insatiable) woman.
Time Walker (also known as Being From Another Planet) was released in 1982, and featured a mummy that was reanimated by x-rays. This was no ordinary mummy despite having been found in Tutankhamen's tomb, but rather an extraterrestrial. There's also a deadly fungus and some magic crystals to keep things interesting.
Horror-comedy Transylvania 6-5000 hit theaters in 1985, following a pair of tabloid journalists chasing a story regarding Frankenstein's monster in Transylvania. They run into other monsters along the way, including a mummy. Another horror-comedy, this one aimed at a younger generation, followed a few years later. Fred Dekker's The Monster Squad (1987) followed a group of kids, aided by a kindly Frankenstein's monster and a Scary German Guy, as they attempted to defeat Count Dracula and his movie monster henchmen—one of which was a particularly dusty mummy.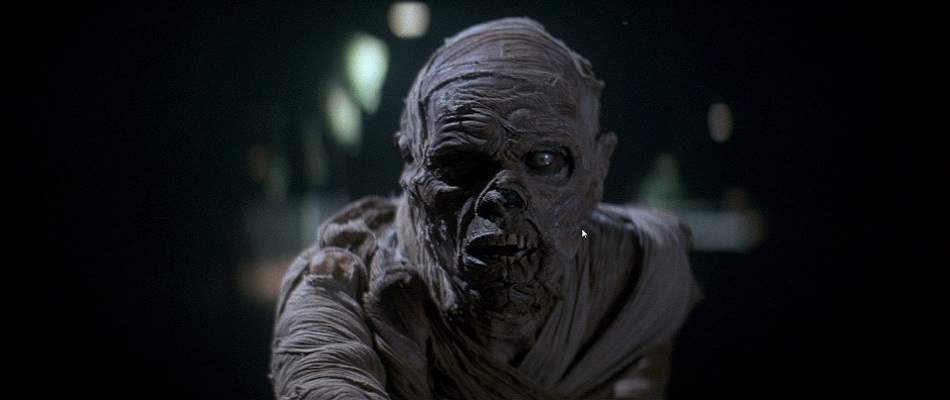 Tales from the Darkside: The Movie (1990) was spun-off from the anthology series of the same name, and features three different horror stories. The first entry, "Lot 249" (based on a short story by Arthur Conan Doyle) featured a college student who got revenge on his peers by dispatching a living mummy after them.
1993's The Mummy Lives sounds like a Universal Studios sequel, but it's actually a rather inept rehash of themes that have become all too common in these sorts of films—namely that an ancient Egyptian woman is reincarnated in modern day, and her former love interest, now a well-bandaged member of the undead, wants her back. The big selling point was that it starred Tony Curtis.
Everyone is familiar with the Bobby Pickett song "The Monster Mash", but not everyone is aware that Monster Mash: The Movie was released in 1995. This musical starred Pickett himself as Dr. Frankenstein, and also featured a few vampires, a werewolf, a hunchbacked assistant, and a mummified Elvis Presley.
The Disney Channel original movie Under Wraps from 1997 might make a good family-friendly double-feature with the previously mentioned Monster Squad, as it follows three preteens that befriend a mummy named Harold (played by Bill Fagerbakke, best known as Dauber from the sitcom Coach), help him escape danger, and reconnect with his lost love. Kids who liked Under Wraps had the option of watching the animated series Mummies Alive, which debuted the same year. Here, mummies were resurrected in modern day and given personalities, acting almost as superheroes. It ran for 42 episodes before being canceled.
Also in 1997, cult filmmaker Charles Band directed The Creeps, which unleashed diminutive versions of Dracula, the Wolfman, Frankenstein's monster, and a mummy upon the screen.
1998 gave us two mummy films: Tale of the Mummy, in which our Egyptian antagonist could use his bandages like tentacles; and Legend of the Mummy, another film based on Bram Stoker's The Jewel of the Seven Stars. The following year, David DeCoteau directed Ancient Evil: Scream of the Mummy, which was shot over the course of four days—which might explain some of the poor reviews.
Don Coscarelli gave us one of the more original mummy flicks with 2002's Bubba Ho-Tep, based on a novella by Joe R. Lansdale. It starred Bruce Campbell as an aging Elvis (who has long been impersonating an Elvis impersonator) and Ossie Davis as a man who claims to be John F. Kennedy, both of whom team up to defeat a mummy that is terrorizing their retirement home.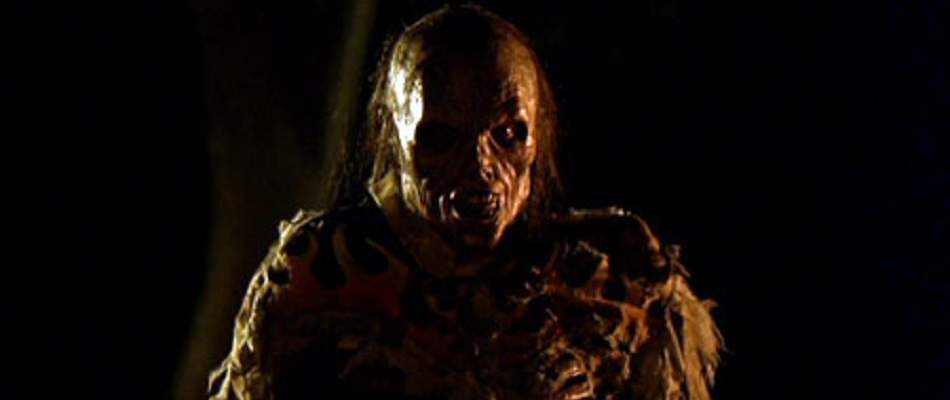 Not content to let Bruce Campbell have all the glory, softcore princess Misty Mundae starred in two mummy films that same year: Mummy Raider and Lust in the Mummy's Tomb, whose plot synopses may as well boil down to "Bare Breasts & Bloody Bandages".
The Discovery Channel started airing Tutenstein in 2003, an educational animated series about a ten-year-old King Tut who is resurrected in modern day. Based on a comic book series from Oni Press, it ran for 39 episodes, and was followed by the television movie Tutenstein: Clash of the Pharaohs in 2008.
In 2005, horror studio The Asylum released Legion of the Dead, featuring a female mummy as the primary antagonist. Despite being dead for centuries, she and her minions remain strong enough to rip people's spines out, too, which is quite an accomplishment. The same year, we also got The Kung-Fu Mummy (which should be self-explanatory).
Charles Band returned to the mummy movie with 2006's Petrified, only this time he was full-size and was actually a mummified alien with special powers. By all accounts, it is just as bad as you are expecting.
Monster Brawl was released in 2011, depicting an imaginary pay-per-view event that saw famous monsters battling each other in a fight to the death. Among the contenders, of course, was a mummy.
2012 saw the release of the animated film Hotel Transylvania, which depicted the goings-on at a hotel for monsters run by Count Dracula. Among the guests was the portly Murray the Mummy, voiced by recording artist Cee-Lo Green. A sequel is slated to be released later in 2015.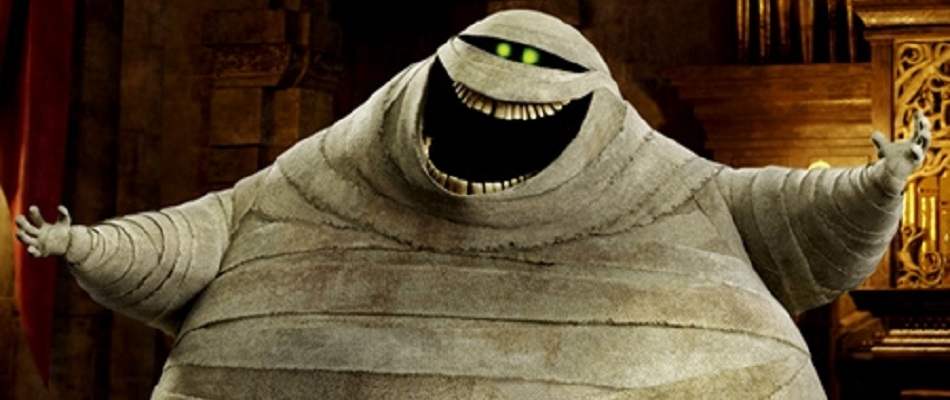 And in 2014, Danny Glover popped up in the poorly-received found footage flick Day of the Mummy, which pretty much brings us up to modern day. It's hard to tell what the future holds for the bandaged baddie, but with Universal Studios relaunching their horror icons into a shared universe—an announcement that horror fans were pleased with, until it was revealed that the films would focus more on action and adventure than fear—we're likely to see a brief resurgence in the subgenre when they release their update on The Mummy, which is expected in 2016.