Never one to slow down, filmmaker/author/producer Thommy Hutson prefers to stay busy. Between writing and/or producing horror documentary favorites such as Never Sleep Again: The Elm Street Legacy, More Brains! A Return to the Living Dead and Crystal Lake Memories: The Complete History of Friday the 13th and directing films such as The Id, Hutson eventually made his way to penning the excellent slasher mystery novel, Jinxed. Taking an Agatha Christie-like approach to mystery thrillers and injecting his lifelong love of all things slasher into the book, Jinxed is easily one of this writer's favorite books in the past few years, a great combination of what so many of us love about the genre.
With the release of Encyclopocalypse Publications' audiobook version of Jinxed, Hutson enlisted his frequent collaborator and friend (and horror legend) Amanda Wyss (A Nightmare On Elm Street, Better Off Dead) to tackle the novel's narration, turning the enthralling story into what is essentially a wild ride of an experience to listen to.
We thought it would be fun to chat with both Hutson and Wyss about what led to the audiobook and collaboration. Read on!
Synopsis:
Break a mirror
Walk under a ladder
Step on a crack
Innocent childhood superstitions….
But someone at the Trask Academy of Performing Arts is taking things one deadly step further when the campus is rocked with the deaths of some of its star students.
Layna Curtis, a talented, popular senior, soon realizes that the seemingly random, accidental deaths of her friends aren't random — or accidents — at all. Someone has taken the childhood games too far, using the idea of superstitions to dispose of their classmates. As Layna tries to convince people of her theory, she uncovers the terrifying notion that each escalating, gruesome murder leads closer to its final victim: her.
Will Layna's opening night also be her final bow?
It's such a unique time for art and the way we all consume it. People have been stuck inside for almost a year now and we've used art to help cope. Reading and listening to audiobooks has helped a lot of people live vicariously through the stories. Do you think it's an important time to embrace the art we love?
Amanda Wyss: I think it's important to immerse ourselves in some form of art all of the time. It's good for the soul. And during times of uncertainty and stress it's more important than ever. We need the escape and stimulation.
Thommy Hutson: Absolutely. Art, in any form, is essential to our humanity. It nurtures something in all of us and is cathartic and freeing. Without art we would be lacking in a fundamental part of the human spirit. Now, of all times, we need it to keep that connection to ourselves and the world around us stronger than ever, no matter the art form or genre.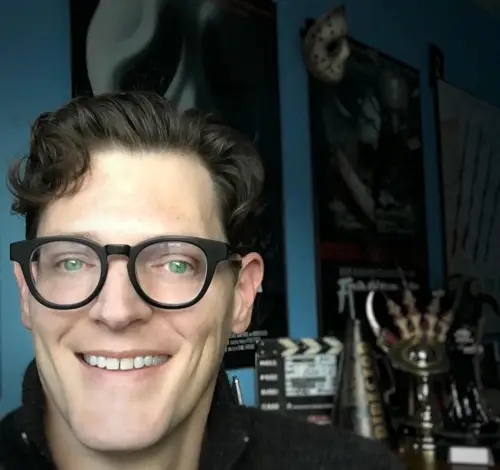 Jinxed is such a wild time. It's a great example of how entertaining a good mystery can be. First off, what led to the novel and eventually the audiobook version of your book?
Hutson: I had always wanted to create something that took place at a performing arts school as I went to one when I was younger. The idea of everyone, even friends, kind of gunning for their moment was something I wanted to explore. I thought, what better way than through horror? The masked killer, the mystery of why things are happening, the gore, and the whodunit were all part of the sort of throwback vibe I hoped to create. 
It's great to see equal love to the Agatha Christie mysterious of old, but also the slashers we all adore. Both are present in the story and its such a fun one. Amanda, what made you want to join the project as the narrator? You and Thommy have worked together multiple times in the past, so were you excited to partner up with him again?
Wyss: I was so excited to work with Thommy on narrating his book. First, I love working with him. We have a comfortable shorthand and have a lot of fun together. Second, he is so talented! I just love the book. Thommy gave me a lot of ideas and inspiration for what he was looking for. Bringing all of his characters to life was a joy. It was like a one woman radio play.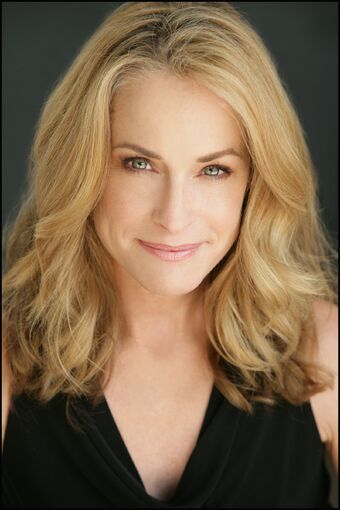 Thommy, having Amanda do the audiobook was such a great choice. Having worked with her in the past, was the level of comfortability a part of what made you want to approach her with the project?
Hutson: Without a doubt, as it's always nice to work with someone with whom you get along and understand. But, honestly, it was so much her talent. Amanda's ability to inhabit her roles and bring them to life is phenomenal. I thought she would be able to do that with Jinxed and bring each character—and the narrative—to life in a unique way. I should also say her understanding of the genre is spot on. She really knows how moments are supposed to play in horror and used that ability to punctuate so much in the book. There were so many times where her reading goes from fun to dramatic to chilling. It's a real testament to her talents. I'm just so thankful she brought all of that to the novel.
The horror genre is alive and well and is putting out such great content, especially with how in turmoil we all have been. Its like a security blanket lately it seems. Do you see new stories coming in response to what we've all been dealing with?
Wyss: I think Thommy should incorporate the virus and quarantine into his next book! The movie we did together was about two shut-ins. We had no idea that it was a harbinger of things to come.
Hutson: It really is interesting that what we did in The Id was somewhat of an omen of things to come, in the way being isolated with someone else affects you. And I think these times we're in are making creators think in new ways about how their stories play and how events affect the characters, but also how the characters are affecting the world around them.
Jinxed is such a brutal and intense ride. It lends itself to a feature film of it. What are the odds of that coming to be?
Wyss: I hope there is a movie version. The book is cinematic. You can envision it all while you're reading it. And, I want to play the drama teacher.
Huston: I'm hopeful. It's a fun, scary, mysterious ride that really does lend itself to the screen. More than one reviewer mentioned it feels like a movie, and I'm happy about that. I wanted it to feel that way. It's what makes it fun. Thrills, chills, humor, gore, and a very cool mask make it really entertaining and super visual. This was a book that, when writing, I really did see each scene playing out as if it were a movie. And it only takes the one, right person to decide they want to do it. (To that person, call me!)
The audiobook presentation of Jinxed is now available and can be purchased here. Be sure to stay up to date with all things Wicked Horror over on Twitter and Facebook!