Warwick Johnson-Cadwell is the artistic genius behind Mr. Higgins Comes Home HC as well as Adventure Time, Samurai Jack, Spandex Special, and Head Lopper. Recently, he answered a few questions from Wicked Horror's April Bennett.
Wicked Horror: First of all excellent work on Mr. Higgins Comes Home, one of the most enjoyable aspects of the work is your art style which was refreshingly different. It sort of reminded me of a sinister version of older cartoons like Rocky and Bullwinkle or Wacky Races. Where does the inspiration of your art style come from?
Warwick Johnson-Cadwell: Thank you! for a start. There was no real intention to make an art style as such but, (I) learned to draw from looking at other artists whose drawing I (sic) loved. Exactly those cartoons you mentioned, also Richard Scarry, David McKee then as I got older, comic artists, in the UK 2000AD ruled so Mick Mcmahon and Kevin O'Neill and then later Mike Mignola and Duncan Fegredo. And not just comic art either, I think there's a load of Akira Kurosawa, Sergio Leone and Genndy Tartakovsky in there as well.
WH: Again, touching on your art style, I noticed on your Twitter that you sketch in pencil first and then it is printed into the work.  What value do you find in pencil sketching over using a computer program first?
WJC: I pencil and also ink on paper and take it to the computer for colour. Pencil sketching is what I love. I haven't given digital drawing much time so far (I will do eventually) but i like the shaping sound, the grubby fingers, the giant paper mound of failed drawings, I think I like the physical evidence.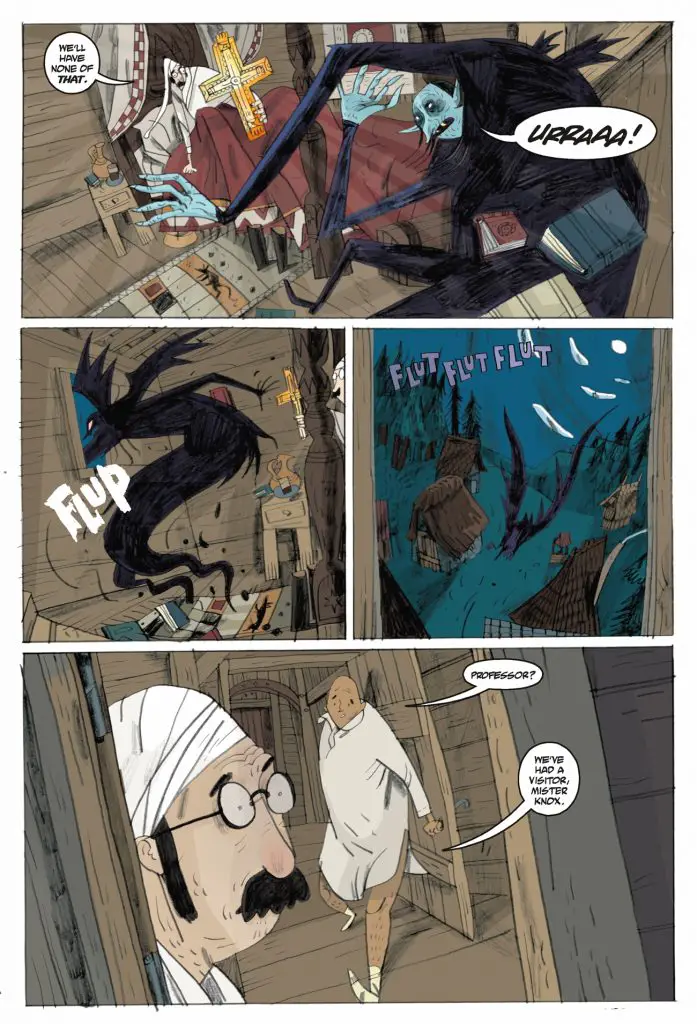 WH: Your resume shows that you have worked on several projects that include mainstream cartoons like Adventure Time and Samurai Jack as well as creepy works like Spandex Special and Head Lopper. Does this reflect your diverse interests in comic books or are these two types of subject matter indicative of the flexibility of your ability?
WJC: I would find it very difficult to work in a different style, this is just the way I draw. And i've (sic) never wanted to focus or limit the possibilities of what I could draw so I end up drawing the same way for children's stories as I would for freaky adult adventures. The drawing is the same, just the subject changes.
WH:  What is on the horizon for you?
WJC: I'm in the thick of working on Samurai Jack for IDW just now, after that who knows? Though I have worked on an animated feature that's out next year, all very hush hush at this stage of course.
You can find Warwick Johnson-Caldwell on his website here, twitter, Instagram, and shop.