Bill Moseley is, simply put, a legend of the horror genre. With a career spanning over thirty years, he's been in dozens upon dozens of different movies. He's appeared in several seminal horror films that redefined their generations. But he's also one of the most down-to-earth, humble, funny people working in the genre today.
We caught up with him to talk about his newest film The Possession Experiment in which Moseley—in his own words—"channels his inner Max Von Sydow" to take on the role of an exorcist.
We also talk a bit about one of Moseley's most recognized films, The Texas Chainsaw Massacre 2, which is celebrating its 30th anniversary this year, as well as a few other things from his impressive career.
The Possession Experiment is available December 6th On Demand, Digital HD and DVD.
Wicked Horror: What drew you to Possession Experiment?
Bill Moseley: Well, a couple of things. First, it was a fantastic script by Mary Dixon. And first and foremost, boy, if you got a good script you got a fighting chance. That was probably number one. And number two was playing the part of a priest. I'm a huge fan of The Exorcist and channeling my inner Max Von Sydow was a great challenge.
WH: That's interesting, because you've taken on quite a few villain roles over time. Is it interesting to get to switch that up? Which do you prefer, playing a hero or villain?
Moseley: You know, I don't really mind playing good guys or bad guys. I find in the movie business that the bad guys always seem to have juicier things to do and say. [laughs] Why, I don't know, but everybody loves a villain. Somehow, I guess I've been good at that. When I'm in character I just don't think of my characters as villains. I think if he or she thinks of themselves as that then it kind of winds up undermining the power of the character.
If they think of themselves as a bad guy, that doesn't make any sense. Someone asked me once why I'm so good at playing psychos, and it's a simple response, and that is: if you're playing a psycho or someone who's considered a psycho, just think that you're the only sane one in the room.
If you do that, then things get a lot more real. A lot more scary.
WH: Just overall, what was the experience like working on Possession Experiment?
Moseley: You know, I had a great time. It was in beautiful Virginia Beach, VA. I had a nice trailer. The food was great. And as I say I certainly enjoyed Virginia Beach. I felt very much welcomed and at home. I really enjoyed working with the cast and the crew. What was interesting was that, with Scott Hansen, that was apparently his directorial debut. And I thought he did a great job. I had no sense that he was a rookie or anything like that.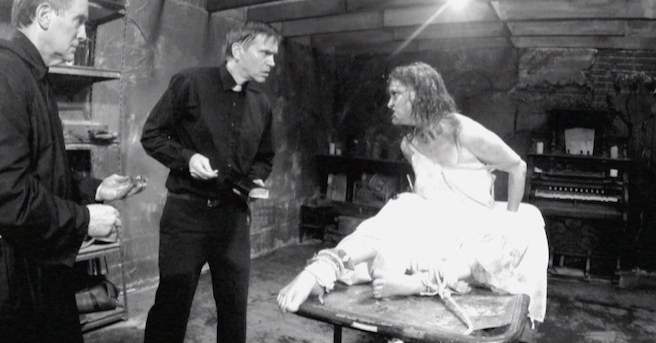 WH:
As a viewer it definitely looks like it was made by a more seasoned director as well.
Moseley: Oh, yeah.
WH: This year also marks the 30th anniversary of the amazing Texas Chainsaw Massacre 2. What's it been like over time to watch that audience grow and turn it into a cult classic that's almost independent of the original?
Moseley: It's been very heartwarming for me. It's a lot of fun. You know, I just was at a convention called Days of the Dead outside of Chicago, two or three weeks ago. Hanging out and doing photo ops with Caroline Williams and Bill Johnson, Stretch and Leatherface, and we still have a great relationship, the three of us. We still have fun. It's fun that the fans keep rediscovering Chainsaw 2. I think a lot of people at the time compared it unfavorably to the original, which of course is arguably the greatest horror movie ever made. And one of the scariest ones.
I think a lot of people were really put off by the fact that Chainsaw 2 was really more like a comedy that also has frightening moments. I don't know. I've always loved Chainsaw 2. It was basically my ticket to this career, which I really appreciate. So, from a lot of points of view, I really appreciate it.
I don't think I've ever—Well, I guess maybe in Luigi Largo in Repo! and Otis Driftwood, certainly, in House of 1,000 Corpses and Devil's Rejects have been fulfilling characters, but when people ask me "What's your favorite role you've ever had?" it always goes back to Chop-Top.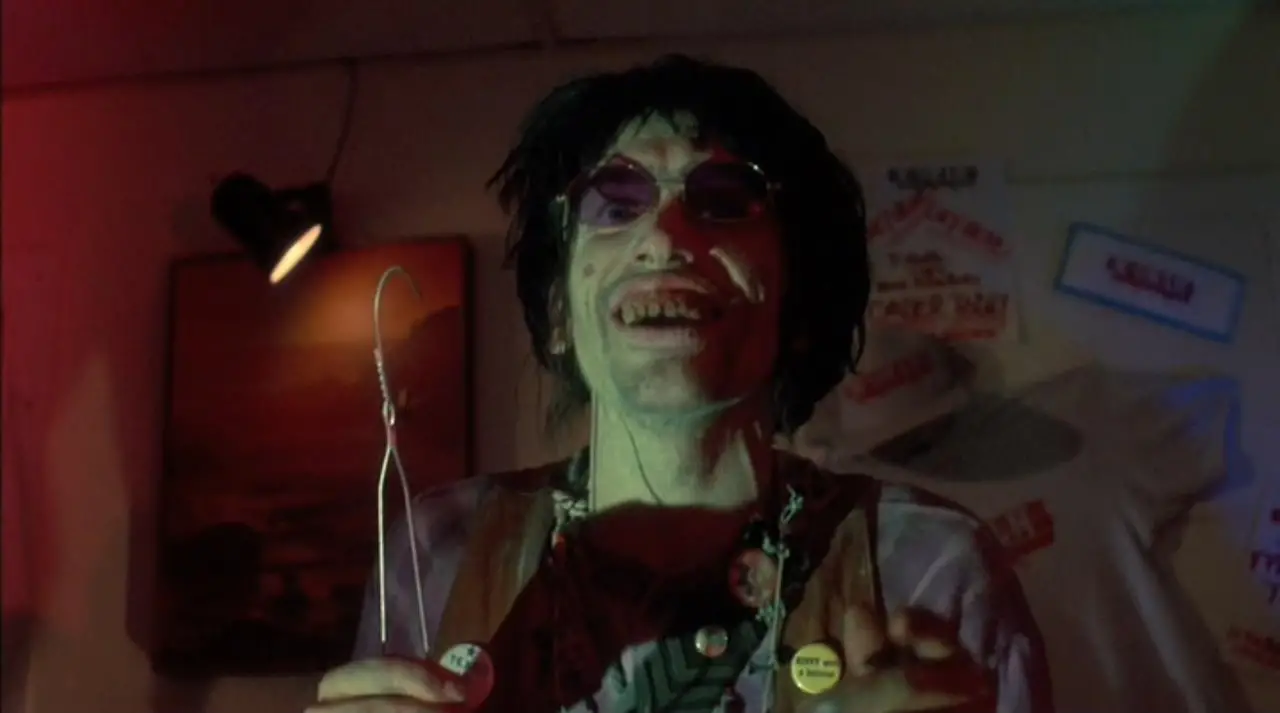 WH: And what do you think it is about Chop-Top that has resonated so well with fans over time?
Moseley: Well, I don't know, I can just tell you that for those eight weeks that we shot Chainsaw 2 down in Austin, TX, Bill Moseley as we knew him was really gone. Chop-Top was a very pure character. I channeled Chop-Top. I guess he wasn't too far from my real personality. [laughs] I just had a ball.
Sometimes it takes a while to find a character and sometimes you don't find a character. Sometimes you find it after you've finished production, which is a little too late.
With Chop-Top I went back to Ed Neal's performance as The Hitch-Hiker. I always give Ed credit. He gets 99.9% of the credit for Chop-Top. What was great about Ed was that he was completely frightening, but he was also kind of loopy. He looked like he was having a lot of fun.
Especially with the Chop-Top scene where I run the straight razor across my throat. To me, one of the most frightening aspects of the Hitch-Hiker was when he cuts his own hand. I don't think I had ever seen a monster frighten people by hurting himself before.
WH: And you cutting your throat with that razor is still one of the only scenes in a movie I can't look at.
Moseley: Yeah, between Kit Carson and Tobe Hooper, I was given a lot of support to do a lot of improvising. Really, it was like an actor's dream. A monster's dream.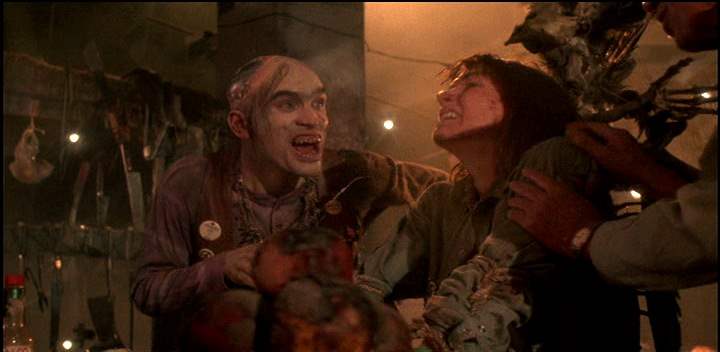 WH: There's been some back and forth on whether or not we as an audience are ever going to get to see All-American Massacre. Do you have any idea where that stands at this point in time?
Moseley: You know, I don't. I do know that sadly enough one of the principal actors in All-American Massacre and the makeup man, a guy named Todd Bates just passed away two weeks ago, very suddenly. At the age of forty-five.
Todd played a big role, he played both Chop-Top and the Hitch-Hiker as young twin brothers. I'm hoping for Todd's sake if nothing else that Tony Hooper finally gives us something. It seems to be up to Tony.
We did that seventeen years ago. [laughs] That's plenty of time to edit and tweak. But I don't know what's going to happen with it.