Puppet Master: The Littlest Reich is now available on VOD and fans by and large seem to be loving it. The new reboot is a completely different, much harder-edged and even mean-spirited thing and fans can't seem to get enough of it. One of its biggest strength lies in its casting, which is admittedly a rare thing for a Puppet Master movie these days and shows just how different this new movie truly is. The puppets aren't the heroes this time, so the human characters need to stand out more than ever before. We caught up with Jenny Pellicer, who plays the heroine Ashley in the film, to talk about her involvement in this bizarre bloodbath of a Grand Guignol puppet show. The actress filled us in on landing the role, dealing with all of the extremes this picture goes to and navigating the bloodbath of a movie like this one.
Review: Puppet Master: The Littlest Reich is Equal Parts Gruesome and Goofy
Wicked Horror: How did you get involved with Puppet Master?
Jenny Pellicer: I auditioned. My audition was one of the car scenes and so I did it in a car, I kind of went all out. I really wanted the role, so I worked hard for it and I was so happy when I got it.
WH: What was your initial reaction reading the script for the first time?
Jenny Pellicer: You know, it's boundary pushing, but I understood from having done my research on all the previous Puppet Masters that this is the genre and this is the kind of film that it is. So when I read it with that understanding I could comprehend what they were trying to do and where they were going with this. And also knowing that there would be such incredible comedians involved, like Thomas Lennon, I knew that they'd do it appropriately and bring this story to life in the appropriate, tongue-in-cheek, funny way.

WH: 
Had You Been At All Familiar With the Puppet Master Series Before Doing the Movie?
Jenny Pellicer: You know, not very much. I grew up in Norway so I feel like I missed out on all of these cult classics. I never saw, what's it called, Chucky? I never saw these killer doll stories, so it was definitely new to me! I grew up being scared of things like trolls and Norse mythology stories. Which is great because I get super scared of everything, so now I'm always thinking there's a puppet under my bed. I'm traumatized for life. But yeah, I learned all about it on this one.
WH: One of the things I like about your character is that you're not just the girlfriend. You get to do a bit of ass kicking in this movie. What was it like to play that kind of genre heroine?
Jenny Pellicer: It was actually a lot of fun. I'd never held a gun and, you know, I never really would like to again. I confess that having to kill these puppets was really satisfying and I get to do a lot of it, so it was just so much fun. Really strange puppets, too, I kill Baby Fuhrer and a bunch of other ones. It's so bananas. 
WH: This is obviously a very FX heavy movie. What were some of the challenges of working with that element of it?
Jenny Pellicer: The directors were working with the actors, with us, and then with puppets separately. I didn't experience much of the puppet effects, that was mostly done in post, I believe. With the dead bodies and the blood, I really just got used to it. After a couple of hours you're seeing it everywhere and it just becomes normal. And you see the incredible work that the FX artists do. The head of special effects, Tate Steinsiek, is just incredible. His whole team are masters. But being around it, yeah, it was pretty horrifying. But you start seeing the art to it. It's such an art form. You're like "Oh my God, how do you guys do this?"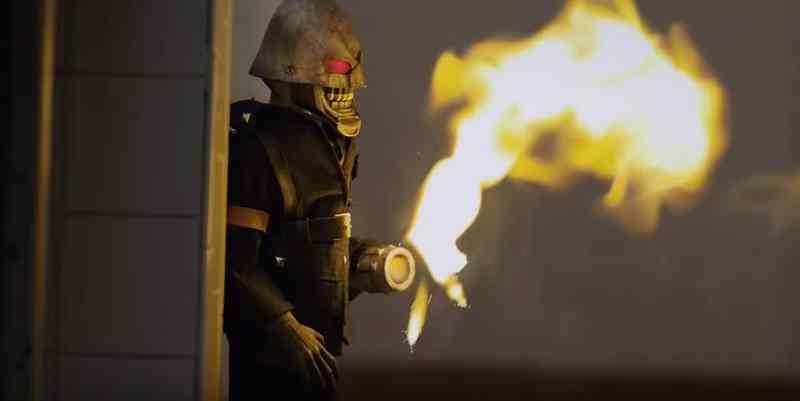 WH: Was there any moment with any of the gore that kind of took you out of it or even surprised or shocked you?
Jenny Pellicer: I think a lot of the burned bodies. Seeing human bodies just scorched.
WH: Yeah, and those looked very realistic.
Jenny Pellicer: That was kind of… and having to go down that corridor, too, and seeing all of these burned bodies. I think all of us were working up to that. It's really kind of so upsetting. And yeah, it is really realistic, so it's really bizarre.
WH: There are tons and tons of great, bizarre little puppets in the movie. Do you have a favorite?
Jenny Pellicer: Yes, I do, and I feel like it's everybody's favorite. Blade! Blade and I got to work the most together, so I have such fondness, I think Blade is the coolest puppet ever. It's so scary. I actually was supposed to maybe bring him to the premiere, because of the trouble of shipping him over. Of course, because it's a puppet with a blade… so I was weirdly worried about where I was going to keep Blade. Like, "If I keep him in the car is he gonna get out of the car?" Creepy thoughts that don't even make any sense. But Blade is just so terrifying and he's like the boss. It's just this ominous skull face. It's very frightening.
WH: In terms of the main character arcs, a lot of the movie hinges on your relationship with Thomas Lennon. How did you two work on developing the chemistry between your characters?
Jenny Pellicer: We hung out a lot. We became fast friends. He's the loveliest, most delightful person in the world. We would go and exercise together every day and we'd be on set together every day. He inspired me to learn the guitar because he had a guitar he'd bring with him everywhere and play The Smiths. So we'd just hang out all the time. It was easy. He's such a funny, intelligent, brilliant guy, so he made it easy and we became friends for real. One of the best things that came out of this movie for me.
Lala Kent Talks Her New Slasher Film, The Row [Exclusive]