Author Dave Thompson has written over 100 books to date, many of which focus on rock and pop music icons. One of his most recent releases hones in on beloved cult classic The Rocky Horror Picture Show, simply entitled The Rocky Horror Picture Show FAQ: Everything Left to Know About the Campy Cult Classic. The book is intended to be an in-depth analysis of the legendary stage show, which is due for a much-anticipated TV tribute on FOX this coming October 20, 2016.
Rocky Horror, the cultural phenomenon we love today, began over 40 years ago. To date, it has been performed in over 30 countries and translated into 20 languages. The book covers everything from its lackluster stage debut to the phenomenon it now is. In wake of the upcoming FOX production, The Rocky Horror Picture Show: Let's Do the Time Warp Again, this seemed like the perfect time to chat with Thompson about the history of Rocky, and about his hopes for the story going forward:
Wicked Horror: You've written over 100 books at this point in your career, many about pop culture, so this is probably old hat for you, but what was your process like writing and researching for RHPS: FAQ?
Dave Thompson: I'll be dating myself, but I first saw Rocky when I was 13 in the 1970s. I passed the signs for this spectacular looking thing and was curious. I remember going to school after seeing it and telling my friends how I had just seen the most amazing thing. I've always wanted to write a Rocky book. Since then I've been squirreling away information.
WH: What was the most challenging aspect?
DT: The chronology. I spent weeks trying to find dates and to compare them with dates in other databases. Finding details for the early stuff–and the discography! That was difficult. I'd find out something like Reg Livermore, who was Frank in the earliest Australian production of Rocky, released an album. Then I'd dedicate time to finding that record. Sometimes I would finally find something like that and it would be like "…Oh."
WH: I'm sure you've come across some amazing renditions of Rocky in your research. Fan-created works, especially.
DT: Oh yes. One of the best versions I've seen was a small production in my college town. They did a brilliant job with it.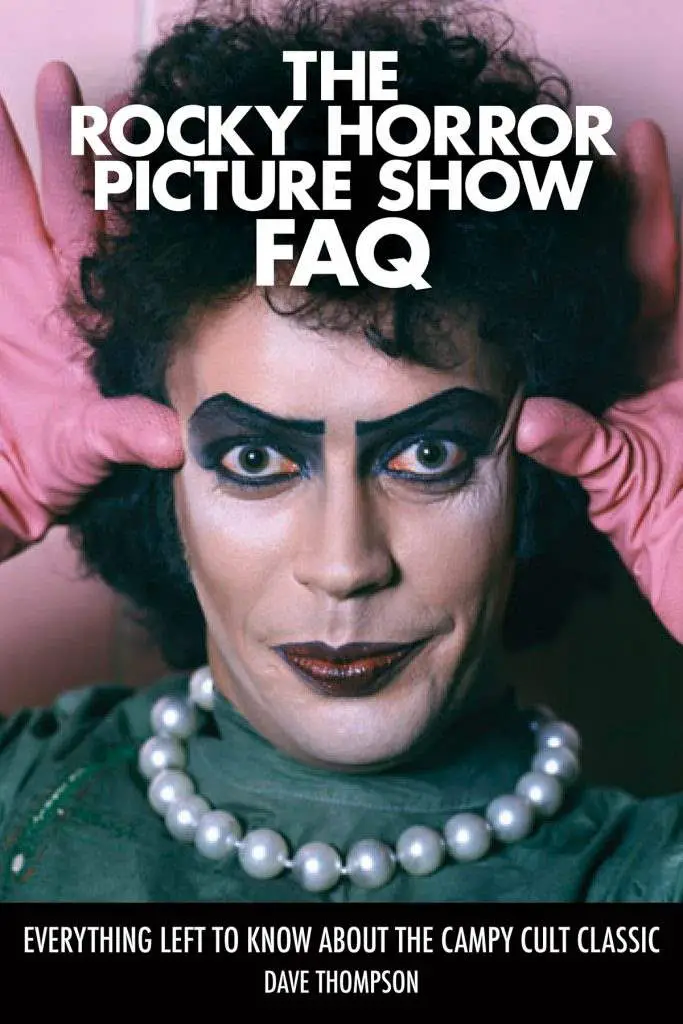 WH: Given the extensive history and numerous versions of Rocky, what are your thoughts on the upcoming Rocky Horror Picture Show TV re-imagining?
DT: I like that. You chose your wording very carefully. You likely think the same thing I do about the new version. It could be good. I've seen versions where there is too much focus on certain parts. I remember seeing the scene on stage the first time where Frank goes to Brad and Janet in their boudoir and it being shocking–everyone in the audience being shocked by that scene. Now some performances will deliver an iconic line, mumble mumble to the next shocking line, mumble mumble mumble through the next scene.
WH: Do you think that's because, in part, they're pandering to the fans they expect to be in the audience?
DT: Audience participation has a lot to do with that. Delivering lines with long pauses in between, because the audience is likely to yell. That's one thing that is unique to Rocky. You don't go see The Sound of Music, open on a nun in a field who shouts "The hills are alive!" and the curtains close. People thought that it was deliberate, that [Richard, creator, star and legend] O'Brien wrote this campy masterpiece. There's a quote in my book where he's asked if he knew people were going to shout things in response. [laughs] Uh, no.
WH: What do you think is next for the Rocky Horror Picture Show franchise?
DT: Please don't call it that. Franchise–merchandise…
WH: [laughs] It's a difficult thing to talk about. Okay, what do you think is next for it?
DT: [laughs] Thank you. I think the good thing about Rocky is, at this point, it's more or less bulletproof. Whether the new version is great or fails–and of course it will commercially be a success–it won't hurt Rocky and what it has built. That's another thing about Rocky. The perception of it has taken on a life of its own. It takes us back to the Beggar's Opera days.
It started in small theaters and didn't get a lot of attention for those first years every person who saw the show was connected to the cast in some way. Friends of the cast of friends of friends. It might be several times removed, but there was always a connection. By the time it had taken off it was too late for a public outcry. Five years in, who's left to corrupt?
WH: What's next on the horizon for you?
DT: I'm working on a book for Goldmine Magazine, a magazine I'm an editor for on beginner record collecting. A how to buy, what to look for, how not to spend too much, and to make sure they know they won't make too much money when they're done. The second project is a book on Child Ballads, the traditional ballads from England and Scotland anthologized during the second half of the 19th century.
You can order The Rocky Horror Picture Show FAQ: Everything Left to Know About the Campy Cult Classic right here. Catch The Rocky Horror Picture Show: Let's Do the Time Warp Again on FOX, October 20, 2016.