Katharine Isabelle is an onscreen champion of feminism and a regular player in the genre film arena. The actress has appeared in cult favorites and big budget hits alike. Most recently, she is set to appear in See No Evil 2 and the forthcoming third season of the NBC series Hannibal. We recently had the opportunity to connect with  Isabelle about playing Tamara in See No Evil 2 and Margot on Hannibal. She clued us in on what may be in store for Margot in seasons three of Hannibal and discusses the Internet backlash that arose when her lesbian character on Hannibal slept with a man. 
Isabelle's new film, See No Evil 2 directly follows the events of the first See No Evil picture. Jacob Goodnight is taken to the city morgue where he subsequently rises from the dead and begins another killing spree. This time, his victims include a medical student working in the morgue and a group of her friends that show up to surprise her for her birthday.
Related: See No Evil 2 is Better than its Predecessor [Review]
Wicked Horror: The last time we spoke, it was in support of American Mary and you revealed that you had a very deep bond with your character in that film. What is your relationship like with Tamara in See No Evil 2.  
Katharine Isabelle: Well. [Laughs] Oh, Tamara. Oh, Tammy-Tam. Um, yeah. Mary was definitely really deep for me. I had a long time with her and she meant a lot to me. I really had time to develop her in my head – not necessarily in terms of acting practices. Just having her grow in my brain like some sort of fungus. We did not have that much time with Tamara. I did sit by myself for a few days to figure out how I was going to make this character fun and likable. On the page, she was a little more sexualized. She definitely displays some outlandish sexual behavior. The only way to really play her was to make her fun and make her that crazy character. There's always one that has to hump the dry body of Kane.
WH: That goes into my next question which you already partially answered –
Katharine Isabelle:[Interrupts] Did I like dry-humping the dead body of Kane?
WH: No. Haha. I was going to say that you serve as the comedic relief in the film. And I was wondering if your character was scripted that way or was that your spin on the role?
Katharine Isabelle: No. No. She wasn't scripted that way. She was written as the very overtly sexual character in a horror movie. I think one of the strangest lines in the script was: She turns around. Unbuttons her blouse. Teasing us with her breasts. I was like, 'Okay. I'll do that but it's going to be in the most ridiculous, drunk idiot girl at a part way. It's not going to be super sexy. I'm going to make her goofy as f**k.' The humor came after reading the script. It wasn't like that on the page.
WH: I love the way you brought Tamara to life. I thought she was hilarious. That doesn't always happen with characters in a slasher film. Just like with Mary, you were able to take a character that isn't really likable on paper and make audiences like her.
Katharine Isabelle: [Laughs] Thanks! That was definitely my goal for Tamara. So I'm glad that people seem to be responding in the way I had intended.
WH: I wonder if you have been surprised by the intense outpouring of fan support for American Mary and for your character in the film.
Katharine Isabelle: I always knew that if we finished the movie and were fortunate enough to get it out there to people that they would really connect with the character and the story. All credit is due to the Soska's genius writing, of course. They are brilliant. I hope what See No Evil 2 and Vendetta proves to the studio system what they can do and allows funding for more of their original scripts like Mary was. I was not surprised by the reaction because that is the reaction I had. I would have had the same reaction if I had come across the movie. I was super duper pleased. But I can't say I was surprised. I know what the Twins had was genius and I knew what we had completed at the end of the day was the very best work that we could have done and as long as people saw that then hopefully people would like it and they did.
WH: See No Evil 2 was your second outing with the Twisted Twins. How has your relationship evolved since your last time working together?
Katharine Isabelle: Well, they are best friends of mine. So it's not like I only see them when we are shooting movies. We are together a lot. We see each other every three weeks basically. With American Mary, they were their own bosses. They could do everything they wanted They had all the power. To see them work within the studio system is great. They brought their same level of enthusiasm and energy and therefore created the same amount of support with their immediate cast and crew like they had on Mary. You can't help but be sucked in by their awesomeness. It's great to see them being successful. That's the next big step for a director. You have to prove yourself at a studio level. And they are doing that. They'll be able to just continue doing bigger and better and cooler sh*t. There's a need in the market for two awesome ladies doing some cool Sh*t. Nothing has changed with us. It's just been watching their careers grow exponentially due to their amazing work on their original projects.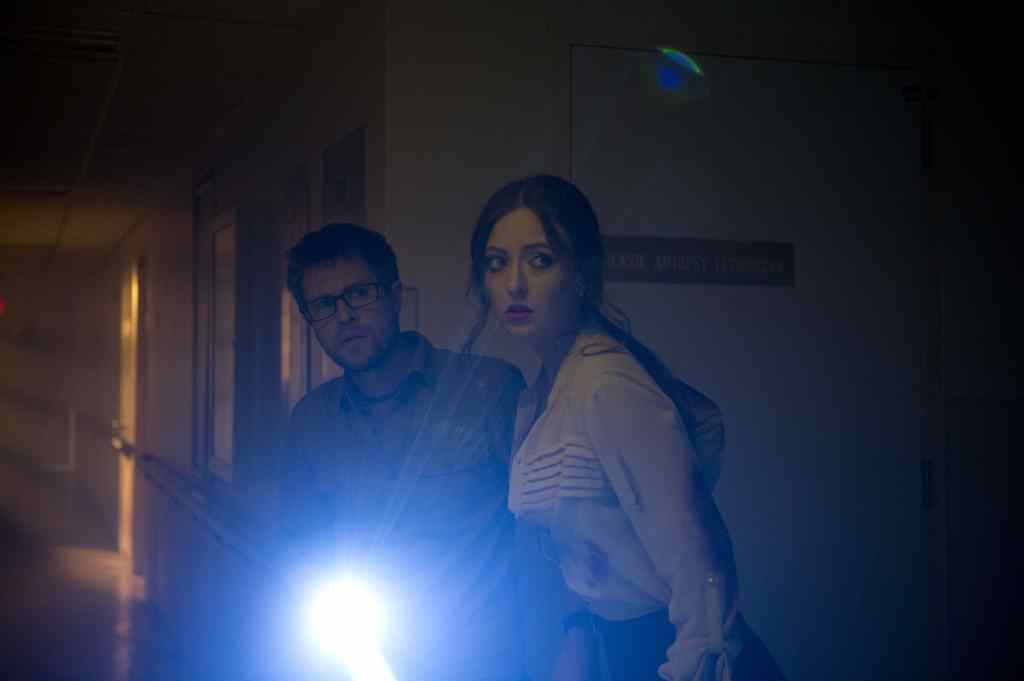 WH:
Expanding upon that: If you had to pinpoint one, what would you say was the biggest difference difference between working with them on a studio project versus an indie picture?
Katharine Isabelle: They didn't write it. They didn't have the full creative control that they had previously. But that's all stuff that I'm not really there for. I'm just an actor. I come in, I do my sh*t and I leave. They are what they are and what they are is amazing and genius and inspirational to everyone around them. I got to see that happen all over again. I think they bring that to everything they do.
WH: So, can you tell us what's in store for your character Margot on Hannibal season three?
Katharine Isabelle: No! I don't know anything. I don't get the scripts for any of the episodes I'm not in. I wasn't in the season two finale, so I watched that screaming basically. I was freaking out. But I have no idea. I may do some snooping this Friday. I got an e-mail that invited me to dinner with Dr. Hannibal Lecter this Friday. It's the season three cast dinner. It was done in fancy calligraphy. I basically want to print that out and frame it on my wall. So, hopefully Bryan Fuller is there and I can dig some inside information out of him. But I honestly know nothing. I'm just happy I'm still alive and going to be there for at least a little while.
WH: I read in an interview with Bryan Fuller that Margot gets a love interest in season three.
Katharine Isabelle: I read that too. Everything I know, I have read in that interview. I have a lot of hopes for the third season. But I just have to wait.
WH: I wonder if you have any thoughts on the Internet backlash from your lesbian character sleeping with a man on the show? To me, it seemed very blown out of proportion.
Katharine Isabelle: I didn't really see any of that. I'm not very good on the spot. I can understand where people are coming from. But I think that you also have to understand that there is a certain amount of leeway when you are a creative genius like Bryan Fuller. I'm pretty sure that you're allowed to play around with fictional characters from a book. I don't think that was at all out of character for her. It's all manipulation. Everyone is mind f**king everybody. She did it to get a baby and to get the upper hand on her brother. There were definite reasons for everything that she did. I guess that it may have gotten blown out of proportion with people getting upset about it but you know what? Everything that comes out of Bryan Fuller's head is awesome and they should never question it, so shut up! I don't really pay attention to what people are saying on the Internet. I pay attention to when my body needs to sh*t and if there's food in my fridge and that's about it!