We're living in the middle of a horror toy revolution. There are figures coming out every year that I could have only dreamed of as a kid—and I did spend a lot of time dreaming about them. Whenever I walk into a store like FYE, I'll see Freddy, Jason, Chucky, almost every time. It's an amazing time to be a horror fan and every time I see it, I wish I could have experienced this as a young fan. Growing up in the '90s, I took all the horror toys I could get. And to be fair, there were quite a few. Plenty of things of that era, even aimed at children, took a creepy bent—especially after Goosebumps took off.
But even going back to the early, early years of the decade, the '90s offered some scary toys and games. Not only were we still riding the last breath of the '80s success of My Pet Monster, but 1992 gave us Monster Face, a bizarre sort of play set in which kids assemble, well, a monster's face. You could put different colors of patchy hair on the thing, worms, it would even drip slime. As a kid, this was cool—until I actually got the thing for Christmas and it terrified me. I'd be drifting off to sleep and would swear that Monster Face would just slightly shift his eyes to look at me in the middle of the night. Similarly, we saw Creepy Crawlers, a gooey make-your-own-bugs factory that seemed like the "boy version" of the Easy Bake Oven.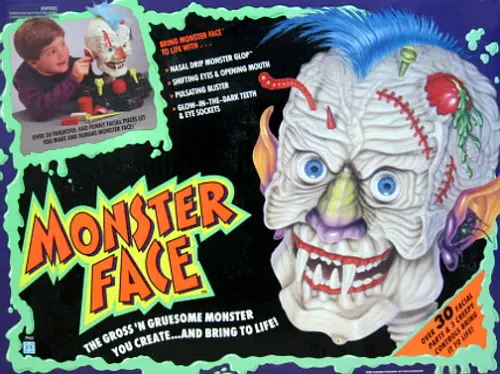 Even before the major franchise horror figures we see today, though, there were a few series in the early '90s that attempted to scratch that itch fairly well. The
Aliens
and
Predator
figures from Kenner were especially great because they offered all sorts of different variations on the creatures beyond what we saw in the films. After the introduction of the Dog Alien in
Alien 3,
we saw Gorilla Alien, Snake Alien, Mantis Alien and so many more different types. The first action figure I ever even remember buying was the Bull Alien.
Interestingly enough, the Aliens series was initially created to tie into an animated series called Operation: Aliens which was ultimately cancelled before it had the chance to premiere. As those toys went on, though, they became more Aliens vs. Predator oriented, with some great figures that not only had cool features, but expanded the mythology bit by bit. There were also plenty of variants, which was a huge thing at the time. Every toy needed exclusive designs for particular retailers.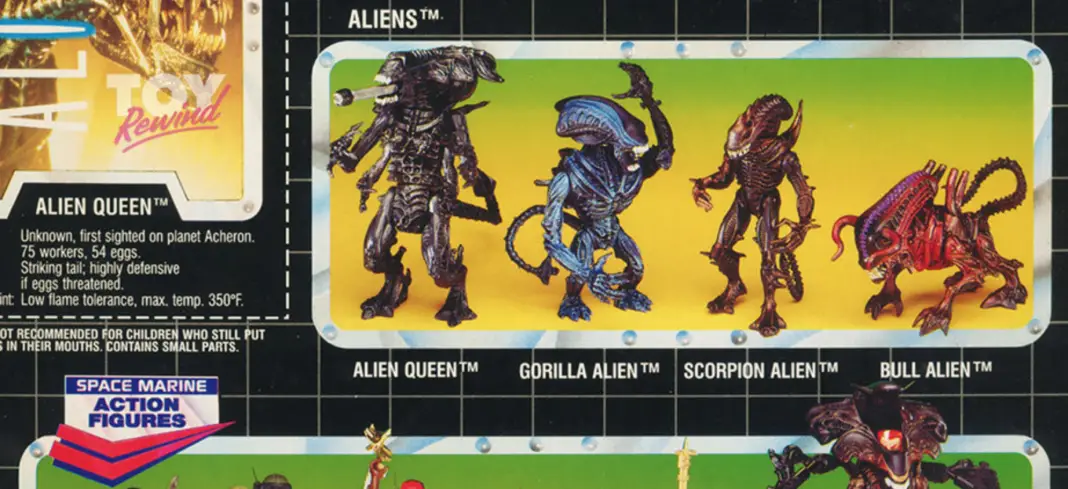 The Universal Monsters saw a great resurgence in success during the '90s as well. The films were re-released on VHS and even Burger King got in on the action with some Happy Meal toys, which were awesome for anyone who'd wanted toys of the classic monsters.
Placo attempted very basic Universal Monster figures in 1991. Later in the decade, we'd see legitimate, detailed action figure releases for the classic monsters with Sideshow's Universal Monsters series as well as McFarlane's Monsters playsets which allowed for more gruesome, unique takes on those creatures.
We also got a taste of those monsters in the Tales from the Crypt Keeper action figure series, which offered two different versions of the Crypt Keeper as well as an assortment of other monsters. While the title would suggest it was based on the cartoon, the Crypt Keeper figures were very much based on the live-action version. One wore his classic robe while the other was dressed for success in a tuxedo.
Frankenstein, Dracula and others would also make appearances in one of the defining horror toy lines of the '90s: Mighty Max. The cool, edgy boy version of Polly Pocket, Mighty Max toys would generally look like skulls or rotting faces, but when you opened them up there would be an entire small playset inside. While the idea was fantastic and a kid like me ate it up, the toys inside the sets were under an inch tall and would frequently go missing.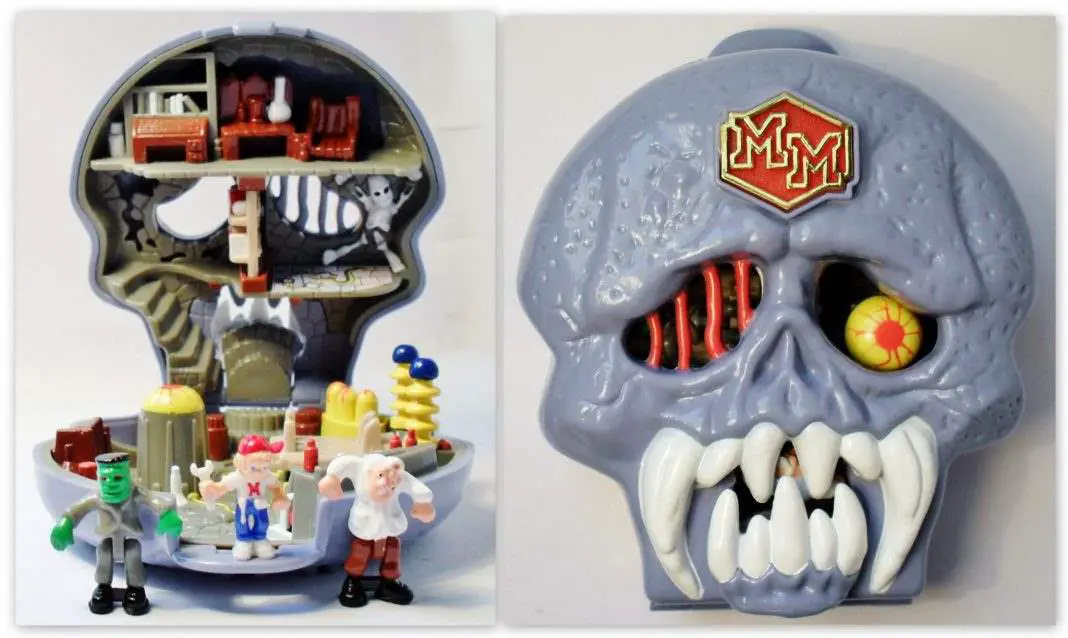 In general, the '90s was kind of a weird decade in that some unexpected franchises like Attack of the Killer Tomatoes, Swamp Thing and Toxic Avenger saw Saturday morning cartoon adaptations, which led to their own action figure series. But even stranger than that, just about any movie saw its own toy line, from Robin Hood: Prince of Thieves to Dragonheart to Congo, largely thanks to Kenner's huge success with Jurassic Park.
The decade was also rife with Godzilla figures. Trendmasters produced a King of the Monsters series that saw many versions of Godzilla himself, and then Rodan, Mothra, King Ghidorah, Mechagodzilla and almost every other creature the Big G ever went toe-to-toe with. Later in the decade, the 1998 American Godzilla would also see its own entire figure series.
When Marvel brought its first action vehicle to the big screen with Blade, toys followed, even if it should seem like the least likely film to get figures out of any Marvel movie we've seen since. Around the same time, Resident Evil got its own gory figures as well.
Throughout all this time, though, a minor revolution was coming. After changing up the comics game with co-founding Image Comics and launching the entirely unexpected success of Spawn, Todd McFarlane had begun to do the same thing for toys. He took a gamble to start his own toy company instead of partner with another company for Spawn figures, as demand was already high. McFarlane toys took off, providing toys that begged to be displayed, featuring detail that had rarely if ever been seen before.

One of the defining toy series for me, sparking an obsession, even if I would only encounter the figures rarely, was the debut of Full Moon Toys and the Puppet Master action figure series. The concept was genius. The movies were already about toy-sized things coming to life, so to make figures of those characters, each with their own special abilities, was a fantastic idea. These weren't just display-only collector's items, they were full blown action figures. The drill on Tunneler's head would really spin, as would Jester's face. Blade's eyes would light up like the poster for the original, Torch's eyes and flame arm would emit the same red glow that would be seen in the movies. It was great. I discovered the movies through the toys, even though I didn't have them, I'd just see them advertised in toy magazines of Fangoria. I even attempted to make my own before discovering the entire set under the tree one Christmas—a moment in my life that seemed to be borrowed to form the plot of 2004's Puppet Master vs. Demonic Toys.
Toward the end of the '90s, McFarlane made the move that wound up almost single-handedly paving the way for the horror toy revolution we're in right now. We would not see endless NECA or Mezco Freddy, Jason or Leatherface figures if it weren't for McFarlane's Movie Maniacs.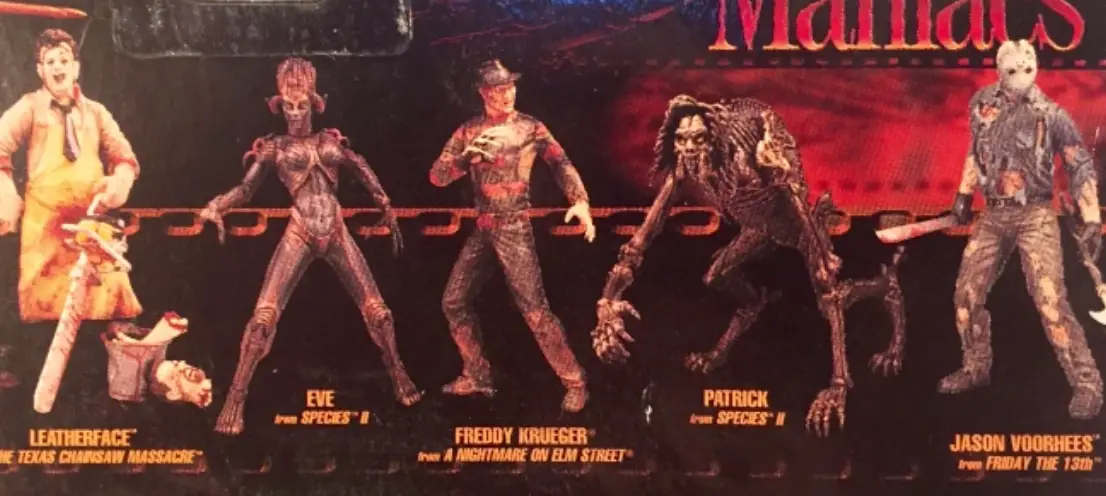 I had dreamed of one day seeing toys of these characters from the moment I discovered who they were. As soon as I knew about Jason or Freddy, I wanted figures of them. For a kid like that, Movie Maniacs was a dream come true. In the first series, we saw Jason, Freddy and Leatherface, in the second we got guys like Michael Myers and Chucky. Even Pumpkinhead! I discovered that character through his action figure.
Freddy was basically Freddy as we typically thought of him, while McFarlane's interpretation of Jason was an interesting combo of Parts 7, 8 and 9. While Movie Maniacs ended with its seventh series in 2004, it's still incredibly crucial to where we are now. It laid the foundations for where we are now. We're not just seeing an action figure of Jason, we're seeing multiple different versions from different companies of specific versions of Jason from even just one movie. There's not a single moment when I encounter these things and don't think about how amazing it would have been to experience all of this as a young fan. I don't take it for granted.
I'm not saying you should just rush out and buy a Mezco Jason or Leatherface for the burgeoning young horror fan in your life this Christmas—except I am saying exactly that. Do that. If horror's truly in their blood, they'll never forget it.