This past weekend, Adam Green and Joe Lynch hosted their fourth annual marathon for Save a Yorkie Rescue and did the unthinkable not only by putting on a better show than any of the previous years—which had, for the record, been great—but by beating the roughly $38,000 they raised last year and raising an astronomical $40,000. As I've done since the first year they did the marathon, I listened all the way through, dozed off exactly once, and am here to recap the entire event. To be clear, I don't do this to rub anyone's nose in what they missed out on. I just think an event so meticulously planned with so much going on that only happens once deserves an account of those great guests and events to the best that my sleepless mush of a memory can recall. These guys didn't do it for themselves, they did it for the dogs and they saved a lot of them. Man, that's so worth documenting. And if anything, I hope that an account of exactly what went down over the course of the past weekend might encourage even more people to tune in next year.
With that aside, I'm just going to jump right into it because there is a ton to go through, believe me. The first guest of the event was musician Jason Charles Miller, who has normally been one of the last guests in the past. For the other marathons, he's shown up to serenade Adam and Joe when they're already beyond loopy on Sunday, and both he and they noted what a refreshing change of pace it was to come in and the beginning when everyone's more or less alert. It was a neat change to the typical schedule, as it kind of let fans who had listened to the previous marathons know that they'd be in for something a little different and more than that just felt like a great opening act for the event itself.
This is also where I should give an enormous shout out to the YouTube chat. It was so great to have one streamlined comment thread throughout the entire event. More than that, it was great to just talk to likeminded fans all through the weekend. It also helped so much to keep me awake by giving me something to constantly interact and engage with. Having said all of that, this was also about the time that they mentioned that the event had to be rescheduled because Joe had to move. And much like pushing a boulder up a hill in Hell, once the moving jokes started in the chat, they did not let up for another 48 hours.
After Jason Charles Miller, they sat down to talk with horror royalty Fred Dekker, who has always had a great, humble attitude to looking back on his career. It's understating it to say that the studio system hasn't exactly been kind to him. On his Movie Crypt episode, he went into detail about the circumstances surrounding RoboCop 3, a huge studio job that didn't go great, to say the least, and it was bittersweet but truly insightful to hear him open up a bit about last year's The Predator, a movie that certainly sounds to have had fairly similar circumstances. But Dekker is incredibly good natured about it, noted how happy he was just for the opportunity to play in that world and once again collaborate with longtime friend Shane Black. It was also insightful just to even hear him talk about the rediscovery of The Monster Squad and how it's amazing on one hand, but just as Carpenter experienced on The Thing, doesn't do anything to take away the impact it had on his career at the time.
Taj Jackson then came on to talk about his family's legacy as well as answer a Hollywood Therapy question (for those who don't listen to the podcast, these are often deeply personal questions by fans that the hosts and guest answer to the best of their ability) about a fan's fiancé he suspected of cheating and how to repair that relationship and things got very real very early on in the show at that point. But opening up like that, exposing one's heart and maybe even tearing it out a little bit to speak bluntly, honestly and candidly is very much in Movie Crypt tradition. In some ways, this letter, the personal chord it struck with Adam and the blunt but genuine and fair honesty of their advice was what really let you know you were listening to a Movie Crypt event. And, of course, this powerful emotional moment was also undercut a moment or two later when Joe screamed "Oh, Jesus Christ!" from the bathroom to let Adam (and lest we forget, us) know that his pee was just as discolored as Adam's and that no one would need to be hospitalized following their B-12 shot.
Danielle Harris came by after that. Not only is she horror royalty, but she's Movie Crypt royalty as well, as she was the podcast's very first guest and later returned for an incredibly candid commentary on Halloween 4. It was neat to listen to because the three of them genuinely hadn't caught up as a bit and, given that they're all close friends, she didn't have to answer the same "What was Donald Pleasance like?" questions that she no doubt gets at every Q & A. She did give the entire breakdown on how her appearance in Once Upon a Time in Hollywood came about, how she wanted to be in the film so badly that she offered to even be crafty, but then had to bow out when she became pregnant, only to get called back in and film her cameo while extremely pregnant with a role that Tarantino had basically hand written for her on the spot. She also recounted meeting him for the first time at Eli Roth's birthday party, when he accidentally tossed her in the pool fully clothed and later took her shopping to replace everything he'd destroyed in her purse.
Darren Lynn Bousman, Jessica Lowndes and Dayton Callie then came by for the first commentary of the marathon for Bousman's film Abbatoir. The neatest thing about this was, considering how many guests were longtime friends of the gang, hearing Adam meet Dayon Callie for the first time and just go full fangirl for Sons of Anarchy. The commentary itself was fantastic for Bousman and Callie's relentless roasting of one another, in an extremely good natured way, of course.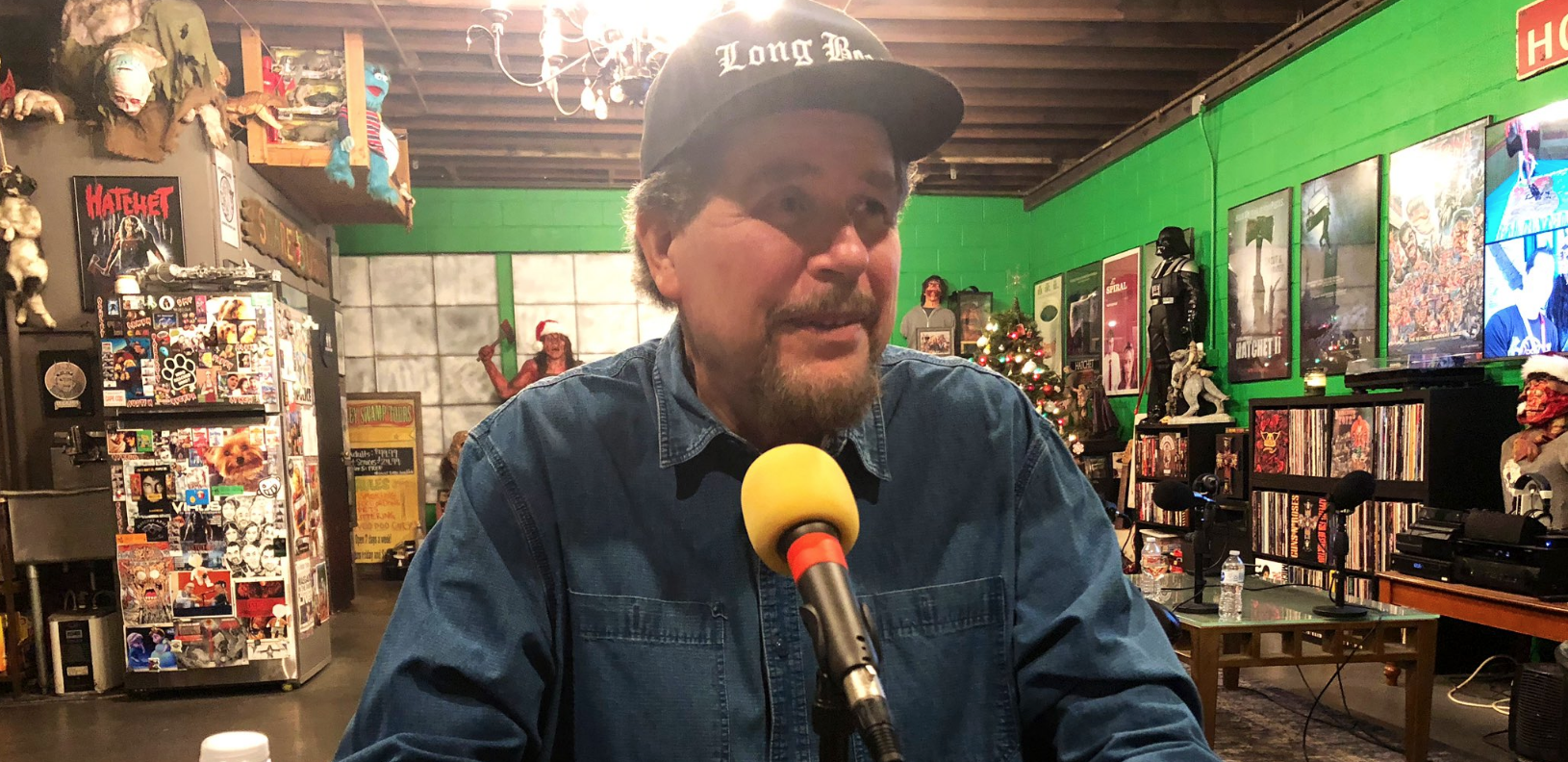 Don Coscarelli then stopped by for about a half hour to talk about the legacy of Phantasm, give Joe a copy of the brand-new Blu-ray collection and provide a lot of amazing stuff for the auction, including the incredibly rare Phantasm comic book. They talked a bit again about Joe's Beastmaster moment, which helped him to recover from the misery of making Knights of Badassdom to realize that Coscarelli had gone through a very similar situation on his cult classic film that Joe and many, many others have hailed as a childhood favorite.
Brian Posehn then came by for his very first Movie Crypt appearance, which was incredibly insightful. Posehn is of course known to fans from all walks of geekdom, from The Sarah Silverman Program to Devil's Rejects, tons of animated work, so many cameos, writing Deadpool, his own comedy, of course, and just countless other things. It was really interesting to talk about how hard it is for him to watch comedy having done it for so long. Most amazingly, though, he came in and did all of this while casually mentioning that he had a flight to catch immediately afterward and noting that he had lost his mother that week. That's how dedicated he to just being there for the event and for its cause. That's stunning. It's the heart of the marathon to see how much so many people care about animals and how important it is to them to show up and help. I know, of course, that when you're very busy and talented you have to keep moving but having lost a parent in the past few years I also know the mental state that I was in three days later and it's just incredible that he not only stopped by but was also as on as he was.
After that came a very special commentary and certainly one of the best and most memorable events of the entire marathon. They might not have had Santa Claus this year, but they did have Arnold Schwarzenegger. Well, they had an Arnold impersonator at least, who not only killed it with his Schwarzenegger, but didn't even break character once until long after the commentary was over. The film itself was Last Action Hero, a movie only Joe seemed to really go to bat for, but I'll side with him on that one. It's great. They didn't just have "Arnold" though, as the commentary marked a return appearance by "Abel Ferrara." Joe's version of the cult director was born out of a delirious Sleepaway Camp commentary with Felissa Rose on a previous Yorkiethon and while he sounds nothing like him, his impersonation captures the spirit of Ferrara perfectly. And that's what matters. To just hear Arnold and Abel break into screaming matches was gold, not to mention Arnold accidentally referring to Stop or My Mom Will Shoot as Stop, Don't Shoot my Mom and the reveal that Abel Ferrara directed The Goofy Movie and that Last Action Hero was a documentary.
Things didn't get any less irreverent after that as Joe Knetter showed up to read one of his more tame short stories, "Arrest that Weiner Dog Now." He also recounted some of his numerous injuries, but most importantly he was there to remember the great Sid Haig, memorializing an icon in the most Joe Knetter way possible by recounting a time he watched Sid relieve his bowels in a church parking lot.
Rob Pendergraft, who has done makeup FX for several of Adam's movies at this point, showed up for a makeup demonstration that was a little different from the previous demonstrations he'd done on previous marathons as he demonstrated some great burn makeup on Adam and Joe that could be easily recreated at home. It reminded me of the makeup demos in early issues of Fangoria which have, I'm happy to say, made a resurgence in the latest incarnation of the magazine.
Sarah Elbert, producer of Holliston, then did her annual Tarot card reading as she had done in the past. It was a great idea to make this a perk available to fans, so that three fans got to have readings and things once again got very emotional and powerful as they always have when she's done this on past marathons. I will be totally honest though, this was when I really started to feel it and reached a level of tired that was borderline sleep paralysis, realizing that my eyes were open and I could form a thought, but that all of my limbs were useless jelly.
I started to, as Eminem once said, snap back to reality after that, when Greg Aranowitz showed up to talk about the Hollywood Art Museum, a free VR museum of movie art and showcase some incredible pre-Ralph McQuarrie early Star Wars concept art. To see the original versions of X-Wings and Star Destroyers and how they evolved into what we know now is incredible. That's beyond fan stuff, it's just a genuine piece of cinema history and one of many reasons why I was grateful for the more frequent video segments of the marathon this year. I also might have accidentally forced Aranowitz to remember his early Puppet Master model kits and the behind-the-scenes video documentary that accompanied them, but I'll be honest it was surreal to even hear him remember and talk about that, as a fan. Aranowitz also shared real Arnold Schwarzenegger anecdotes that were somehow more bizarre and amazing than anything achieved by the impersonator for the commentary as Aranowitz explained the process of life-casting the actor for the Turbo Man suit in Jingle All the Way.
Adam Rifkin and Claudia Christian then came by to talk about their careers. While it was great to hear about Small Soldiers and Mouse Hunt, the highlight was naturally hearing them both share a Nicolas Cage story, as it went viral earlier this year that Cage cameoed in Rifkin's debut film Never On Tuesday wearing a ridiculous fake nose and spouting his own improvised dialogue that had absolutely nothing to do with the plot. You would think—or at least hope—that the film could finally get a proper release just on the notoriety of that cameo and that story, but that seems to not be a possibility at this point.
Mike Mendez and Dave Parker came by for a commentary on Tales of Halloween on which they were joined by Axelle Carolyn, recounting that most of the shorts were shot in just two days, that Parker's killer opener was originally supposed to come much later in the feature, as well as plans for a potential sequel as either a series or a totally new anthology beyond the holiday of Halloween, as well as the challenges of putting something like that together at this point and why it might even be an impossibility. Still, I think I can speak for many fans of the film when I say that a new anthology from these creators would be an extremely exciting prospect.
Jennifer Aspinall came by to talk about so many things from her incredible career. I'd never really heard any insight into the challenges of makeup for prank shows like The Jamie Kennedy Experiment and it was great to hear some insight into how people react to certain pranks in real time, from people passing out to one person who hid in a closet. But her career also extends to '80s cult classics like The Toxic Avenger and Street Trash. Unfortunately, as she answered in a fan question, she no longer owns the toilet monster prop from Street Trash, though she did at one point.
Zack Ward then talked about his long career, with a particular highlight being his story about being trained by Robert Englund to play Freddy in Freddy vs. Jason. He also, given the season, opened it up to talk anything people wanted to know about A Christmas Story, given the season, despite it no doubt being the movie he probably gets asked about every day of his life.
Herman Li, of DragonForce, came by to do some more music, some really incredible stuff. And it was nice to see the video component too because, man, that guy has some truly illustrious hair.
After that, Joe joined Crystal Lowe, Matthew Currie Holmes, Steve Braun, Aleksa Palladino and Daniella Alonso for a Wrong Turn 2 anniversary commentary that, if it doesn't outright blow the original commentary out of the water, at least serves as a perfect companion piece. They talked about so many things, from the original Wrong Turn to the challenge of doing a sequel, The best part, though, was hearing so many members of the cast just reconnect and hang out after having not seen each other for years. And many of them hadn't seen the film since it came out, so it was of course nice to hear them repeatedly point out how well it holds up.
Brendon Small came by after that. Probably best known for Home Movies and Metalocalypse, the guy is truly a jack of all trades, from stand up comedian to voice actor to singer and everything in between and was followed by Josh Stolberg, who should be well known to fans for having written Piranha 3D as well as his work on the Saw franchise, including the upcoming sequel that coincidentally happens to see Darren Lynn Bousman return to the director's chair. For me, personally, the coolest part of this was absolutely getting to hear Stolberg talk about working with Clive Barker and, in particular, what it's like to hear Barker pitch a project.
Of course, it's also a little bittersweet, even though the candid aspects of The Movie Crypt have always been my favorite things about it, the CW Weaveworld and Morgan Creek Nightbreed shows were never officially announced as not happening, so to get the clarification that they are evidently both dead in the water is unfortunate as I'm sure both projects had a ton of potential. But that's also just the way the industry works and I definitely respect Stolberg's noted realization that Weaveworld just isn't something that fits the CW model and probably shouldn't be reshaped to fit that model if it risks losing Barker's imagination and voice.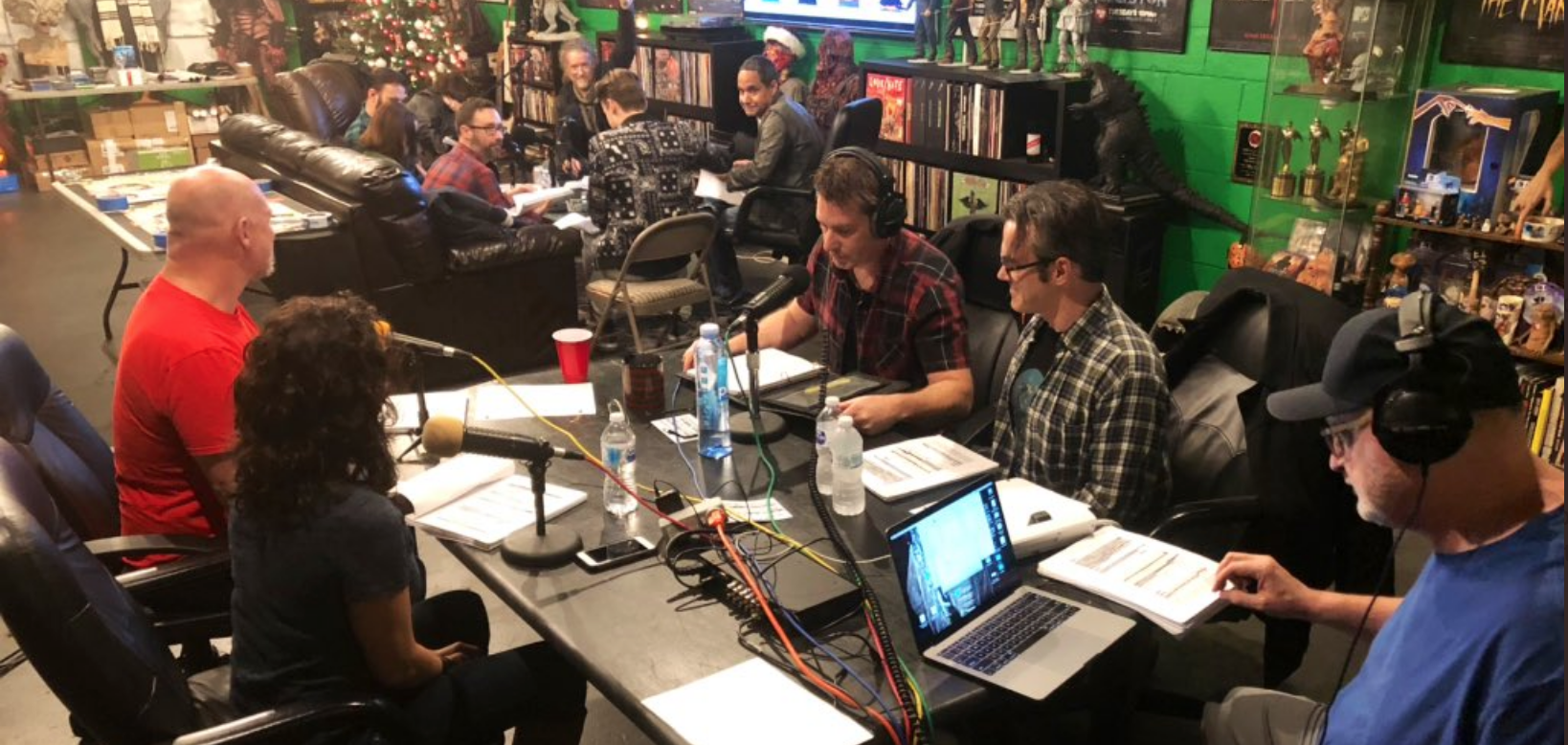 Then came one of the biggest things of the entire marathon, so big that it was one of the only things (aside from the commentaries) announced beforehand, and that was a live reading of John Sayles unmade script for Night Skies. To those unfamiliar, Night Skies is a colossal part of Hollywood history, even for a script that never actually got filmed. It was written as a sequel to Close Encounters of the Third Kind when Spielberg started toying with the idea of telling a story about less friendly aliens having read something about a UFO incident in Kentucky, widely known as the Kelly-Hopkinsville Incident. That one story about a family besieged by malevolent forces and the young boy who forms a bond with one of them set up the DNA for two of the biggest movies Spielberg was ever involved in. The family besieged by evil formed the backbone of Poltergeist, while the boy's friendship with an alien obviously evolved into E.T. The Kelly-Hopkinsville encounter also separately inspired Critters. (Both the incident itself, Night Skies and Critters all feature an identical scene in which the mother sees two red eyes out the window)
As someone who's written about the script and has thought a lot about it over time, it was insane to hear it performed live. Dave Parker put together an incredible group of performers for it, sharing narration duties with Jared Rivet. The cast of performers included Tiffany Shepis, Todd Farmer, Austin Falk, Matt Mercer, Mary O'Neill, Buzz Wallich, Suzanne Vosk, Darin Heames and Jeffrey Reddick. It was a fantastic one-time listening opportunity, from the cast to the sound and music effects. A lot of care went into this one.
Following that reading was another huge hit of the marathon every single year, the improv group, The Resistance. Performing for a second year in a row without Derek Mears, they came up with a Christmas horror movie on the spot that was ridiculous in the best possible way.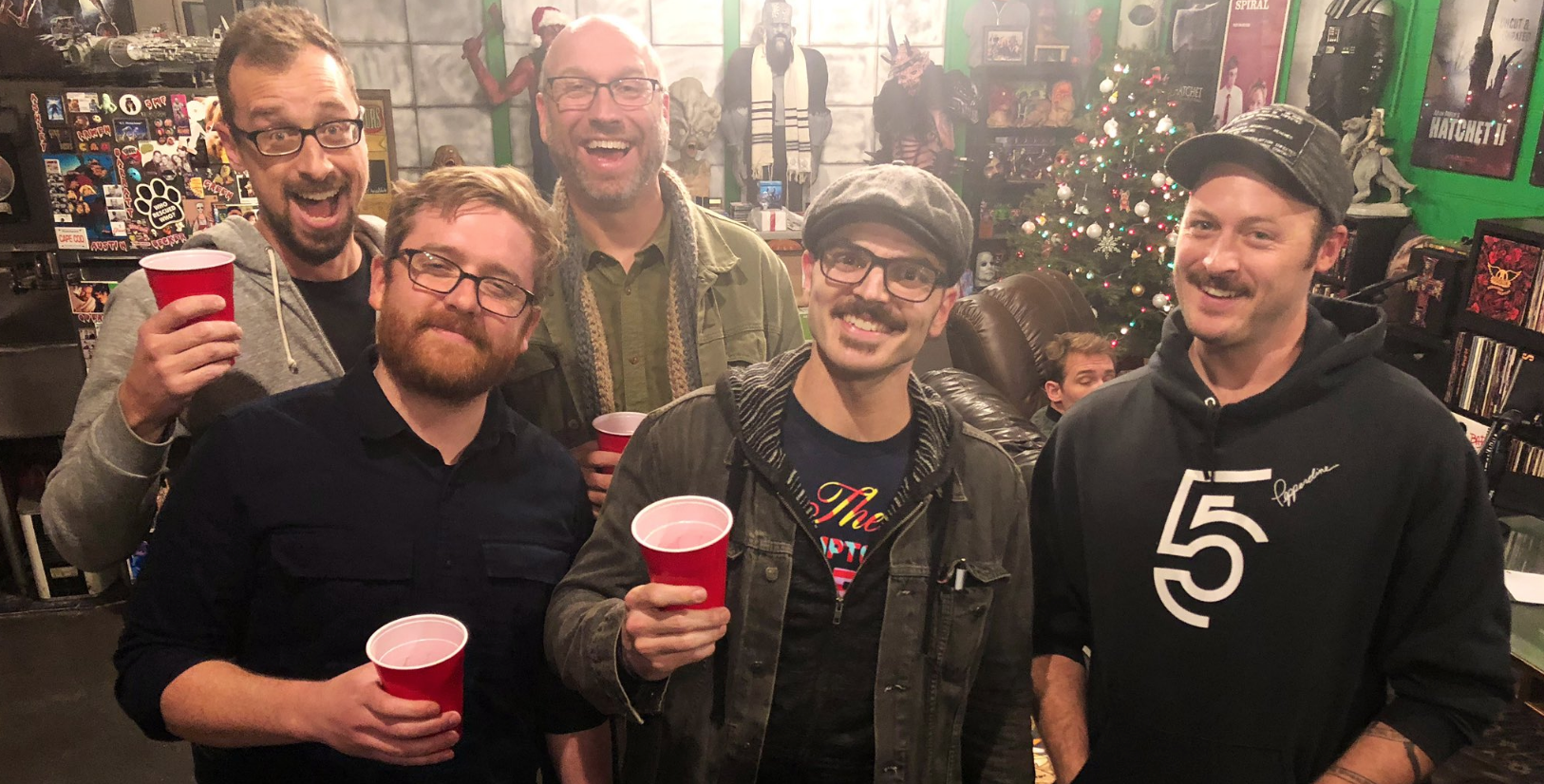 Spooky Dan Walker then showed up for a very interesting game of trivia, full of bizarre wildcards and extremely subjective questions to keep both Adam and Joe on their toes—and, naturally, awake—including questions like "Who's the best Movie Crypt guest?" The answer was obviously Spooky Dan. It was a fun bit of nonsense and weirdness that came at the absolute best possible time after both the hosts and listeners like me had been awake for at least an entire day, if not more.
Then came a commentary for Bliss with Joe Begos, Matt Mercer and Josh Ethier, which I kind of tuned out of just on the grounds that I still haven't seen the movie. Luckily, I'll be able to catch up because they've made it clear that this commentary will be available at some point. I still kept coming in and out because I wanted the updates on how much they'd raised and also wanted to gauge what was coming next, but perhaps unsurprisingly, this was it. This was the point where I finally drifted off. Because of that, I regrettably missed the next segment in its entirety and didn't get to hear a word of Uncle Creepy's rendition of A Christmas Carol, unsurprisingly featuring "Abel Ferrara."
So let me tell you just how jarring it was to wake up and realize what I was looking at next, even when there were words on the screen telling me exactly what it was. My eyes were blurry and unfocused, I was just looking at the picture, and my first thought was that it looked like I was watching Holliston except Adam looked like an actual child. And then I realized. As a fan of the director, I can't even describe my dumbfounded shock. The $400 movie that more or less was Green's gateway into the industry, Coffee and Donuts, laid the groundwork for Holliston but can never be released for several reasons, most notably music copyright. To see it screened in the marathon was nuts. I'm so happy I caught it at the beginning. You know the Buffy the Vampire Slayer pilot, where Willow's played by a different actress and things feel a little off because everything's so similar to the show you recognize while still being very different? That's what Coffee and Donuts feels like. What amazed me, though, and I know this had a lot to do with the equipment they had access to, was just how good it looked for a directorial debut made for practically pennies using only local resources.
This was followed by a Frozen commentary with Shawn Ashmore, Will Barratt and Ed Marks, and that was awesome to hear in the same way that the Wrong Turn 2 commentary had been, although with much more repeated amazement at how crazy it was that it's now been a decade since Frozen was filmed. This was then followed by a chat with Felissa Rose, who is absolutely one of the brightest people of the industry.
Brendan McCreary from Young Beautiful In a Hurry came by to perform more live music, which a lot of people tuning in really, really dug, including myself. He also got to talk about recreating Queen both on stage and playing Freddie Mercury on Big Mouth. Eric Edelstein and Jess Romo then gave Arwen some beauty tips, particularly how to get the dog's notorious odor under control. Tom McLoughlin came by for what seemed for many fans to be the most anticipated event of the marathon, a commentary for Friday the 13th Part VI: Jason Lives. Both McLoughlin and Adam had worked on the Friday the 13th game doing the Pamela Tapes and Tommy Tapes, respectively, so it was cool to hear them talk about what it was like to basically write a Friday the 13th radio drama.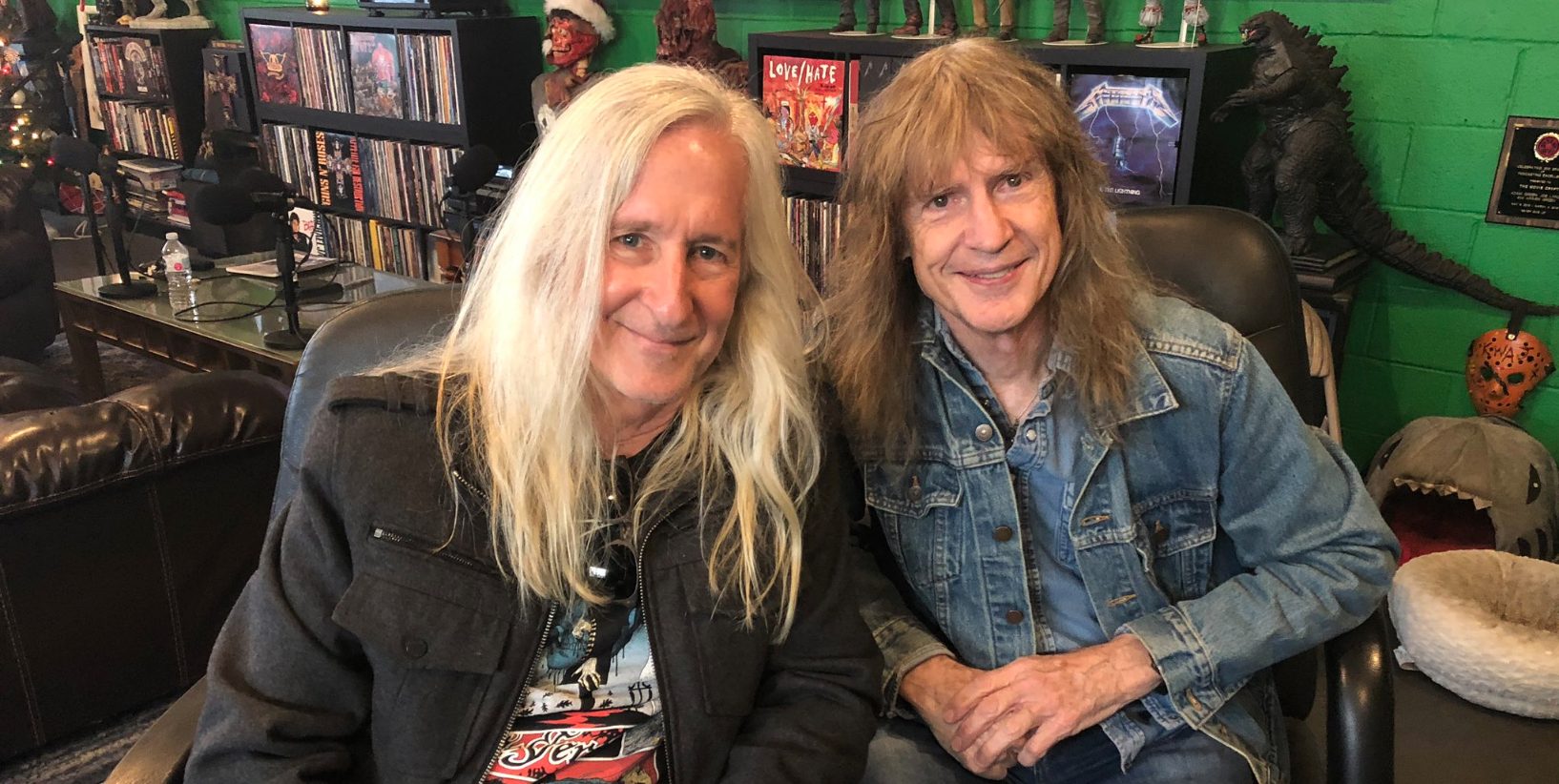 After that, Mick Garris and Joe Russo came by for a bit of a podcast crossover as they definitely brought the Post Mortem brand to the marathon and talked about the success of the podcast and their biggest episode. To probably no one's surprise, the biggest episode was Stephen King, who did his first podcast appearance ever to talk The Stand with Mick earlier this year. Garris also talked a bit about the new Blu-ray of The Stand, which you should absolutely pick up if you haven't. It's a really, really stunning restoration. Joel David Moore and Chris Williams followed that with a commentary for Dodgeball: A True Underdog Story, with a lot of great insight, particularly into how Vince Vaughn's character grounds what would otherwise be a farce and the improvisation of the "There's a guy on our team who dresses like a pirate?" line.
For a podcast so entrenched in the highs and lows of movies, they could not have picked better guests to close out the show with. Leonard, Jessie and maybe the best guest of the entire marathon, Alice Maltin, came by to just talk cinema. It was amazing. I got to hear Leonard Maltin talk about S. Craig Zahler and Bone Tomahawk. I never thought I would ever hear something like that. That's just one of the many great Christmas gifts this exhaustive and sleepless marathon provided, even without an appearance by Santa himself.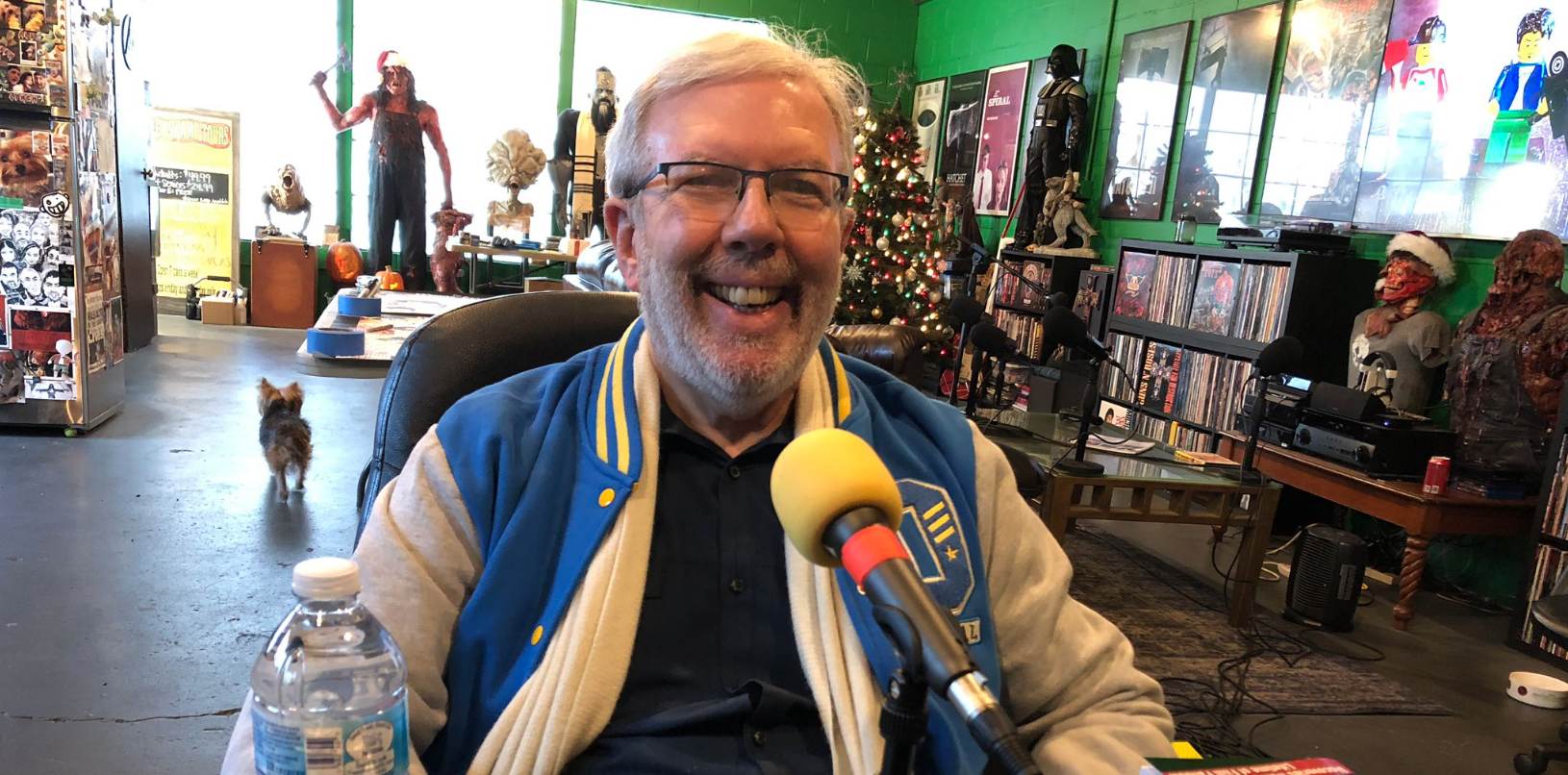 Again, though, they weren't doing it for themselves. They were doing it to save dogs' lives and they saved more than they've ever saved before and raised $40,000. That's what it's all about. It's even more amazing when you take into account the insane donation of Doug Benson last year, who gave $10,000, which was nearly a third of what they raised in total. As a listener of the podcast, a fan of their films and—above all—someone with a rescue pet of my own, I really can't thank Adam and Joe enough for what they do with this marathon every year.
I also truly have to thank Corey Culp and Ryan Plume for the work they put in behind the scenes. Even though my body felt like rotting mush and my eyes begin to sting from being open for three days, this has become one of the events I look forward to every single year. I have no idea how they're going to top it and they absolutely do not have to because what they did for those dogs and with this show this year was more than enough. But knowing them, they will anyway.