Serving as both my birthday and my favorite holiday, December 25th is the day I spend all year looking forward to. And as a horror fan, that means I'm always on the lookout for good holiday fiction.
R.L. Stine's Goosebumps had very few Christmas related stories, but his Fear Street series had more than enough holiday tales to make up for it. Here's a brief look at how the most wonderful time of the year is spent on the most haunted street in America. 
The Best Friend
Becka Norwood's life becomes a nightmare when Honey Perkins appears in her bedroom, claiming they were "best best friends" in elementary school. As Honey worms her way into Becka's life, stealing Becka's things, copying Becka's appearance, and dating Becka's ex-boyfriend, she makes it clear she'll do anything to be the center of Becka's life. Even kill.
The Best Friend is the book that introduced me to Fear Street as a kid. It's also a genuinely disturbing tale of emotional manipulation and gaslighting. Honey Perkins may be one of R.L. Stine's most horrifying villains. When Honey bursts into Becka's bedroom exclaiming they were "best best friends" as little kids, Becka and her actual friends have no idea who Honey is. They find a photo of a girl who might be Honey, but aren't sure. And when Becka goes to the house Honey claimed to be living in, Becka discovers it's empty.
This isalso an infamous book in the Fear Street franchise. The fandom hated the ending so much that a contest was held to create a sequel. R.L. Stine himself told me that fans hated this book because of the ending. Good times.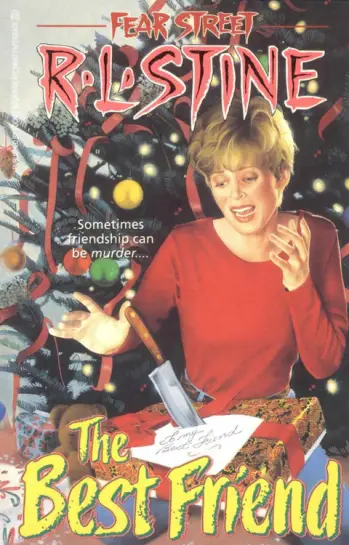 Night Games
Diane and her friends have been staying out late to play pranks around Shadyside. They especially love messing with one particularly nasty teacher. But these games turn deadly when someone dies.
This and The Best Friend are admittedly Christmas adjacent, taking place during the holiday season but not explicitly featuring a plot centered around the holidays. What really stuck with me about this one is the description of some of the tackiest Christmas decorations in existence (literally, bright purple mice).
Fear Street Cheerleaders: The New Evil and Cheerleaders: The Evil Lives!
In Fear Street Cheerleaders, Corky Corcoran and the Shadyside Cheer Squad were haunted by an evil spirit freed from Sarah Fear's grave. The Evil Spirit famously murdered Corky's twin sister Bobbi while routinely possessing each of them to commit bloodshed and mayhem. Following the initial trilogy, the tale of the Shadyside Cheerleaders and the Evil Spirit continued under Fear Street Sagas and Fear Street Super Chillers.
This is where the inspiration for the Sarah Fier  featured in  the Netflix originated, although Sarah Fear lived during the late 19th Century and not in the 1600s. 
In The New Evil, Corky thought she was free of the Evil Spirit. Unfortunately, her holiday plans are derailed when it seems the Evil Spirit is not quite dead. Shockingly, this book marked the death of a character who appeared and was mentioned in multiple books throughout the Fear Street franchise.
In The Evil Lives, the Evil Spirit returns to bedevil a brand new squad during another holiday season at Shadyside High. This served as the actual finale to Fear Street Cheerleaders, taking place after The Awakening Evil in the Fear Street Sagas line. Frustratingly, Corky Corcoran vanished from the plot with only a rather ominous mention of "Poor Corky."
Fear Street Super Chillers: The New Year's Party
Two holiday parties several decades apart share a connection when both end in tragedy. An outlandish prank at a New Year's Party in the 1960s results in a hit-and-run murder and a car crash. A prank at a Christmas party in the '90s results in another death. The past and present proceed to crash when the teenagers of the '90s meet with the victims of the '60s.
This is a strange one for me as I've tried to re-read it multiple times yet can never seem to finish it. It doesn't help that this book appears to have a largely negative reputation in the Fear Street fandom.
Fear Street Super Chillers: The Silent Night Trilogy
Reva Dalby is a spoiled brat whose father owns Dalby's Department Store. Cold, cruel, and uncaring, Reva's horrid personality puts her in danger three Christmases in a row. While Reva promises to change for the better, she never seems to learn her lesson…until people start dying.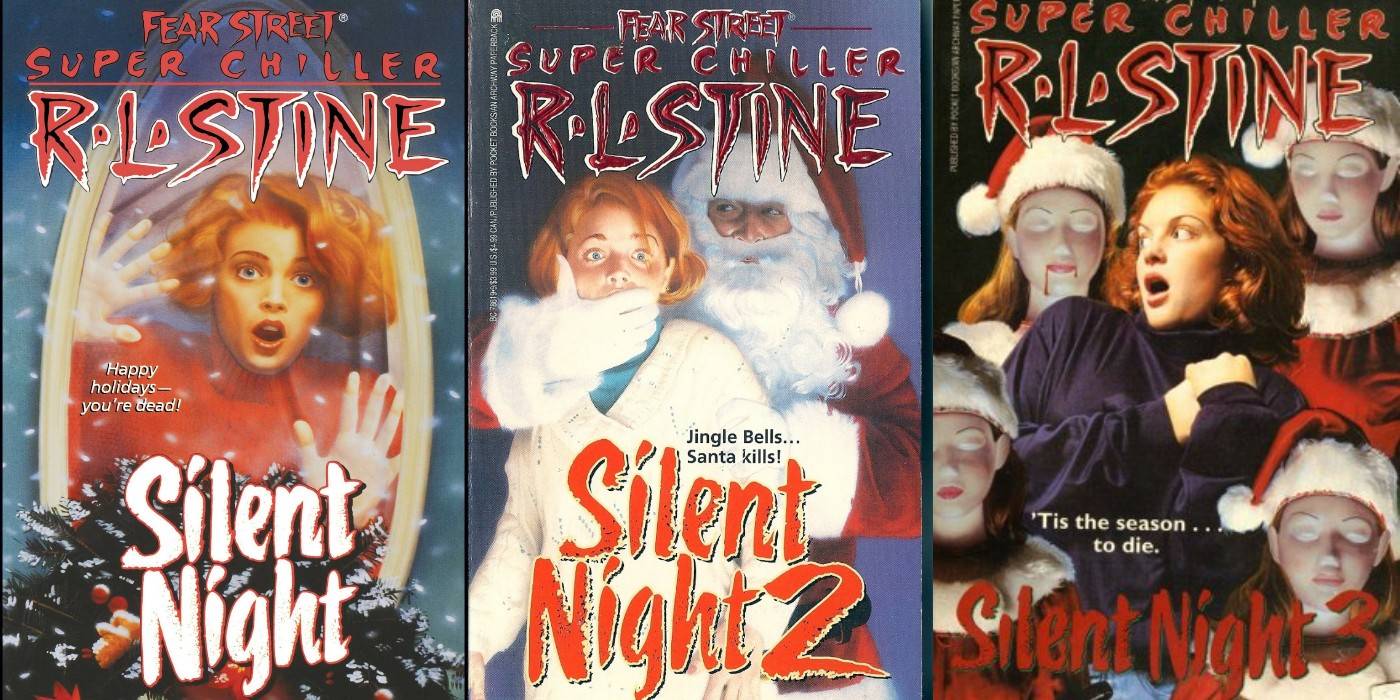 The Silent Night trilogy is one of the most well-known Fear Street arcs, featuring its most infamous "protagonist." Reva Dalby is an admitted favorite of R.L. Stine because she's such an awful character. Over the course of three Christmases, she's stalked and harassed, gets kidnapped, and tries to steal the credit for a design idea which makes her a target for murder. Every Christmas she swears to be a better person and it doesn't stick.
Stine liked writing about Reva so much that, after he couldn't use her anymore in current Fear Street books, he introduced her cousin Devra.
Fear Street Seniors: The Gift
For Christmas, 12th grade student Jennifer Fear receives a garnet necklace which belonged to her ancestor, convicted murderer Dominique Fear. While preparing for a New Year's Eve party, Jennifer suffers from blackouts. When someone sets fire to her assholish ex-boyfriend Ty's house, Jennifer later finds her new mittens have burn marks on them. Is Jennifer's Christmas gift channeling Dominique Fear's vengeful spirit? 
This marks the ending of the first half of the Fear Street Seniors miniseries and features some big revelations for two characters. The Shadyside Yearbook section infamously gets updated to feature four more seniors, even though by this point one died three books prior and another was written out of the series. Unfortunately, The Gift is a drag because it so heavily features Ty Sullivan and Trisha Conrad who're two of the least likable members of the senior class.
Ghosts of Fear Street: Fright Christmas by Stephen Roos
Kenny Forbisher's one of the worst kids in Shadyside. After yanking off the beard of the mall Santa at Dalby's Department Store, Kenny gets locked inside after the store closes. That's when Kenny learns he'll be visited by three ghosts who want him to change his ways if he expects to live to next Christmas.
Here we have your standard rehashing of A Christmas Carol by Charles Dickens. There's not much to say that makes this book stand out beyond the designs for the Ghosts of Christmas Past and Present. There's the Night Watchman, a muscular, motorcycle riding hulk covered in living tattoos, and the Ice Man. It feels like ghostwriter Stephen Roos took inspiration from Marvel Comics.
Interestingly, decades later R.L. Stine would write his own Christmas Carol homage, Young Scrooge.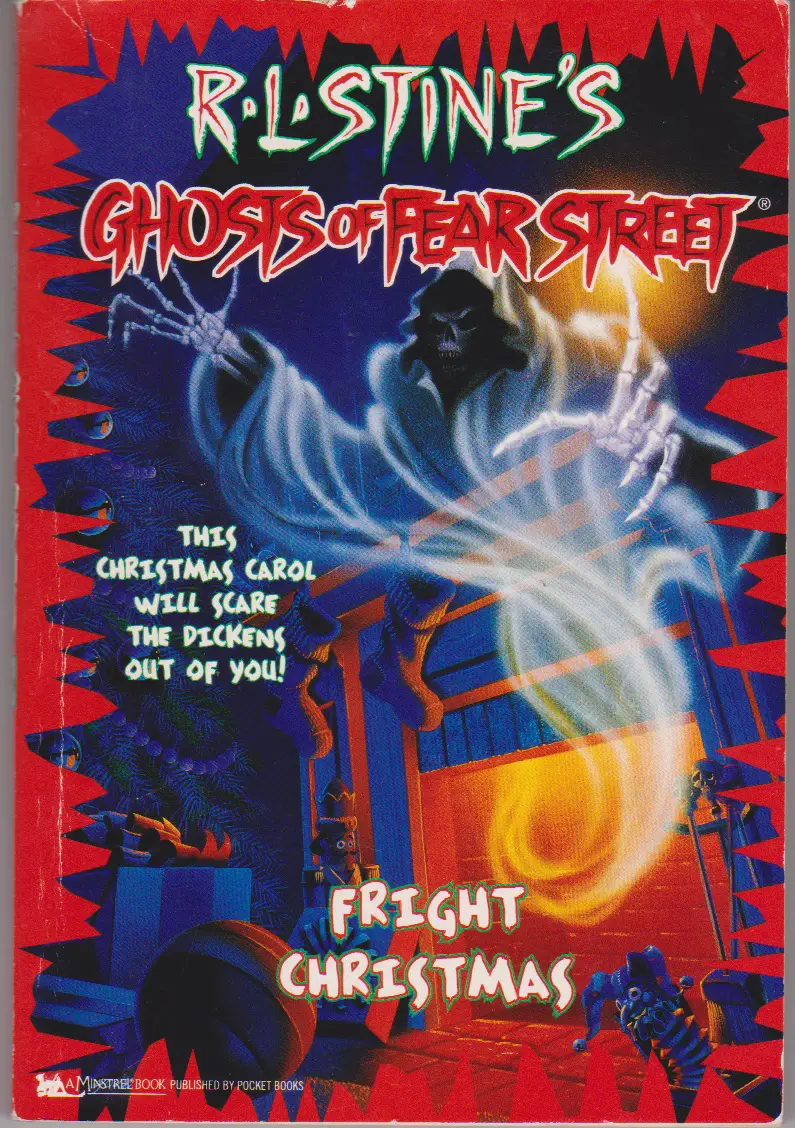 Ghosts of Fear Street: Parents From the 13th Dimension by Katy Hall
Sarah can't stand her embarrassing family, wishing they'd be more normal. A mysterious two-headed coin grants Sarah's wish, sending her into an alternate universe with the family she's always desired. But this dream is really a nightmare when Sarah stumbles upon her perfect family's monstrous secret.
This was the last Ghosts of Fear Street book to be published before Gold Key took over the release of the Fear Street franchise. At first glance, the story doesn't appear to be Christmas-related, although it does take place during the holiday season. Sarah's time spent in the other dimension features a variation of Christmas called "Winterfeast." 
And unfortunately, Sarah's going to be the main course!
The ending drags on for too long, but a funny tidbit to mention is that the alternate version of Shadyside is called Sunnyside. Considering the Fear Street film trilogy featured rival town Sunnyvale, I wonder if this was coincidence or partial inspiration.