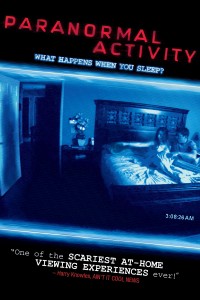 Several announcements were made recently regarding 
Paranormal Activity 5: The Ghost Dimension 
and they largely slipped through the cracks. But we are bringing you the news now. Better late than never.
First off, Paranormal Activity 5 is a film that has bounced around a bit and for a variety of reasons. The picture has had its release date changed several times. But we have learned via Bloody Disgusting that the picture has been fast tracked and is on target for the previously announced release date of March 13, 2015. This had previously been rumored but it has now been officially confirmed by the studio.  The project is now in production via Paramount.
As for the big news, we have also learned that the film is being post-converted to 3-D. Wow. Not sure how to feel about a three-dimensional found footage film. That seems quite strange. But who knows? Maybe the studio has a great strategy that we have yet to consider. Maybe.
Greg Plotkin is directing the fifth proper installment in the series with the screenplay being penned by Jason Pagan and Andrew Stark.
Previously leaked plot details have revealed that the feature will focus on a family that has relocated to California for a fresh start and a new job. But the young family quickly learns that there is something amiss in their new home and whatever they are dealing with has malevolent intentions.