It still feels like there's ages to go until 3 From Hell is finally released upon us but, in the meantime, we've another great shot from the flick to tide us over. At least, until next week. This particular photo captures two of our fave characters and a newbie engaged in the kind of sweet, familial banter only serial killer buds can enjoy. Bless.
3 From Hell lands in cinemas nationwide for a special, three-night run, courtesy of Fathom Events from September 16-18. Featuring the unrated version and unique special content, each  night boasts its own intriguing prospects. The first will see a special video intro from Rob Zombie himself, with the first 50 attendees at each theater receiving an exclusive poster, while supplies last. The second will treat audiences to almost 30 minutes of behind-the-scenes footage of the making of the movie. And, last but not least, the third will host the ultimate double feature with 3 From Hell and The Devil's Rejects (er, is it bad that I want to go to all three!?).
Sheri Moon Zombie (Baby), Bill Moseley (Otis Driftwood), and Sid Haig (Captain Spaulding) will all be reprising their roles from House of 1,000 Corpses and The Devil's Rejects. They will be joined by a series of Zombie regulars and a few fresh faces, including Clint Howard (The Lords of Salem), Danny Trejo (Machete), Wade Williams, Emilio Rivera (Venom), Dee Wallace (Cujo), Bill Oberst Jr. (TV's Scream Queens), Kevin Jackson (31), Jeff Daniel Phillips (Lords of Salem), Pancho Moler (31), Daniel Roebuck (Final Destination), David Ury (TV's Grimm), Sean Whalen (The People Under the Stairs), Austin Stoker (Assault on Precinct 13), Dot-Marie Jones (The Boondocks Saints), Tom Papa (The Haunted World of El Superbeasto), Richard Brake (31), and Richard Riehle (Halloween II 2009).
Plot details are being kept pretty well under wraps, but rest assured that we will keep you in the loop as we learn more. And expect to see our review coverage in the not too distant future. Zombie answered a selection of fan questions on Facebook but advised we'll have to wait to see the movie to find out how the trio managed to survive. Judging by the trailer, however, it seems it was simple medical science that saved them.
The official synopsis doesn't give too much away:

First there was House of 1000 Corpses.  Then there was The Devils Rejects. Now, from writer/director Rob Zombie comes the next blood-soaked chapter in the most violent crime saga in history… 3 From Hell. 
Fathom Events previously partnered with Zombie for 31. CEO Ray Nutt was effusive about them teaming up again:
Whether it's creating visionary music or epic opuses of horror on the screen, Rob Zombie is a master at giving his loyal fans what they want. We're pleased to continue to partner with Rob and share this long-anticipated final chapter of the trilogy with audiences nationwide
Check out the latest shot for yourself below, which features Otis, Baby, and Winslow Foxworth Coltrane (Brake) having a grand ol' time, and stay tuned to Wicked Horror for all your must-know 3 From Hell news in the run up to the film's release.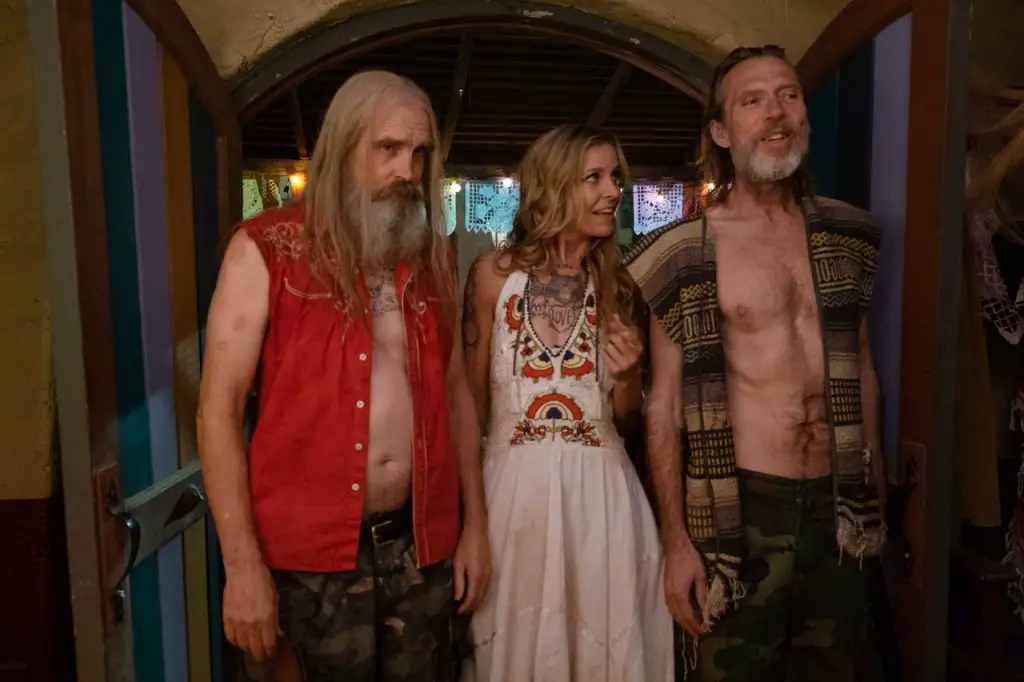 Follow us on social media: Twitter | Facebook | Instagram | Youtube