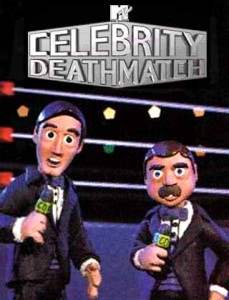 In news that has me grinning from ear to ear,
THR
 has announced that  
MTV
's Celebrity DeathMatch
is being revived. MTV 2 has put in a pilot order for a new run of the classic series.
The original ran on MTV for a grand total of 75 episodes before succumbing to cancellation in 2002. Then, MTV 2 exhumed the series and began airing new episodes in 2006. The network cancelled the show again in 2007 in spite of the show drawing in the network's highest ever ratings for a season premiere–a grand total of 2.5 million viewers.
The original series saw a pair of celebrities facing off and battling to the death. Below you can check out a match between Garth Brooks and Marilyn Manson.