MTV's Scream adaptation is due to return May 30th. The last season felt to some horror fans like a mesh between the existing Scream franchise and Pretty Little Liars from ABC Family/Freeform. The second season is set to take place three months after the first season ended and the killer was revealed. We spoke with actress Bex Taylor-Klaus who plays Audrey about what we can expect from the new episodes and about her experience playing such a pivotal role in such a longstanding franchise.
For those who are familiar with Taylor-Klaus's work, they will know she has a knack for playing morally gray, complex characters. In past interviews, she indicated she and other cast members were totally in the dark throughout season one as to who the killer was, and to who would be the next to die. In speaking with us, she revealed she was chosen to play Audrey because of what she brought to the audition as well as what she could do for the character. Through the selection process all of the actors and writers discovered who they wanted the character to be, and molded them from that point on. Taylor-Klaus was thrilled to have been given the opportunity to play Audrey as dark and complex as she wanted, and it was that affinity for darkness that led Audrey to be as deeply involved in the show's overall plot.
Darkness isn't a characteristic fans should expect only from Audrey, though. Taylor-Klaus said that she loves a new character in season 2. Gustavo Acosta, the new sheriff in town, is incredibly dark and is "the character to watch" this season. (In fact, he's the one character aside from Audrey that Taylor-Klaus said she would like to portray, assuming she had the capability to gender bend. Although a close second for Taylor-Klaus would be her on screen best friend, Noah played by John Carna.)
It's appropriate that Taylor-Klaus said that of all the characters on the show, she identifies most closely with Audrey and Noah. Audrey is a character she can relate to because Audrey is fiercely loyal once a friend has managed to get under her defenses and earn her trust and caring. She related to Noah, on the other hand, because he gets obsessed with things. In this season, he will become fixated on the murders, but before all of these events took place he would have just as easily have gotten hooked on video games or music or movies – and that is something she can absolutely relate to on a personal level.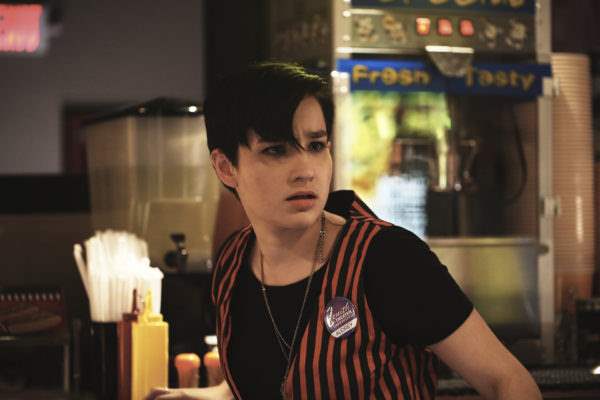 One thing that will be different than what fans are accustomed to is that Audrey will be shifting away from her predatory role, and into one that makes her prey for the new killer in town. The actress described the role reversal with enthusiasm, "It's a lot of fun… the dynamic is definitely shifted. Audrey is kind of under attack this season. Someone knows what she's done, and is trying to push her to see how far she'll go to keep a secret. And it's, it's been really, really fun to play with. It's been, whoo! It's been a ride!" When she was asked if the overarching theme for the new season would continue to be along the lines of "secrets are bad news" she said it would, but went on to say that even though secrets were proving deadly, each person still seems to have and insist on keeping a dozen of them in "classic
Scream
" fashion.
It wasn't all fun and games, though. The most challenging part of playing Audrey for Taylor-Klaus hasn't necessarily involved the complexities of the character, but more so the fear that her character will be the next on the chopping block. She said the constant fear that her character would be up on the chopping block was stressful, and that it isn't just the characters who are worried about their impending doom. All of the cast members dread finding out who is next every episode. Why? No one wants to leave the project. They're having too much fun.
The bright side of the impending doom is, of course, that the cast knows that when their number does come up that they will have to go out "in a truly spectacular way" according to Taylor-Klaus. The effects team on the show received a special nod during the interview for going above and beyond to create the intricate, gory things slated for season two.
We can't wait to see what season two has in store for Scream fans, especially given all the new faces we can expect starting May 30th on MTV. You can pick up season one on home video, now!