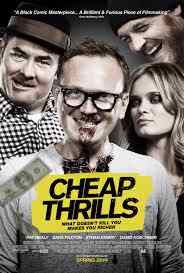 Evan Lewis (E.L) Katz has just inked a deal with Mandeville films to direct a film called You'll be the Death of Me with LionsGate serving as the distributor for the picture.
Todd Lieberman of Mandeville will be producing the film with E.L. Katz directing  from a script penned by Mark Hammer. According to Variety, "the film tells the story of two single New Yorkers who find their budding romance complicated by the attention of a masked knife-wielding psychopath."
E.L. Katz is a former Fangoria scribe who burst onto the scene with his hilarious black comedy Cheap Thrills. He then went on to helm an impressive segment for The ABC's of Death 2. Cheap Thrills was a major hit at the South By Southwest film festival and was immediately picked up for stateside distribution by Drafthouse Films. Katz shows enormous potential as a director and it will be interesting to see what he can do with a bigger budget and studio backing.
No further news on when the title will go into production or when it will be released but be sure that we will keep you in the loop as soon as soon as we know more about the project.