"Nothing bad's gonna happen on Christmas" soothes Allison Tolman to a frightened child, just as things are starting to go very, very bad in Krampus, the latest flick set to take on the legend of the so-called anti-Santa. Of course, horror fans know better than to assume the most wonderful time of the year is safer than any other. From Silent Night, Deadly Night to Black Christmas, festive horror movies have consistently taught us not to trust that, just because it's Christmas, something dark isn't afoot.
Krampus, a mythical beast who punishes children, as opposed to rewarding them, is more en vogue now than ever before, appearing in several upcoming films of his own, as well as popping up many times previously, most notably a memorable role in festive anthology A Christmas Horror Story (also released this year). Joining Tolman in attempting to fight him off are a fine cast of character actors including Adam Scott, David Koechner, Toni Collette and Conchata Farrell, along with the requisite terrified tykes.
Related: Better Watch Out is a Must See Holiday Horror!
Collette is Sarah, mother to well-meaning but troublesome Max (Chef's adorable Emjay Anthony) and moody teenager Beth (Stefania LaVie Owen) who, along with possibly soon-to-be-ex-husband Tom (Scott), is having everyone over to celebrate the holiday season when the great beast and his band of merry foes comes a knockin'.
Via a lively dinner party, refreshingly light on exposition, we are introduced to the generally horrible relatives with whom poor Max, in particular, must contend for the following days' festivities. A good-hearted kid who desperately wants to recapture the Christmas spirit and mend his broken family, Max unknowingly summons Krampus after tearing up a letter to Santa, leading the entire town to be plunged into darkness as everyone is left at his mercy. Can this family of miscreants turn their bickering around in time to band together and save each other (and Christmas) before it's too late?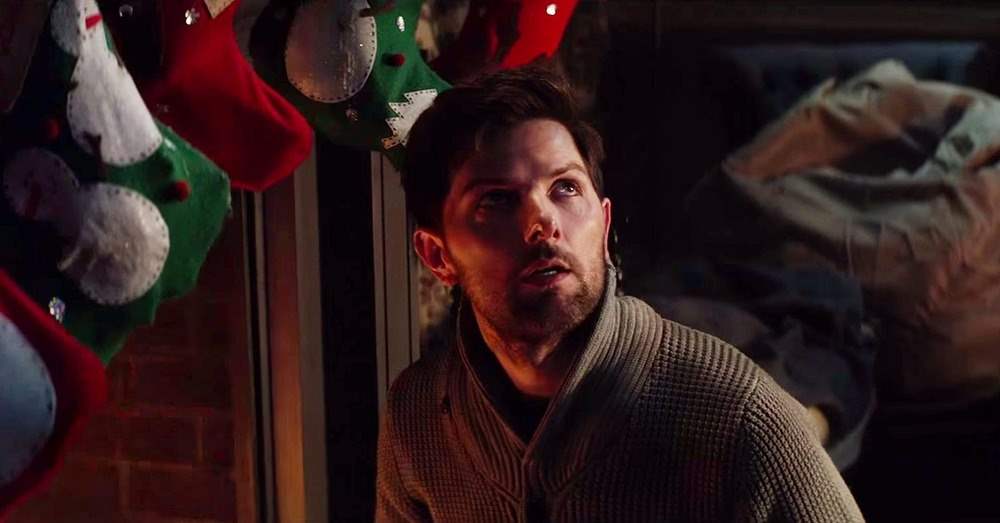 Krampus is being pitched as director Michael Dougherty's (of Trick 'r' Treat fame) attempt at a Gremlins-esque, Christmassy kid's horror film. As such, the picture has been gifted a PG-13 rating which, aside from turning genre purists off entirely, has left certain critics in shock. Because, although the movie shares certain DNA with Joe Dante's seminal creature feature, Krampus is a far nastier beast than those comparably cute little critters.
Considering it's being sort of aimed at children, this is an impressively and inventively nasty little piece that one should actually hesitate to show to any kids, regardless of whether they're okay with Gizmo and friends. Krampus himself is terrifying. Glimpsed several times before we get the, admittedly brilliant, money shot of him–jumping from roof to roof, a horn here, a cloven foot there–his considerable stature is emphasised throughout, the camera moving up, up, up to capture all of him while the fantastic sound design ensures he lands like a T-Rex.
Krampus may be the (literal) Big Bad, but Dougherty has assembled a team of truly ghastly little beasties to work alongside him, each more disturbing than the next. From maniacal little gingerbread men to the most frightening Jack In The Box imaginable, the director and the talented team at Weta Workshop have done some incredible–and, it must be said, mostly practical–work to ensure they give kids and adults alike nightmares.
These are, without a doubt, some of the most impressive and genuinely frightening creatures we've seen in a horror movie in years. Krampus himself is still the star of the show, but the action doesn't lull leading up to his reveal, with each new monster trotted out for maximum scare appeal. Of course, none of that matters if we don't care about those in peril and thankfully Dougherty has assembled a likeable cast of colourful characters for us to get behind, also.
Farrell's acid-tongued aunt is a particular delight, as is the always welcome Koechner as a redneck with a gaggle of kids, each more horrible than the next. The movie's real secret weapon, however, is Austrian actress Krista Sadler's Omi, who foretells of doom and explains the story of Krampus in a nicely animated flashback sequence that is equal parts Coraline and A Nightmare Before Christmas.
Speaking mostly in German, it is Omi who emerges as the real hero, putting into action a plan that will keep everyone safe for as long as possible. Thankfully, the family acts like believable human beings and mostly stays put, boarding up the doors and windows as one would if the situation were ever to arise. The set-up is brilliantly simple–trap them in the house and pick them off one by one–but where Krampus sets itself apart is in how ruthlessly the characters are dispatched.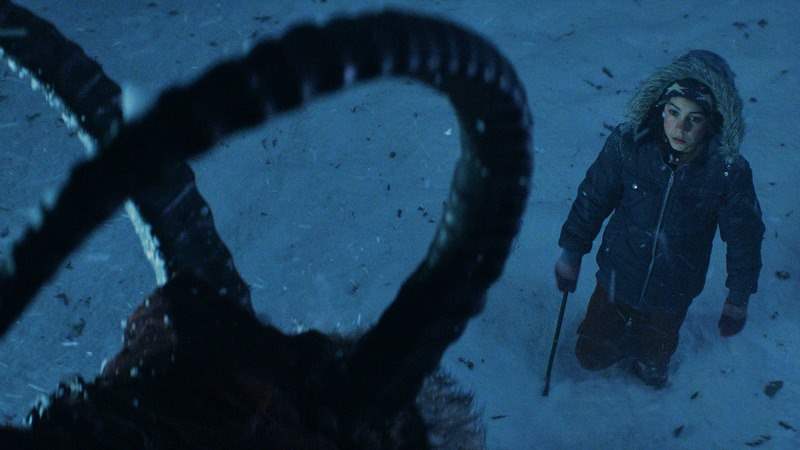 Anyone could be next, and as the movie hurtles towards its conclusion, the bodies really start to pile up. Unfortunately, it's at the end where Krampus stumbles slightly. Once it comes time to wrap everything up, the film attempts to have its cake and eat it too in a move that will either frustrate or delight depending on personal preference for morals in horror movies. After all, this isn't Gremlins, so we're not expecting Dougherty to give us a happy ending. But, then again, it isn't exactly Martyrs either, so some respite is welcome. What we're left with is a straddling of both ideas that is oddly unsatisfying given the strength of what's come before.
Having said that, Krampus does still end on a high, regardless of whether you find the "message" behind it, and the communication of said message, cringe-inducing. This is clearly a passion project for Dougherty, who also takes writing and producing credits. Much like his classic ode to the spookiest time of the year, the festive elements here are spot on. A jaunty score is cleverly blended in with classic Christmas music, subtly done instead of rammed down our throats to make the situation creepier.
The film kicks off with scenes of shoppers practically killing each other to get the best gift deals, while we're introduced to Max as his parents struggle to interrupt a fight he's started midway through a carol service. There are several, terrific gags involving presents, a Christmas tree catching fire and even a creepy bauble but Dougherty doesn't overdo the festive cheer, either. He lets the game cast duke it out before setting his monsters on them and the results are, for the most part, thrilling.
The PG-13 cert (15A in the UK) may make the film seem a bit tame, but even the trailer doesn't allude to just how nasty this sucker actually is. It is, at times, quite baffling it even achieved such a low cert given the nightmarish imagery and high body count involved. Hopefully this is the kind of film that kids will take to as well as adults, the kind that gets trotted out on an annual basis to remind us we're not safe at Christmas, in spite of how nice everything around us might seem.
As cliché as it may sound, Krampus is the gift that keeps on giving. After this, it will be particularly interesting to see other filmmakers' take on the legend as it really feels like Dougherty has nailed it here.
WICKED RATING: 8/10
Director(s): Michael Dougherty
Writer(s): Michael Dougherty, Todd Casey, Zach Shields
Stars: Adam Scott, Toni Collette, David Koechner, Allison Tolman
Year: 2015
Studio/ Production Co: Legendary Pictures
Language: English
Length: 98 minutes
Sub-Genre: Creature feature