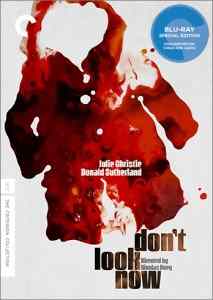 Nicolas Roeg's 1973 giallo-esque horror picture 
Don't Look Now 
is getting a Criterion release. The film has been out of print for a spell but fortunately Criterion plans to rectify that with a feature packed release.
The film concerns a couple (played by Donald Sutherland and Julie Christy) who lose their young daughter in a tragic drowning accident. When the couple travels to Venice, they encounter two women, one of whom claims to have a message for them from their daughter. The encounter drives the couple to a place of obsession and leads to a series of life threatening encounters and ultimately finds them crossing paths with a killer.
The film will see re-release on DVD and Blu-ray February 10, 2015. The disc can be pre-ordered via the Criterion website and is also available on Amazon.
The features on the Criterion release will include:
New 4K digital restoration, approved by director Nicolas Roeg, with uncompressed monaural soundtrack on the Blu-rayNew conversation between the film's editor, Graeme Clifford, and film writer Bobbie O'Steen
"Don't Look Now," Looking Back, a short 2002 documentary featuring Roeg, Clifford, and cinematographer Anthony Richmond
Death in Venice, a 2006 interview with composer Pino Donaggio
Something Interesting, a new documentary on the writing and making of the film, featuring interviews with Richmond, actors Julie Christie and Donald Sutherland, and coscreenwriter Allan Scott
Nicolas Roeg: The Enigma of Film, a new documentary on Roeg's style, featuring interviews with filmmakers Danny Boyle and Steven Soderbergh
Q&A with Roeg at London's Ciné Lumière from 2003
Trailer
PLUS: An essay by film critic David Thompson