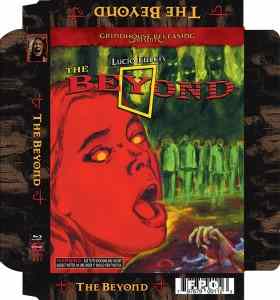 Lucio Fulci's surreal zombie classic is currently out of print but we are pleased to announce that the aficionados at Grindhouse Releasing will be giving the film the kind of treatment it deserves. 
The Beyond 
will receive a blu-ray release with glow-in-the-dark packaging (pictured left). We do not have the full specs for the release yet but it's a safe bet that it will be epic. The film is being put out as a three-disc deluxe edition. So we can only imagine that it will be crammed full of an assortment of awesome extras!! We will fill you in as soon as we know more about precisely what will be included with this upcoming release. The set will be available for pre-order via the
Grindhouse Releasing website
 in the coming days. It will street February 10, 2015!
The Beyond is a disorienting tale of a hotel proprietor that learns her new business is situated over a gateway to Hell. The film straddles the line between haunted house picture and zombie flick and it succeeds on both levels. It's violent as hell and not entirely cohesive but Fulci has never been known for cohesion. This is one of Fulci's best film and a great zombie flick.