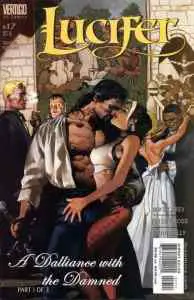 A television adaptation based on Vertigo Comics' 'Lucifer' has been kicking around for a while
. 
Today we learned that the Fox network has ordered a pilot episode for the series and a couple of big names are already attached on the production side. No definitive word yet on who will be directing the inaugural episode.
The co-creator of television's Sleepy Hollow and director of the first and second installments in the Underworld franchise, Len Wiseman has already signed on to executive produce the project alongside powerhouse producer Jerry Bruckheimer.
The Lucifer character debuted in the Vertigo Comics title 'Sandman' and eventually scored his own series of books. The 'Lucifer' series had a run of 75 issues between 2000 and 2006. It has been reported that the Fox series will be culling inspiration from the books but taking a fairly drastic change by having Lucifer helping the LAPD solve crimes when he leaves his place in Hell. So, we will see how that goes…Hint: probably not very well.
Little else is known about the project at this point. We do not have word on a premiere date or any additional details at this point. But expect more from us on this project as it breaks.