[soliloquy id="7481″]
We've been following the Kevin Smith film Tusk of quite a while (read our review here). News about the picture has been rolling in on a very regular basis. And this latest turn of events sees a cool opportunity for you to get your name in the credits of the film's DVD release. Come inside and have a look at what you need to do to score a mention in the credits!
All that you need to do is attend a first look at the film tonight (most theater chains are screening the picture at 8 and 10 PM) and then Tweet the photo of your ticket stub with the hashtags #WalrusYes and #TGITusk. As a 'thank you' your handle will be included in the credits of the film's DVD release.
The idea for the film originated from director Kevin Smith's SModacst. When Smith took to Twitter to ascertain the level of fan interest, the response was overwhelmingly positive. The concept grew from there and found the director putting together a script and getting the project off the ground. Tusk was shot over the course of just three weeks in November 2013.
Tusk tells the story of Wallace, a man that travels to Canada to conduct a podcast interview with a hunter who has an obsession with walruses. But when Wallace arrives, he discovers that his interview subject has other plans for him: Specifically, he intends to turn Wallace into a human walrus. Tusk stars Justin Long (Jeepers Creepers) as Wallace and Michael Parks (Red State) as Howard, the walrus enthusiast.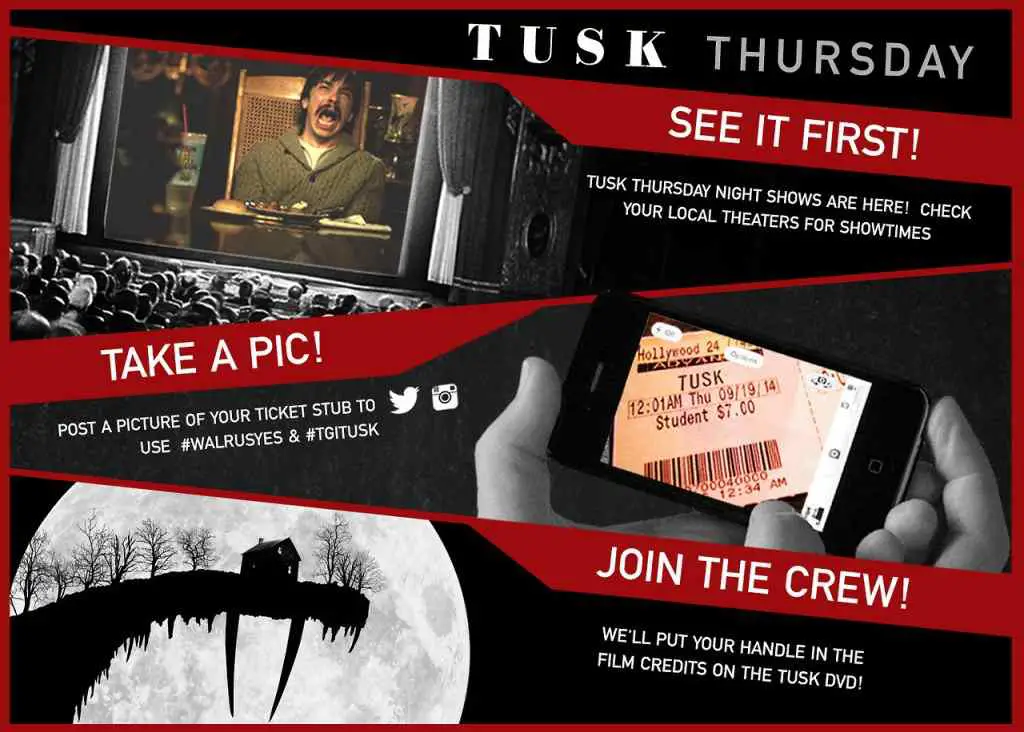 https://en.wikipedia.org/wiki/Tusk_(2014_film)