Nerd Block is a subscription mystery box that delivers geeky collectibles right to your door each month. You can choose whatever theme box you are into–there's the Classic Block, Arcade Block, Sci-Fi Block, Horror Block, Comic Block, and even a Boys Jr. and Girls Jr. Block for younger kids. The sets always includes a t-shirt, along with 4-6 other collectibles that are often exclusive to Nerd Block subscribers. After six months of some wonderful horror treats, I happily decided to keep my subscription. Today I am unboxing the June 2016 Horror Block.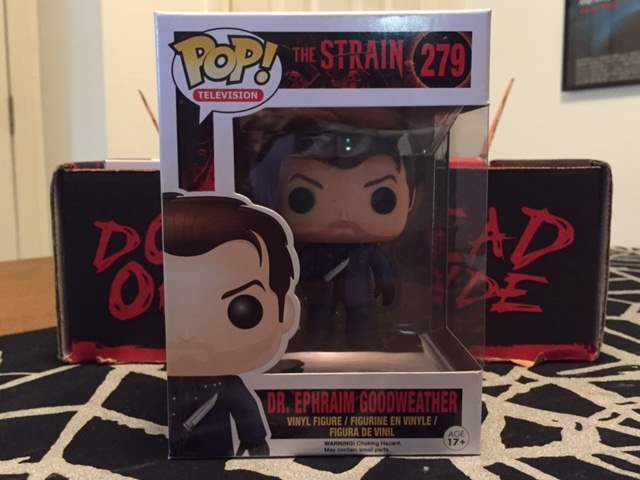 For collectors of Funko Pop! figures, June's Horror Block was surely a treat because subscribers were gifted with not one but two of these adorable collectibles, both from television shows. The first one is from
The Strain
, the vampire show created by Guillermo del Toro and Chuck Hogan based on their series of books of the same name. I got figure #279 which is of the main character Dr. Ephraim Goodweather. Though I have not watched the show yet, I love all the books and am very much looking forward to see how the pages translated to screen.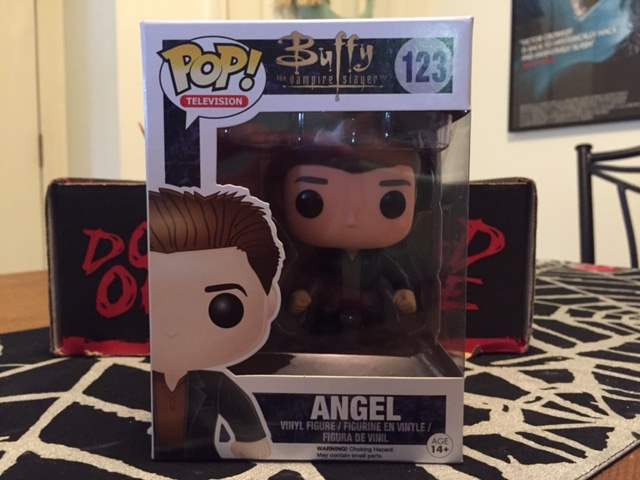 I had been hoping and praying for months that I would open my block one day and find something from my favorite television show, Buffy the Vampire Slayer, and it finally happened this month! The other Pop! figure I received was #123, a rendition of everybody's favorite vampire with a soul, Angel. The figure represents Angel's classic look, with his spiky hair and black coat. It would have been cuter if they had added little fangs, but regardless, I am a huge Buffy and Angel fan, so I was more than happy to get this.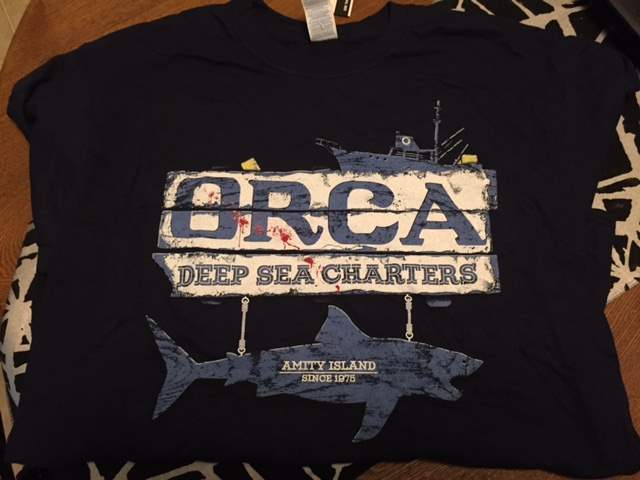 Just in time for the Fourth of July weekend and the end of this year's Shark Week, Horror Block also sent along to its subscribers a wonderful Jaws t-shirt. As always, it comes from the t-shirt company ShirtPunch, and is a great design that those with a keen eye and knowledge of the movie will get right away. This shirt came at a great time for me personally, because the next day I went to a revival screening of Jaws at my local movie theater and was able to wear the shirt in honor of the occasion. Starting this month, Horror Block is also including a $10 gift card for ShirtPunch in each block so subscribers can get a great deal on more shirts from the company.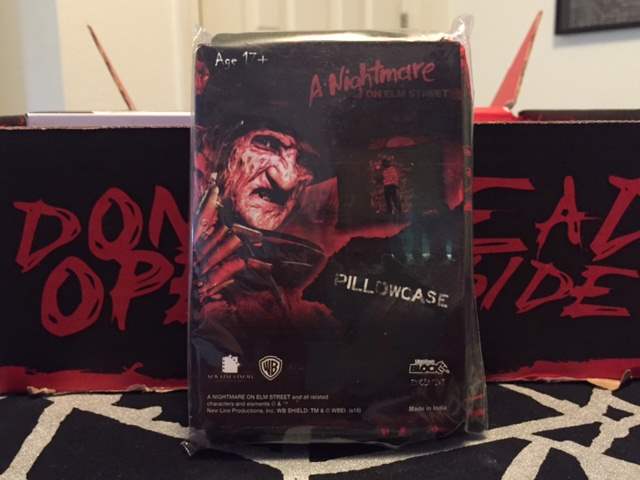 Next up in Horror Block's line of housewares is this awesome Freddy Krueger pillowcase. The artwork is fun and includes little quotes from the films in the background of the Freddy drawing, in the red and green color scheme of his famous sweater. The pillowcase is an exclusive for Horror Block, is made out of polyester instead of cotton, and has a zipper on one side to keep it in place, which I really like. This is a great addition to the block, although now I have to get all new bedding to match my new pillowcase.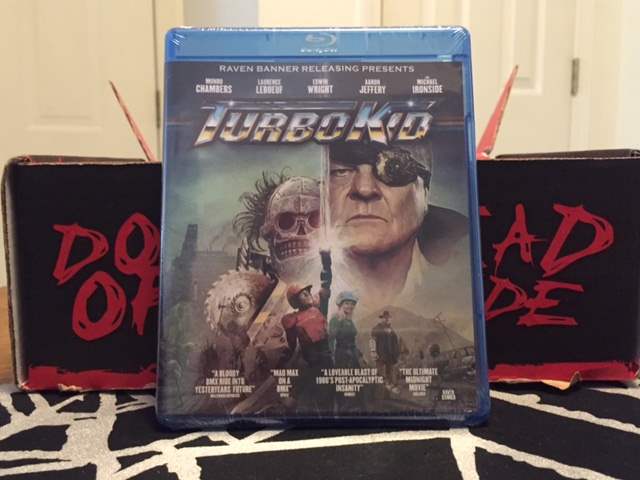 I'm still loving the fact that we are now getting Blu-rays in our Horror Blocks, and the last three have all been excellent choices. This month, it was Turbo Kid, a fantastic post-apocalyptic fantasy story that has just as much heart as it does gore and violence (read Joey Keogh's review here). The Blu-ray includes a 23-minute making-of documentary, several web clips, the T is for Turbo short film, and a commentary track. If you haven't given Turbo Kid a chance yet, do yourself a favor and remedy that now! Michael Ironside is in it–what more could you want? This is a movie that I am proud to have in my ever-growing Blu-Ray collection.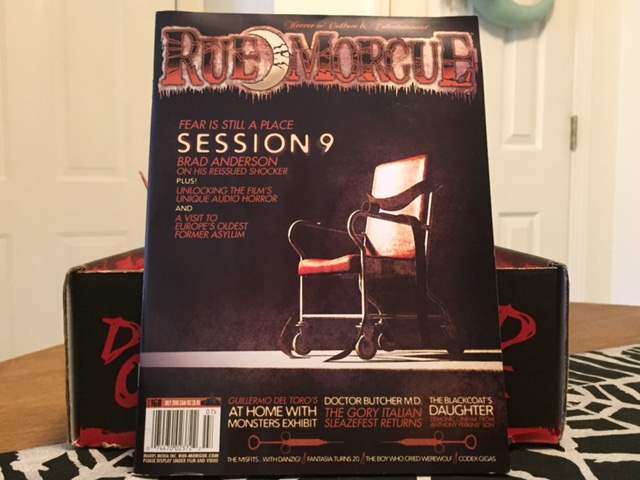 Last but not least is the July 2016 issue of Rue Morgue magazine, which rightfully won the Rondo Award for Best Magazine a few months ago. The main focus of issue #168 is Brad Anderson's sleeper hit from 2001, Session 9. In honor of the upcoming August 2016 Blu-ray release of the film from Scream Factory, Rue Morgue did a wonderful look-back interview with Anderson. There is also an article that explores how the voice on the tape recorder in Session 9 is "the most malevolent character of all." Other articles include a look into Guillermo del Toro's museum exhibit of horrors, At Home with Monsters, and an interview with Osgood Perkins, writer-director of The Blackcoat's Daughter (aka February).
Overall, the June 2016 Horror Block was completely satisfactory. All the items put together are more than worth the price of the block, and they really have been upping the quality lately by including things like Blu-rays and the vinyl soundtrack from last month. I never thought I would be a collector Pop! figures, but I guess I am now, and it was real treat to get two of them in one block. Stay tuned to see what horrors await in the July 2016 Horror Block, and if you like what you saw here, head on over to Nerd Block to start your own subscription today!