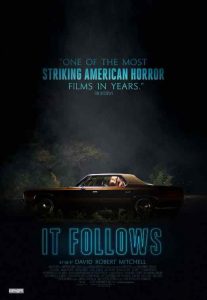 The little indie film that could,
It Follows
(
read our rave review here
) is expanding to a nationwide theatrical release. It's not a full scale 3,000 screen release at this point but it's definitely coming to a theater near you. Radius-TWC has announced that the film will be expanding to 1,200 screens. Rumors have circulated that the picture may expand to even more theaters in the coming weeks but we have seen no official word on that at this juncture. However, if the film continues to perform as it has, that's probably a no brainer.
It Follows opened Friday March, 13th in very limited release and earned $160,089 at just four locations with a per theater average of $40,022. The film returned the best limited opening for a horror picture since since Paranormal Activity. 
It Follows was written and directed by David Robert Mitchell and stars Maika Monroe (The Guest) in the lead role.
"Monroe plays 19-year-old Jay, who, after a seemingly innocent sexual encounter, suddenly finds herself plagued by nightmarish visions.  She can't shake the sensation that someone, or something, is following her. As the threat closes in, Jay and her friends must somehow escape the horrors that are only a few steps behind."
Unlike most horror releases as of late, It Follows will not see a simultaneous VOD release but Radius-TWC has announced that the film will be granted a VOD release later this year.