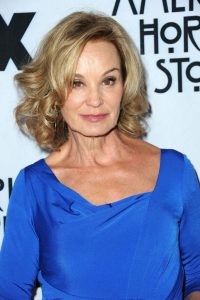 In news that everyone saw coming, Jessica Lange has officially confirmed her departure from
American Horror Story.
 She made the announcement
at the Paleyfest celebration of TV.
The AHS Paleyfest panel discussed the past four seasons of the show and when Lange was asked if she would be back for a fifth season of the series, she said,  "We've had a great run. I have absolutely loved doing these four characters, and in all the madness, I loved the writers, actors, Ryan, the whole insanity of it, the stories, shooting here, shooting in New Orleans, everything. To cut to the chase, yes, I'm done."
The same panel also confirmed that Matt Bomer will be returning to the series and will be joined by Cheyenne Jackson. The duo will join already confirmed cast member Lady Gaga for the series' fifth season which will reportedly be set in a hotel.
FX is expected to begin running the fifth season of American Horror Story in October of this year. Ryan Murphy is expected to stay on as executive producer. Stay tuned for more announcements on the new season as they are revealed. In the meantime, tell us your thoughts on the upcoming season in the comments box below.