[soliloquy id="7911″]
We have your first look at the trailer and key art for The Houses October Built. Come inside for a look at the trailer and the new one sheet for Bobby Roe's upcoming haunted house mockumentary!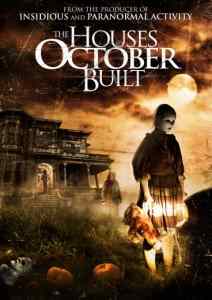 Theatrical art is pictured to the right. The film is directed and co-written by Bobby Roe. Roe's screenwriting partners include Zack Andrews and Jason Zada. Steven Schneider (
Insidious
) served as a producer on the film. 
The Houses October Built
 stars newcomer Brandy Schaefer and the film's screenwriting team Bobby Roe and Zack Andrews will appear alongside her.
I've had a chance to check this one out but cannot say anything about it yet. Reviews are embargoed until the week of release. But be sure to check back then for my review of this title the week of October 10th!
The setup sees five friends taking off on a road trip to explore various haunted attractions and document their findings. No sooner than their fun has begun, the group encounters a kind of evil that clearly cannot be manufactured. The film plays out like a found footage documentary but it is in fact a scripted production.
The Houses October Built will see an October 10th Premiere in ten key theatrical markets – including Los Angeles and New York. It will also receive a simultaneous VOD release. Stay tuned for more on this title as it comes in.
https://www.imdb.com/title/tt3800036/