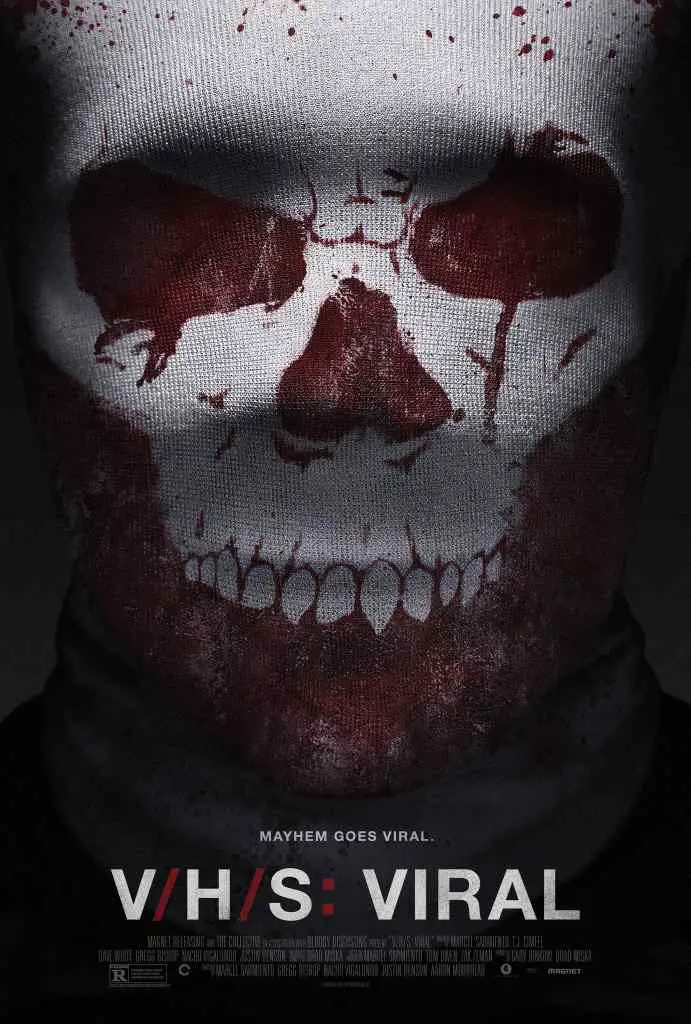 V/H/S: Viral promises mayhem with new one sheet!
Bloody Disgusting have released a brand new poster for the third installment to the popular anthology franchise, V/H/S.
The found-footage anthology series will feature segments from directors Nacho Vigalondo (ABCs of Death "A is for Apocalypse), Marcel Sarmiento (ABCs of Death segment "D is for Dogfight"), Gregg Bishop (The Birds of Anger), Todd Lincoln (The Apparition), and Justin Benson (Resolution).
V/H/S: Viral will follow a group of fame-obsessed teens desperate to capture the next viral video but soon discover they are the stars of the latest internet sensation. The anthology includes the story of a deranged illusionist who obtains a magical object of great power; a homemade machine that opens a door to a parallel world. Teenage skaters that unwillingly become targets of a Mexican death cult ritual and a sinister, shadowy organization that are tracking a serial killer. The segments are named "Dante the Great", "Bonestorm", "Vicious Circles", "Parallel Monsters" and "Gorgeous Vortex".
Marcel Sarmiento, TJ Cimfel, Dave White, Gregg Bishop, Nacho Vigalondo, Justin Benson and Aaron Moorehead wrote the screenplays.
While no official UK release date has been announced yet, Magnet Releasing will unleash V/H/S: Viral in the US on VOD on 23rd October, followed by a cinema release on 21st November.
As a massive fan of the V/H/S franchise I hope to be in the US soon as so I can catch it as soon as it's released!