Three From Hell still doesn't have a release date or a trailer, but fear not because Rob Zombie has gifted us with yet another glimpse at the upcoming flick. Maybe if we gather them all together we can create our own trailer.
Three From Hell is due to drop…some time this year. It's definitely finished, as the man himself has confirmed, with the edit currently being done as we speak. The movie is set to close out the trilogy started with 2003's House of 1000 Corpses. The Firefly family (Bill Mosley, Sheri Moon Zombie, and Sid Haig) are all slated to return, in spite of having been gunned down in The Devil's Rejects (er, spoiler?).
Joining them will be a whole host of bizarro guest stars including Chaz Bono, Barry Bostwick, and, as we reported just last week, Jossaro Jinaro whose character, last time we saw her, was running from the Fireflies while wearing somebody else's face.
This latest glimpse at the film finds Moseley's Otis sitting in what looks to be a prison cell. Rather than being despondent, he's happily listening to the radio while drying some washing on a makeshift clothesline (since when is Otis clean?). The pic doesn't really tell us much but it's something to latch onto while we wait for the movie to drop. Check it out below.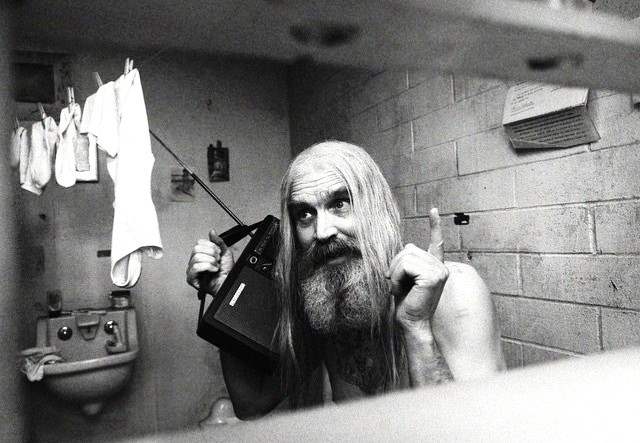 Alongside the black-and-white shot, Zombie wrote tantalizingly, "Otis may be spending his days behind bars but at least he's still got his music. #freethethree." From what we can gather, Three From Hell sees the murderous trio put on trial for their crimes. And, judging by this latest shot, they might even end up imprisoned for a time. Of course, this is just conjecture. Fans have suggested the whole thing might be a supernatural return-from-the-dead style take, which would be fun too (and not completely outside Zombie's wheelhouse given the trippy Halloween 2).
Starring alongside the Fireflies are Emilio Rivera, Danny Trejo, Kevin Jackson, Wade Williams, Zombie stand-in Jeff Daniel Phillips, Pancho Moler, Daniel Roebuck, David Ury, Sean Whalen, Austin Stoker, Lords of Salem's Dee Wallace, 31's Richard Brake, Bill Oberst Jr., Dot-Marie Jones, and Tom Papa.
Stay tuned to Wicked Horror for more info on Three From Hell as Zombie drip-feeds it to us.