Midnight Kiss is the lively, New Year's Eve-themed slasher element of Hulu's intriguing Into The Dark series, made in partnership with Blumhouse TV, which drops a monthly slice of horror to spook us during each respective holiday season. Even taking a cursory glance at others including Thanksgiving oddity Pilgrim, this addition, from The Ruins director Carter Smith, is one of the most eye-catching installments.
First off, we all know New Year's Eve sucks, so setting a horror movie around the worst social event of the year is already scary on its own. In gloriously alcohol and drug-fueled flashbacks, we're introduced to a group of hard-partying queer folk (and their token single, straight lady friend) who rings in each new year together, traditionally, without fail. There are masks and glitter and plenty of making out.
Related: Netflix Horror Spotlight: Slasher Solstice
The opening recalls that of Slasher Solstice, the third season of Netflix's insanely binge-worthy anthology series which revolved around a young, slutty bisexual man (because we're rarely represented in media as anything other than insatiably horny) being murdered in cold blood while barely out of his angel wings. Midnight Kiss, thankfully, doesn't go full Burning Man on us, but it mostly takes place in Palm Springs, so it's close enough.
In keeping with the tone of much white gay male-focused content, within the first few minutes there's a shot of a butt (the first of many) but, going against everything that's been established about these kinds of movies, the owner of said butt is quickly, and brutally, killed in his shower before being doused in glitter and put on tape for that sweet, sweet #content. A mysterious note he'd received prior to his death read simply "don't forget me."

Notes or, in more modern terms, texts and DMs are an underrated tool in a slasher movie (who could forget Scream 4's hilariously frightening "you're hot, I wanna kill you" messages?) Midnight Kiss utilizes social media and texting in ways that seem obvious at first but quickly become more insidious. Given how long we spend staring at our phones, even while out having fun with friends, it's a necessary addition.
Our lead — Final Guy, if you will — is Cam (Augustus Prew, The Morning Show, Prison Break), a sweet-natured photographer still smarting over his break-up from the ghastly Joel (Scott Evans from Grace and Frankie, bearing a disturbing resemblance to one Perez Hilton, who himself starred in fun slasher Most Likely To Die) when his ex shows up for their big trip with a fiance in tow, Logan (Euphoria's Lukas Gage). Things are already awkward on the trip down when their boozy Midnight Kiss game is brought up and it's made clear they'll be playing again this year.
Essentially, everybody, regardless of coupling, has to find a stranger to smooch at midnight (and do whatever else they want for good measure) before leaving them at daybreak, never to be seen again. Rounding out this rowdy group with obviously bad intentions is the perky girlfriend who can never get a man because she spends all her time in gay bars (Ayden Mayeri, Veep) and the loose but lovable Zachary (Chester Lockhart, who does a lot of work with Todrick Hall so try not to hold that against him).
It's a smorgasbord of personalities, made all the funnier by the actors' IRL porn star-sounding names. The location where most of the action takes place, a stunning, modern, glass-accented house out in the desert is perfect for debauchery and random killings, equally pretty and isolated. The sound of a champagne cork popping echoes with a bone-chilling coldness, and yet it's easy to understand why everybody feels safe there.
The killer, who wears a bondage-style animal mask and can therefore easily flit in and out of the local gay bar without raising suspicion, lurks mostly on the sidelines, dispatching with characters we've come to adore with feckless abandon. The body count for Midnight Kiss is low (just three people perish over the course of the movie) but the tone remains intense and violent, even just by virtue of how terribly these long-time friends treat each other.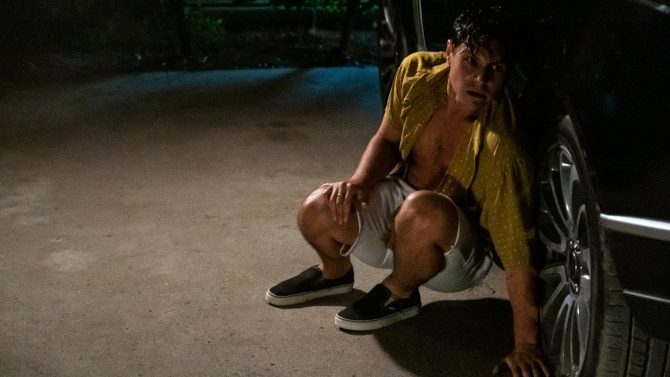 I guessed who the killer was pretty much immediately, but, in my defense, I watch too many of these films and it didn't put me off one little bit. It's a fun enough endeavor on its own that the killer's identity doesn't really matter. Sure, this is just one side of the gay experience — the sex, molly, and glitter side that Willam Belli has based his whole career on (that isn't an insult; truly, I wish I were a man so I had a chance) — but it's keenly observed and well considered.
Midnight Kiss is also very sexy and, crucially, sex-positive, boasting the most tender and loving anal sex scene in living memory. The characters aren't "yaaaaaaaas qween"-ing archetypes either, they're fully developed and believable, boasting a variety of competing personalities like any friend group does. Much of the film's scariest moments are courtesy of the dangerous Joel, who clearly has some issues buried just under his sleek surface.
See Also: Black Christmas is the Perfect Horror Movie to End 2019 [Review]
Meanwhile Prew is instantly lovable as Cam, who sometimes neglects the only straight in their circle so he can pull someone hot but otherwise is a selfless and totally committed friend. Watching him react accordingly to the escalating situation and make smart, calculated decisions ensures Midnight Kiss remains grounded in reality, even when the big reveal borders on melodramatic.
Overall, though, in spite of the lack of bodies hitting the floor, this is an entertainingly fluffy addition to the queer horror canon, and a reasonably smart slasher mystery. Neither groundbreaking nor throwaway, Midnight Kiss makes a case for more diverse groups of friends being thrown to the mercy of a masked killer's knife in future, if only because it makes it more fun to watch them being picked off one by one and more devastating when they perish after we've really got onboard with them.
Catch Midnight Kiss on Hulu from Friday, December 27 2019
Wicked Rating: 7/10
Director(s): Carter Smith
Writer(s): Erlingur Thoroddsen
Starring: Augustus Prew, Scott Evans, Ayden Mayeri, Lukas Gage, Chester Lockhart
Release date: December 27, 2019 (Hulu)
Studio/Production Company: Blumhouse
Language: English
Run Time: 92 minutes
Follow us on social media: Twitter, Facebook, Instagram, and YouTube.