It's Friday and you know what that means; lock your doors, bolt your windows and turn out the lights for at least 48 hours. Welcome back to New on Netflix, your weekly update on the spooky films and TV shows added to Netflix's library. The streaming giant's horror department has always been a mixed bag. However, I'd say they've really stepped up their game in the last couple of years with the release of amazing, essential watches. We've been treated to must see original programming like The Haunting of Hill House, Velvet Buzzsaw, Hush, and some of the classics we all know and love.
This week we have a short list featuring witches and an ominous threat infecting a fishing community.
Coven of Sisters
In Basque Country, 1609, a group of women accused of witchcraft are sentenced to death attempt to postpone their execution by luring their inquisitor into witnessing the witches' Sabbath. The Coven of Sisters will be available on March 11th.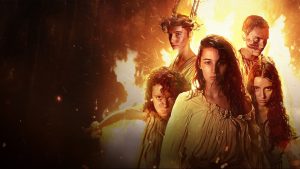 The Block Island Sound
Also arriving on March 11th is The Block Island Sound. When Audry returns to her hometown of Block Island she discovers her dad is suffering from a series of blackouts and hallucinations. One evening, he goes missing causing Audry and her brother, Harry, to search for answers of their own. They quickly discover there is one ominous thread that ties everything together, and its hellbent on putting their family in grave danger.