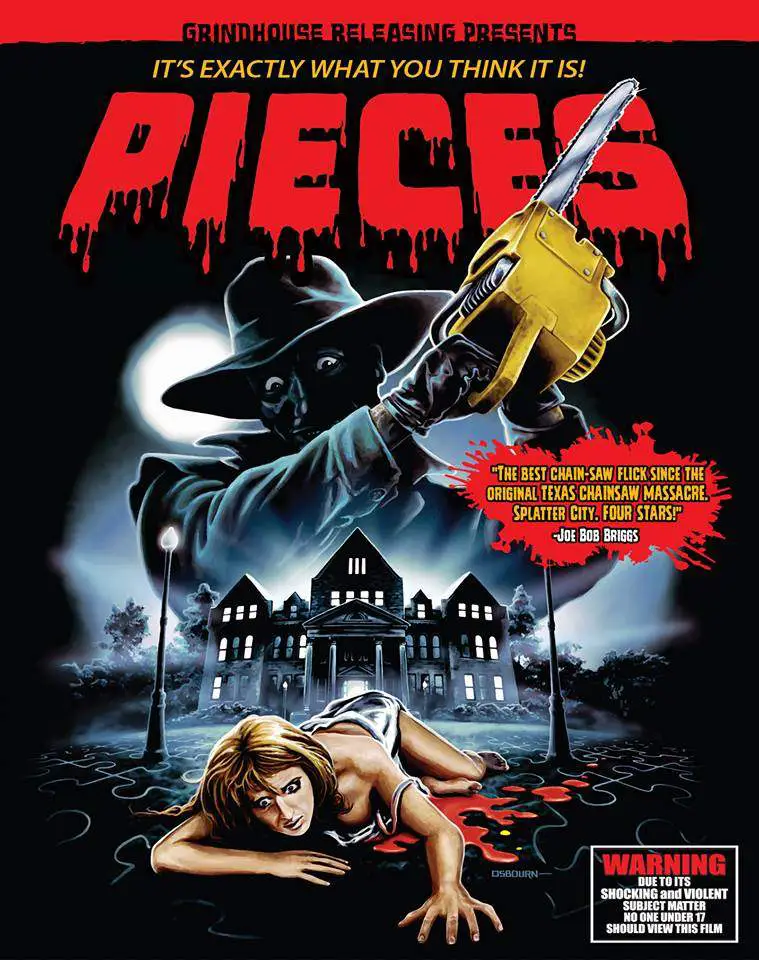 Pieces 
has secured an Blu-ray release as well as a theatrical revival from Grindhouse Releasing. The film's HD release will be jam-packed with special features and the first 3,00 copies will contain some awesome limited edition goodies (including a
Pieces 
jigsaw puzzle). The release will be a 3-disc set that includes two versions of the film (the original, uncut theatrical version presented in English and the uncensored director's cut presented in Spanish. The film will be released on Blu-ray March 1st, however, fans that pre-order through
Diabolik DVD
will receive their copy one week early.
In addition to this feature rich Blu-ray release, the film will also be screening across the country on college campuses and via midnight screenings at various theaters. The theatrical screenings will kick off at Coolidge Corner Theatre in Boston (Where the film is set).
"Pieces tells the story of a psychopathic killer stalking a Boston campus, brutally slaughtering nubile young college co-eds, collecting body parts from each victim to create the likeness of his mother who he savagely murdered with an axe when he was ten years old."
Additional features include:
– Spectacular new 4K transfers – scanned from the original camera negative
– Brand new audio commentary by star Jack Taylor
– Special 5.1 audio option – the Vine Theater Experience!
– In-depth interviews with director Juan Piquer Simón and genre superstar Paul L. Smith
– 42nd Street Memories – all-new feature-length documentary containing interviews with Bill Lustig, Larry Cohen, Frank Henenlotter, Buddy Giovinazzo, Jeff Lieberman, John Skipp, Lynn Lowry, Terry Levene, and many other exploitation icons
– Extensive gallery of stills and poster art
– Exhaustive filmographies
– Liner notes by horror journalists Chas. Balun (Deep Red) and Rick Sullivan (Gore Gazette)
– BONUS CD – original soundtrack – newly remastered from the original studio tapes
– Beautiful embossed slipcover
– And other surprises!