Scary short stories in paperback collections used to set the mood for October when I was a kid. Inevitably, a story from Ray Bradbury's Weird Tales-era would be in the mix, reminding that some of his fabulous tales of wonder had a darker tone.
Just in time for Halloween, readers can experience or re-discover many of his tales in a fresh way in Home to Stay!: The Complete Ray Bradbury EC Stories. It's a coffee table-sized tome with 28 Bradbury comics adaptations in all. It's a mix of science fiction and horror, featuring art from Johnny Craig, Reed Crandall, Jack Davis, Will Elder, George Evans, Frank Frazetta, Graham Ingels, Jack Kamen, Bernard Krigstein, Joe Orlando, John Severin, Angelo Torres, Al Williamson, and Wallace Wood.
The story of how Bradbury came in contact with the purveyors of Tales from the Crypt, The Witch's Cauldron, and other horror comic books is well known in some circles. For those unfamiliar, the 300-plus-page volume from Fantagraphics Books includes essays, remembrances, and introductions. They recount events, and even those in the know may discover some fresh details. A highlight is a reproduction of Bradbury's letter gently calling out EC's cribbing.
The collection draws its title from "Home to Stay" a meshing of two Bradbury science fiction stories, "The Rocket Man" and "Kaleidoscope" that prompted the 1952-letter. 
In a bit of reverse engineering, and in some cases more direct plagiarism, EC writers had been drawing on Bradbury's pulp stories for comic adaptation for some time in the early 1950s. When he discovered it, Bradbury wrote his polite missive suggesting that in oversight, he had not been mailed a $50 check as compensation. In a P.S., he suggested he had more tales that might be ripe for comics.
Home brings all of the tales from EC's pages together for the first time, including the earliest unauthorized adaptations.
The comics are re-produced in black-and-white with a smattering of large color images suggesting the original publication tones. For modern readers, the loss may be a plus in many cases. They take away the hues of a different era and present the stories in a shadowy, noir-ish style that suits them.
The collection opens with "The Lake," a hauntingly beautiful tale Bradbury himself identified as a turning point in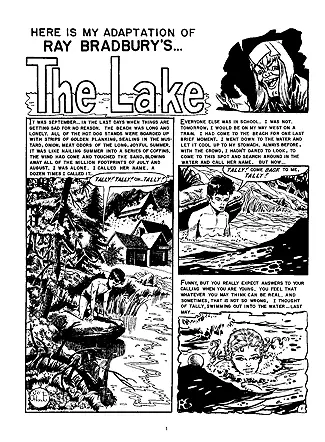 his development, hitting all the notes he wanted in his fiction. Much of Bradbury's prose is preserved as captions, so it really is like getting a heavily illustrated version of Bradbury's original. It fulfills EC expectations, yet eschews the darkest conventions as well.
Other faithful adaptations horror fans might want to check out include "The Coffin," a science fiction/tech horror hybrid that's nicely imagined, and "The Small Assassin," in which a mother fears her infant may want her dead.
"The Black Ferris," a forerunner to the novel Something Wicked This Way Comes and relevant anew to readers currently devouring Stephen King's Fairy Tale. "Ferris" is a wonderfully dark fantasy, and "Lets Play Poison," is a straight-outta Weird Tales chiller well worth a look.
"The October Game" chilled me in particular when I was a kid. A solid adaptation is revealed here with a perfect approach for the graphic horror implied by the prose original. And it does go where EC readers might expect.
Memorable science fiction tales in addition those mentioned in the title, include Bradbury's time-travel adventure masterpiece, "A Sound of Thunder." The adaptation, from EC's Weird Science Fantasy, is faithful and engaging, but it's a piece not served as well by color-loss. Al Williamson and Angelo Torres' panels are finely constructed, but some finer flourishes don't translate. Illustration style of the time also means dinosaurs are never displayed to their full potential except in a cover-art bonus.
Stories are grouped by the prose anthologies in which they appeared, ranging from Dark Carnival to The Golden Apples of the Sun, and tales only inspired by Bradbury get segmented out.
It's easy to see why Bradbury and EC were a perfect fit as you turn the pages of Home To Stay! It fits in well with other Fantagraphics EC releases. The many extras include Franzetta cover art from an earlier compilation, The Dust People and crisp scans of artist Joe Orlando's artboards from "The Long Years!" with editorial markup and production stamps intact.
An eBbook edition will also be available on the release date, October 25.