Art the Clown is back with a force and he might be the most terrifying clown…ever. Between the disturbing kills and his menacing acting, David Howard Thornton, who plays Art the Clown in Terrifier and Terrifier 2, has perfected the killer clown role and his performance is amazing from start to finish. After being resurrected by a sinister entity, Art the Clown returns to the timid town of Miles County where he targets a teenage girl and her younger brother on Halloween night. 
We spoke to David about the nuances between his performance in the first and second films, getting into character, and the way social media has taken to Art. 
WH: What has it been like to be a part of the Terrifier films?
David Thornton: It has been awesome. It has been a lot of fun. A lot of hard work though as well. This film – part 2 – was a beast of a film to put together, especially during a pandemic but we did it and I'm so freaking proud of this team.  
WH: How do you feel about playing Art the Clown?
David Thornton: I love that he's such a mischievous little bastage that just revels in his vile, evilness. He's just fun.   
WH: Is there a difference in your character between Terrifier1 and 2?
David Thornton: I would say so. I mean, I think this time around Art is a lot more confident in himself as he came back from the dead, so he realizes he's a lot more powerful than he thought he was and he's taking more risks this time. He's even going out in daylight and just messing with people. So, I think he's found a new calling in life, and he's just having a lot more fun now, knowing he's invulnerable.  
WH: There's a creepiness in clowns that don't talk – do you agree? You must use more expressions and you're not using your voice – so you have to make up for it somehow.
David Thornton: Oh yeah, it's definitely creepier because there are no sounds at all coming out with the guy. I mean it's just not that he doesn't talk. You can't even hear him breathe, right? And it's like he doesn't grunt when he gets hit. I mean you, you hear those, those kinds of sounds coming from like Leatherface and Michael Myers and Jason when they get hit, or you hear them at least breathing, but you don't hear any of that from Art. That in itself is just very creepy. But then you see him doing things that are like day-to-day type things like going to the laundry mat and washing his clothes and – it's creepy. I can't imagine just being in the laundry mat and some guy like that just walks around and does that.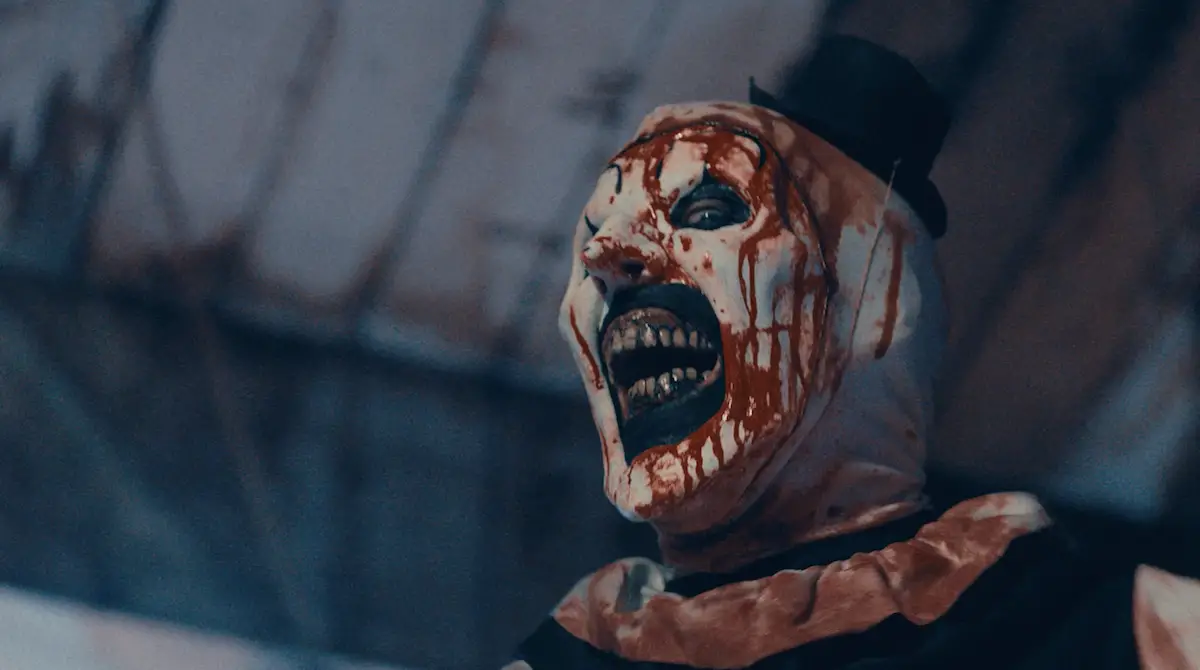 WH:  Do you have a certain process for getting into the role? Are you practicing your expressions or what goes into it?
David Thornton: I did at first, that's what I always do when I get like into the part. I like to go and sit in front of the mirror and really experiment with my facial expressions and everything like that. It seems like every time I play a character, once I'm in the costume and makeup, the character just becomes real to me and, I don't really have to go through all those processes of trying to access that character again. He's already now in my head living there so I can pull him up when whenever I need to. So which is probably great for my fellow actors on set that I don't have to stay in character for the whole entire time, I can just be myself and I'm joking around, doing silly voices one second, then they're like, OK, rolling and then I put on the angry face and they're like, oh god…there he is. 
WH: Did you give any tips to the young actress (Amelie McLain) – the mini you?
David Thornton: I did a little bit, I guess you could say…she was such a natural too. What was really cool about working with Amelie is like she was really good at mimicking me. I could tell she had been really observing me a lot and so we really played off of each other very, very well and it was a lot of fun. She has great instincts and it's a rarity with child actors… is to have these children that have these natural instincts. It wasn't just her, but also Elliot, who plays Jonathan in the film. He's got wonderful instincts as well, so we lucked out with the casting of the child actors.
WH: Are there any scenes that were particularly tough to film?
David Thornton: Oh yeah, I mean the laundry mat was pretty tough because I had no heat in there and I was freezing, being covered head to toe in blood, and being basically naked the whole entire time. So that was tough, but I would definitely say the whole entire ending sequence there and fright factory – the big huge fight at the end 'cause that was several, few weeks that we were filming all that and that location was it was in the middle of winter in Philadelphia and it was so cold in there and I know it was difficult for me because we're doing days back-to-back and we're going sometimes, you know, over our 12-hour limit and it's taxing on you. But I mean, I know I was miserable at times, but I know Lauren, who was playing Sienna, was even more because she was wearing a lot less clothing than I was. If you see her shaking in the movie, it's not out of fear…that was her being cold and she used that…like OK – now look how scared I am. But we toughed it through and it's like we knew what this was going to become, and we actually have those moments like OK – we're going to suffer for right now, but it's going to be worth it.  
WH: Social media really seems to love Art the Clown. What do you think of the fandom?
David Thornton: It's fantastic. It's actually fantastic. It has surpassed my wildest expectations, like recently all the memes that have come out with – the photograph of me with the sunflower glasses…I've been dying… they've gotten really creative with these memes, like that – It's free publicity too because people are sharing those things left and right, and people are like OK, who is this guy? What is this from, you know? So, I love it. I love it because, you know, people don't do that unless they really love the character that much and so it's really cool to see that kind of commitment to this character already.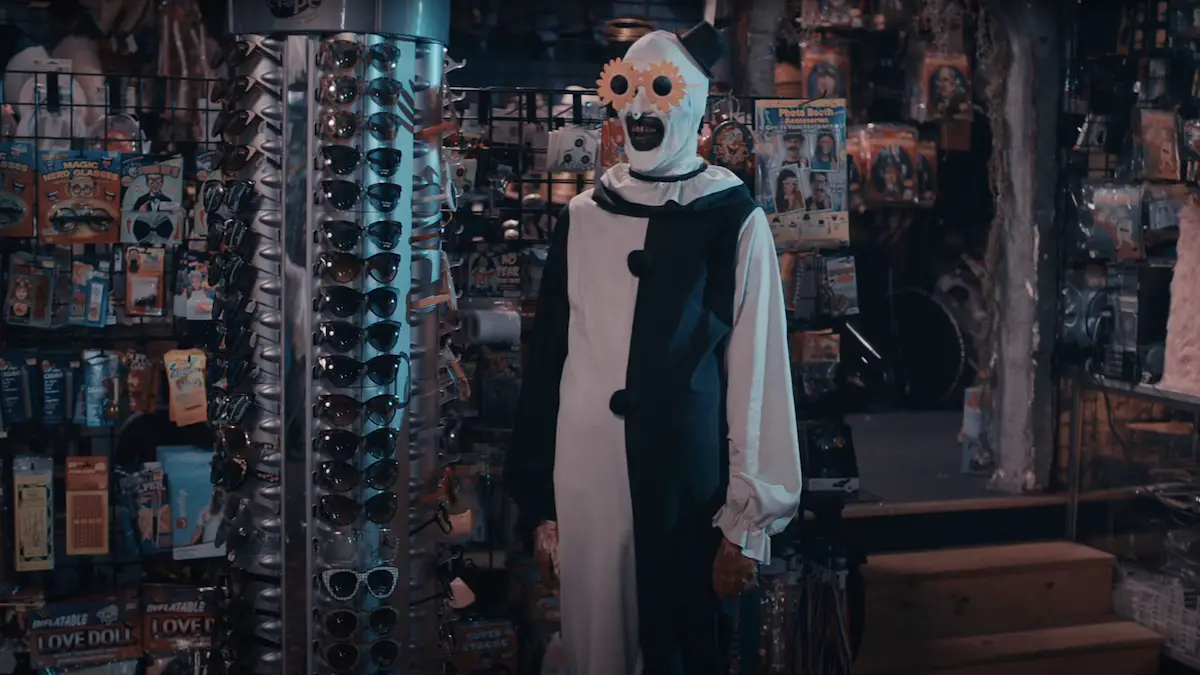 WH: What do you love about working in the horror genre?
David Thornton: Gosh, it's very therapeutic. You can have a bad day and you can get your frustrations out that way. I mean, sometimes when, like, Damien wanted me to get a little bit more violent with something 'cause, I'm not really a violent guy in real life and so I was really trying to be careful with my costars. It's like just pretend… it's such and such, and so and so and like – OK. Oh, that felt good! Get some of your frustrations out that way, so it's a lot of fun. Plus, I've always liked scaring people. It goes back to my childhood, my mom and I would always like to go back and forth trying to scare each other in the house, and I've done that with a lot of my friends too. I love actually getting to scare people professionally now. So, it's satisfying.  
WH: What's your relationship with horror outside of work? Do you like horror movies?
David Thornton: Oh yeah, I'm a big slasher person. I fit very well into the genre. I think slashers are fun. I mean I like all sorts of horror – like all of the paranormal. Slashers are…there's something special about slashers. It's the right kind of campy goodness that I really like because it's so over the top, but, you know, you don't take it too seriously…but you still have a lot of fun with it. That's why I love it, so much. 
WH: Is there a certain era you love?
David Thornton: The '80s, definitely. The '80s, late '70s – you know, Halloween, you know, Nightmare on Elm Street, especially. Friday 13th…all those. They are classics. 
WH: What's next for you?
David Thornton: I am about to finally finish wrapping on another film with a lot of the Terrifier team called Stream. It's got a lot of horror legend, in this movie…Dee Wallace, Tony Todd, Jeffrey Combs, Danielle Harris, Felissa Rose, Daniel Roebuck…it goes on and on.  This cast is amazing and it's such a fun story, so I can't wait for the release..hopefully, next year. I got a Christmas horror film that hasn't been announced yet, hopefully, it's going to be coming out this year, based on a very popular Christmas story where I play quite the mean one…though I can't give too much away. Next year I'm going to be filming another one, called The Dead Place, where I play another villain in that one as well. So there's a lot of fun stuff coming out soon. 
TERRIFIER 2 will be in theaters on October 6 from Cinedigm in partnership with Iconic Events.