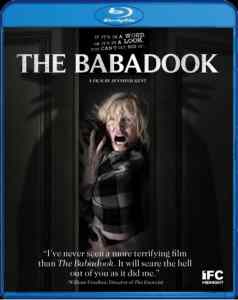 The Babadook
 popped up for pre-order earlier today on Amazon. The online megastore has the film's release date listed as April 14, 2015.  According to the site, Scream Factory! will be distributing the DVD in the states. When asked on Twitter, the distributor confirmed that they are in fact behind the US release of the picture and that they will be working in concert with IFC Midnight on the film's upcoming release. The genre film focused label also said that an official announcement regarding the feature will be on the way soon! We will have more on that as it is revealed by the distributors. In the meantime, you can check out the blu-ray cover art pictured to the left!
The Babadook finds a single mother – who lost her husband in a tragic accident – dealing with a troubled child that is convinced a monster called The Babadook is responsible for his bad behavior. The young mother starts to question her own sanity when she begins to believe that The Babadook may actually be more than a figment of her child's imagination.
The film is directed by Jennifer Kent and stars Essie Davis and Daniel Henshall. It was released on VOD and to select theaters November 28, 2014.