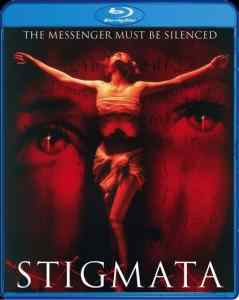 In unexpected news, Scream Factory announced today that they will be releasing 
Stigmata 
on Blu-ray. The Blu-ray release is scheduled for this Spring. The genre film focused distribution arm of Shout Factory made the announcement today via their Facebook page. Cover art pictured left.
The distributor has yet to reveal any specifics regarding technical specs but they are likely to invest the same level of care into this they do all of their releases.
An official release is planned for May 12th. The distributor included the following announcement with the update on their Facebook page:
"Fans of the 1999 possession-themed shocker STIGMATA will be pleased to know that we will be bringing it to the Blu-ray format for the first time on May 12th!
"Starring Patricia Arquette (recent Oscar nominee for Best Supporting Actress in Boyhood), Gabriel Byrne (The Usual Suspects, In Treatment) and Jonathan Pryce (Brazil, Tomorrow Never Dies) the movie was a surprise hit at the time of its release, grossing nearly $90M at the box-office internationally. 
No details on extras at this time but you can expect most (if not all) extras that were on the prior 2000 MGM DVD release to be ported over. We will keep you posted closer to street date. Pre-order links will go up next month."