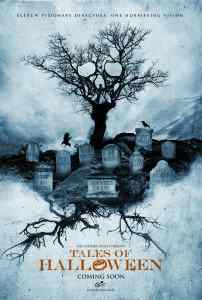 As if the existing talent roster wasn't exciting enough, 
Tales of Halloween
has added Lucky McKee to the docket but it appears that McKee's involvement signifies the departure of another name that was previously on board.
Epic Pictures announced that Lucky McKee (May) will be joining the creative team behind the upcoming anthology picture Tales of Halloween. While Joe Begos (Almost Human) was previously attached to the project but it appears that McKee will replace him, as Begos' name is noticeably absents from the latest press release for the film.
Tales of Halloween is set to consist of a series of eleven vignettes, helmed by eleven different directors. The project is titled Tales of Halloween and will be made under the Epic Pictures Group banner by Patrick Ewald and Shaked Berenson. 
The directors attached to film have dubbed themselves The October Society. The feature will include a series of integrated tales, all which pertain to Halloween.
The directors who had previously signed onto the project are Darren Lynn Bousman (Saw II, III & IV), Axelle Carolyn (Soulmate), Adam Gierasch (Night of the Demons), Andrew Kasch (Never Sleep Again: The Elm Street Legacy), Neil Marshall (The Descent), Mike Mendez (Big Ass Spider!), Dave Parker (The Hills Run Red), Ryan Schifrin (Abominable), John Skipp (Stay at Home Dad), and Paul Solet (Grace). Kasch and Skipp will be collaborating to co-direct one of the vignettes.
The film is being produced by Mike Mendez and actress/director Axelle Carolyn.  Axelle Carolyn is responsible for the concept and for bringing the group of filmmakers together. Carolyn said the following in regard to the group of directors involved: "This anthology movie is unique in that that the directors aren't a randomly assembled bunch who've never met; they're close friends who are working closely together as a team to deliver something truly special."
Tales of Halloween is now in production in Los Angeles. Stay tuned to the site for more information on this title as it is made available.